Our third 50 miler of the year is happening on Saturday 17th September 2022 and it is set up, as always, to be a cracker. This is such a popular event with our community, in fact this years race sold out all the way back in February!
We welcome 250 runners to Goring once again, to embark on a 50 mile loop of the Chiltern Hills. It is a magnificent place to spend all day running and many come away simply staggered by how beautiful and remote this course is. It is far from easy, with the climb totalling towards 5500ft, however there are plenty of faster miles to be found along the way, especially over the last nine miles. There is always a reward for those who have saved something for the final kick.
Below is a preview of the likely main contenders in the womens and mens events. Live Tracking every step of the way will be available via www.centurionrunning.com/live in the days leading up to the race and from 0830 on race day.
WOMEN
Sarah Hill: Sarah was South Downs Way 50 champion in 2021 and had previously finished first or second in all of the ultras she'd run, including Race to the Stones, several Pilgrims Challenge events and the Fox Ultra. In 2022 she has so far picked up a seventh at the SDW50 and an eighth at the NDW50. It will be great to see what she can do on this course.
Rachel Lindley: A whole string of top ten performances over the past few years for Rachel, with most in the 50 mile range. 2022 has so far featured a fifth at the Arc 50, a sixth at SDW50 and a fifth at the NDW50, placing her one above Sarah Hill in both of those events. In four previous NDW50's that she's run she's come home in the top ten.
Miki Neant: Miki was fourth at the Thames Path 100 this year in a blazing fast 17:54. A second at last years Country to Capital in a time of 5:53 for the 43 miles, also a stand out run.
Sophie Biggs: Third at this years NDW50, setting a new FV50 record in the process. In the last two years she's picked up a second and a fourth at CTS ultras in the 33-35 mile range and a fourth at the Keswick Trail 50km.
Tamsin Neale: Seventh at Country to Capital in 2021. Second at Amersham Ultra 50km with XNRG earlier this year and finished eleventh at the SDW50 back in April.
Natasha Mansell: No ultras to her name it seems, but has a sub 3 hour marathon behind her and has run an impressive 84 minute half already this year.
Gemma Buley: Eighth here in 2018 and ninth at this years South Downs Way 50.
Ann Bath: Ann will not be troubling the front of the field in the overall race but she will, if she should finish, become our first ever FV70 finisher. Let's cross everything she makes history on this day!!!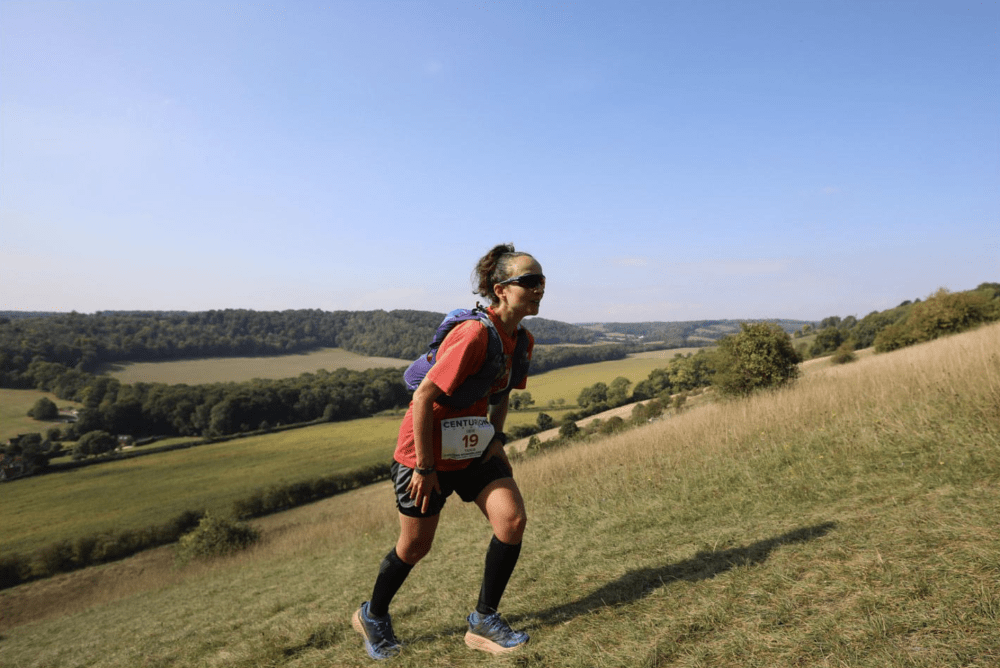 MEN
Jack Blackburn: Arguably the favourite for the mens race, Jack has been a consistent performer particularly over this distance, for a long time now. Stand out more recent results include a 6:20 second place at the South Downs Way 50 last year. Two wins at Race to the King. A third place at Wendover Woods 50 and a number of other podium places at events ranging from 50km to 12 hours.
Mark Lynch: Last month Mark won the North Downs Way 100. He has shown already that he can bounce back fast, as he is in for the Double Slam where so far somewhat amazingly, he leads the 100 mile table and sits second in the 50 mile table (see Slam tables here). His best at this race in the past was a fourth place in 2021 in a sub 8 hour time.
Paul Russhard: Paul is one of the all time favourites at our events, for his quiet but strong demeanour, always thanking everyone involved for their help along the way and putting in some truly epic do or die races over the years. He has come so close to winning on numerous occassions but each time the top step of the podium has just eluded him - his closest was a second at the NDW50 in 7:01. His best at this event was a fifth in a competitive race in 2017, where he ran 7:37. He is in good shape this year with a 2:49 marathon in May. Can he go all the way this time.
Gwilym Satchel: Third at the 2020 Autumn 100 in 16:09, a smashing time on a course which travels around the same area.
Jacek Cieluszecki: Jacek won the CTS Exmoor Ultra in 2020, as well as the 55km Exmoor Coast Ultra. He has a 4th place at the North Coast 110km from 2021 in his recent past too.
Adam Lucas-Lucas: A strong sub 24 hour finish at the Arc of Attrition this year.
Jacob James: No ultras to his name so far, but has run a 2:41 and a 2:42 marathon in 2022 so far.
Nick Dawson: Looks like his first ultra but this year has a 67 minute half marathon at Paddock Wood which is quite frankly, about as fast a time as we've seen for a half for runners at our events. Could be interesting viewing.