The tenth South Downs Way 100 was blessed with close to ideal conditions. 405 runners met at the incredible natural amphitheatre that is Matterley Bowl for the start of the tenth edition of this race.
2022 SDW100 Recap Video (By Steve Ashworth)
Amongst the starting line up were a few people who deserve special mention.
Mark Perkins the mens course record holder from way back in 2014, came back to race having been out of the sport with an injury for the last seven years. His aim was simply to complete the distance, but it was a wonderful thing indeed to see him back.
Elaine Battson had run and finished all nine previous editions and was going for her ten in a row.
But before all the grown up running, the pinnacle event of the year took place, the SDW1 Kids Mile Race which kicked off close to bed time at 1830 on the Friday. Our intrepid young explorers made their own loop of the bowl, ages ranging from 18 months to 11 years and some stunning performances all around to inspire the bigger kids for the morning.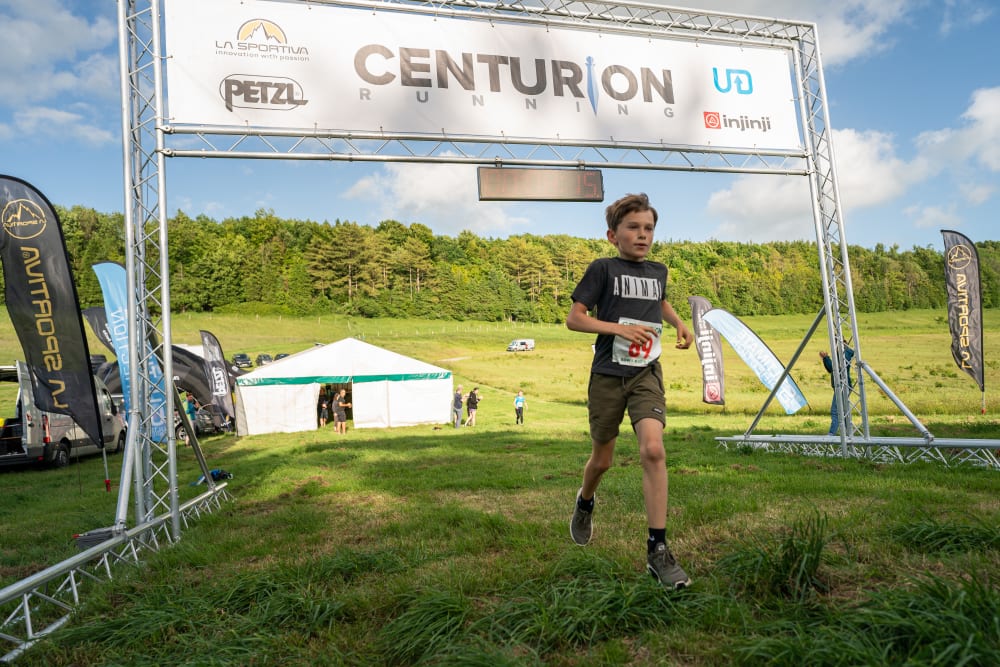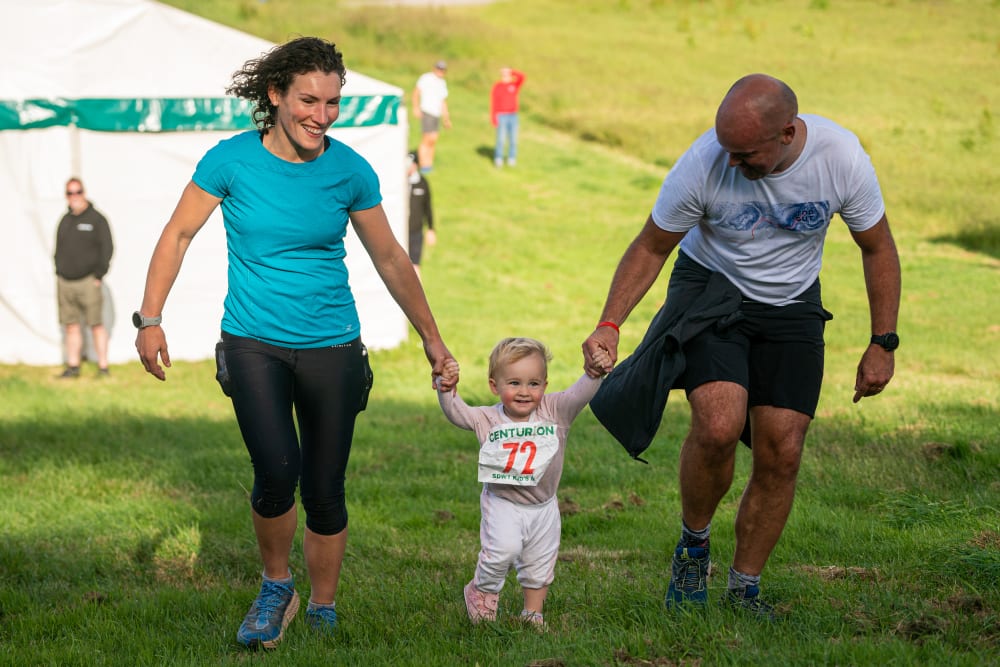 SDW1 (Photos: Steve Ashworth)
On Saturday morning the question hanging over the race at the sharp end was over which record was under most threat. Mark Perkins' 14:03 for the men or Jean Beaumonts 16:56 for the women. Both 8 and 9 years old respectively.
In the womens race it was Bethan Male, winner of the SDW50 earlier this year in what was very much a stepping stone to this her main target, who immediately set the pace at the front. All day, she tracked almost identical splits to Jeans record, initially just a few minutes behind, recording the same time leaving Washington, before gradually edging ahead as she reached the final third. Then leaving us all on the edge of our seats coming off of the trig point with 2.7 miles to go. A lot of 'she should be ok' reassuring nods were passed around on the finish line - and indeed she was. Crossing the line in 16:49 for a new course record. We've spoken before about the level of performance required to take down a course record over a long established race. The SDW100 has had many top class female athletes run well here over ten years, so Bethan's achievement is a very special one indeed.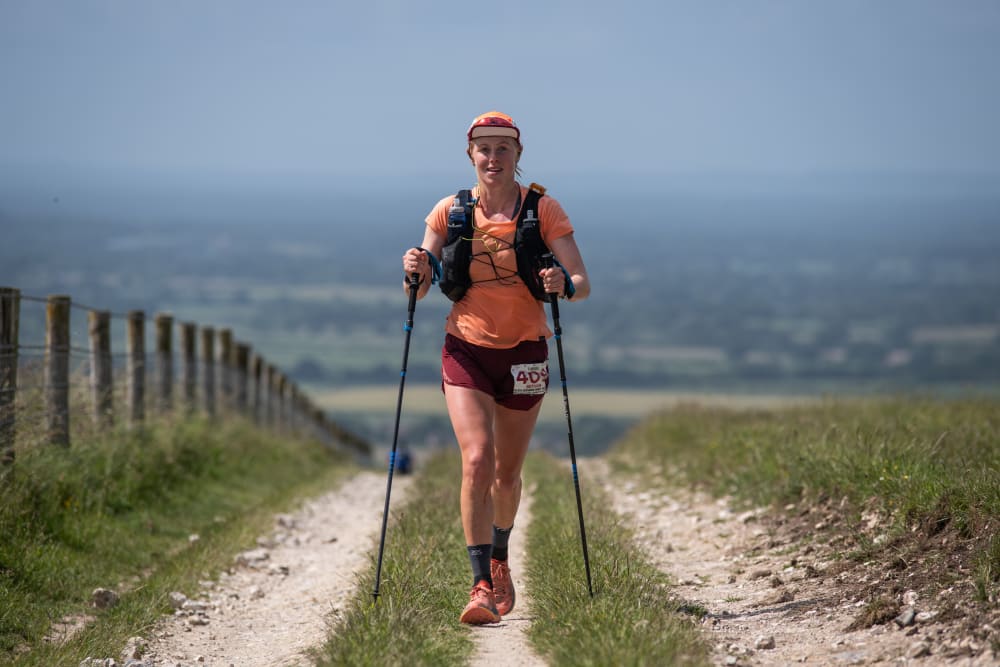 Bethan Male (Photo: Leonard Martin)
Second place in the ladies race went to Ellie Baverstock who ran something of a break through performance here, with a 17:37. Again a very consistent day from Ellie who ran in third for the first quarter of the race behind Bethan and Jackie Stretton who unfortunately eventually dropped, before moving up to second and staying there throughout.
Third place went to Alice Robinson, the 2021 Champion who came home in 18:12, an improvement of 36 minutes over her winning time last year.
In the mens race, in a style not dissimilar to Bethan, Richard Mcdowell ran off of the front and stayed there for the duration. His day was slightly less smooth than Bethan's however just down to a few minor issues that seemed to handicap him slightly throughout. Richard won the TP100 last year with a course record 13:43 and has abundantly more pace than anyone in the field behind making him a clear pre-race favourite but he was up against a strong field this year and it was not all plain sailing.
His lead stretched initially as he ran well, crewed where he could be and running straight through most the check points. But coming in slightly undertrained and up against a warm day with a few kit (he had made his own rear pocket, sewn into his shorts to keep all of his mandatory gear) and footwear issues, he just wasn't quite on the splits he'd hoped over the first half, initially well ahead of course record pace before slipping back to on it for half way / into Washington check point and then dropping behind over the second half. One thing he continues to show is a huge amount of grit however, evidenced by the way he suffered to his TP100 win last year. There wasn't really ever a doubt he would get the job done and get it done he did, in a winning time of 14:49.
Like Bethan however, he was also pursued by last years champion Peter Windross who started out much more conservatively and ran from 25th at check point one, to finish second just 16 minutes back by the end. Chris Kelly ran extremely well over the first three quarters of the race holding second throughout, consistently around 20 minutes behind Richard. He slipped behind Peter just after Housedean and eventually faded over the final 15 miles but held on for third in 15:53.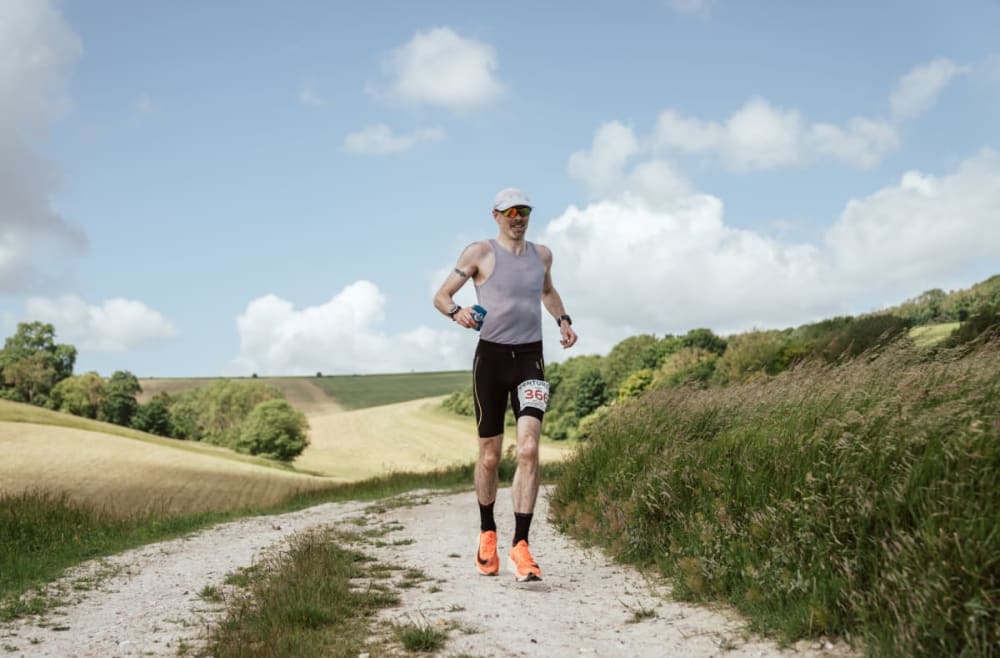 Richard McDowell
In the Age Categories, much excitement was held for the first 20 plus hours of the race as Marion Hemsworth looked set to become not only the first Vet 70 Female finisher of one of our 100s, but in fact of any of our events. It was agonising to see her slip behind pace and eventually be cut off at Housedean with 24 miles ago. Hopefully we see her back again and that she inspires others in that category to step up and become the first.
First FV40 went to Jane McCarthy in 20:29. First FV50 to Claire Howard in 20:09 which lowered the previous FV50 record from 21:26, set by Di Roy all the way back in 2015. A huge improvement.
First MV40 went to Richard McDowell the race winner and MV50 to Peter Windross in second overall - bettering his own MV50 category record from 2021. First MV60 went to Tony Brooks in 22:41 and first MV70 went of course to Ken Fancett in 22:58, bettering his own MV70 record by almost two hours. Ken is very much back on form this year.
301 finishers gave us a 74% finish rate which is much higher than the 67% average for our 100 milers over all time. Excellent conditions helped with that rate. The final finisher Caroline Crouchman left us nervous but ultimately fulfilled with her 29:56:50 finish giving her a little over 3 minutes to spare.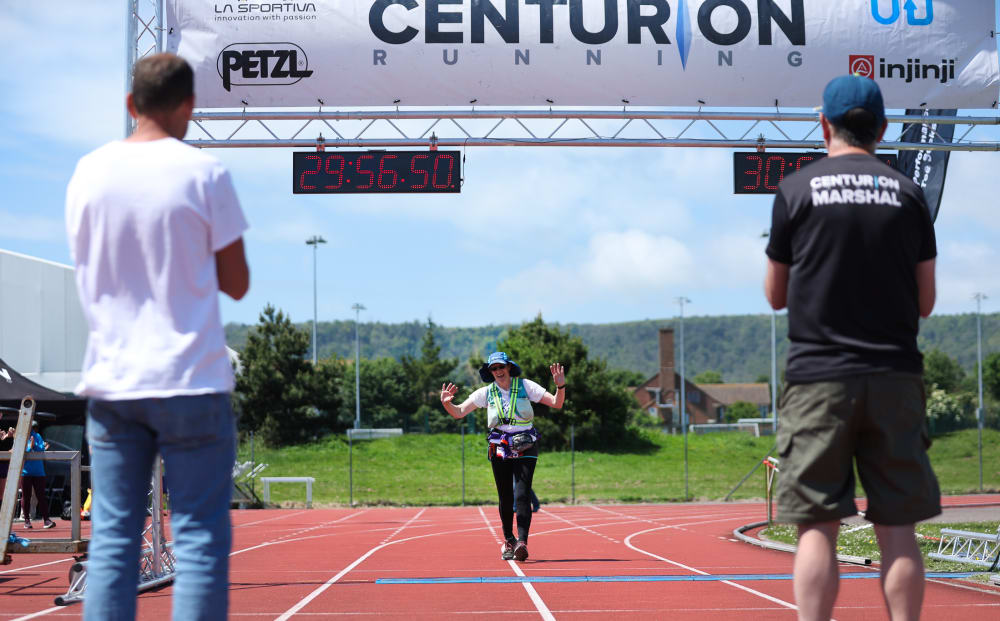 Caroline Crouchman (Stuart March Photography)
Elaine Battson did finish her tenth consecutive SDW100. And Mark Perkins gave us perhaps the most emotional moment at the finish line as he crossed it in a time of 20:52, elated to be back in the sport. As he said afterwards, his choice from here is dictated by his desire to train and race and not any more by the injury that seemed insurmountable. There is a message for us all in enduring, there.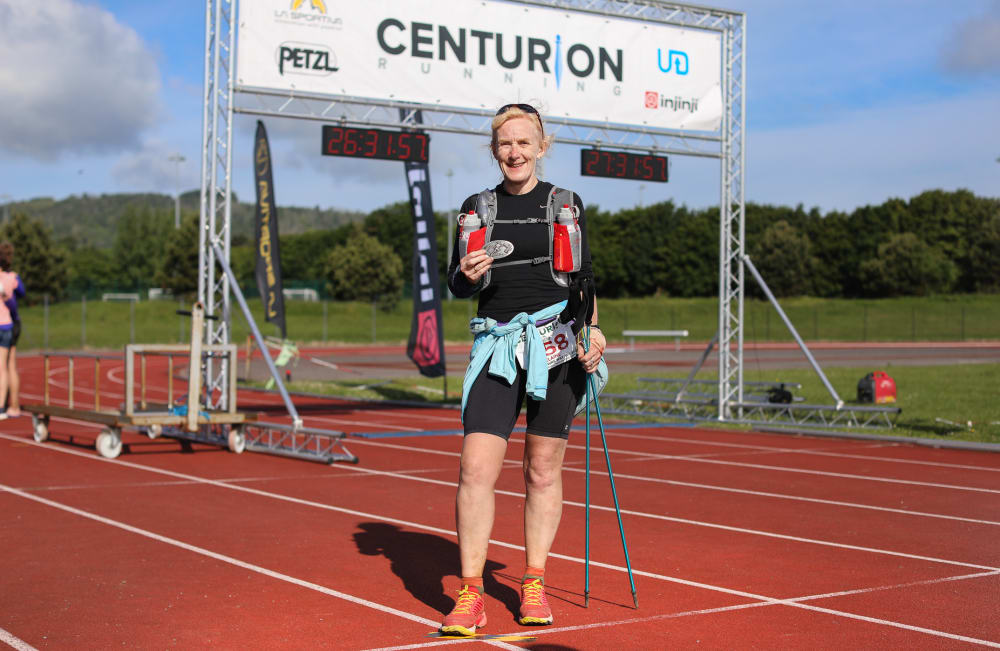 Elaine Battson (Stuart March Photography)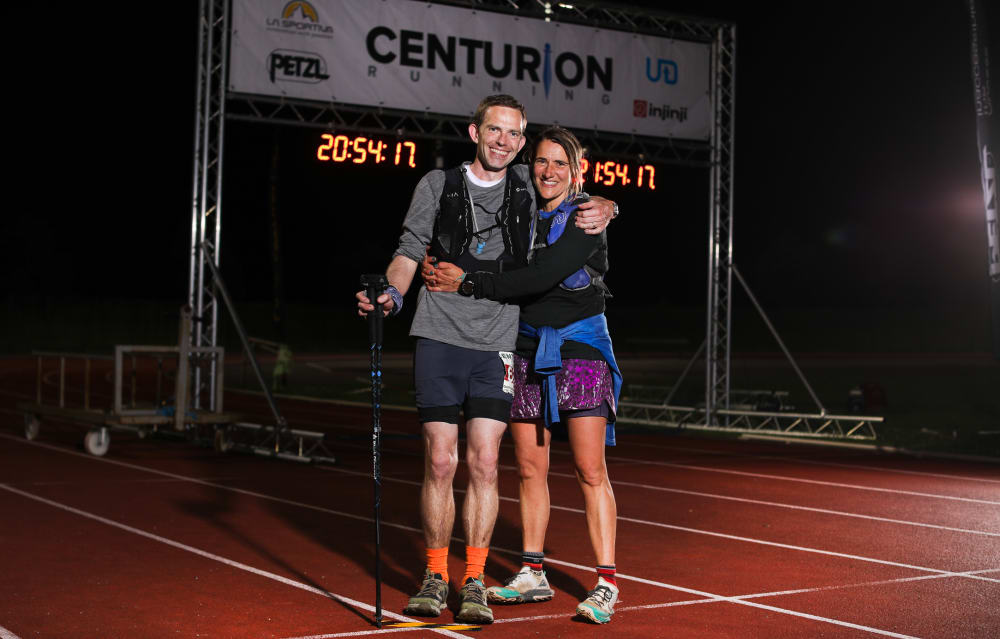 Mark Perkins and his wife and pacer Sarah (Photo: Stuart March Photography)
We had 120 volunteers out on course for this weekend. Plus 15 Staff, our race medics and all the support infrastructure around it. It is our biggest race and feels it but because of the volunteers, always retains that feeling of being around a special community for the weekend.
Click here to find a podcast debrief/ recap of the race
Thank you to everyone for making this another safe and successful edition.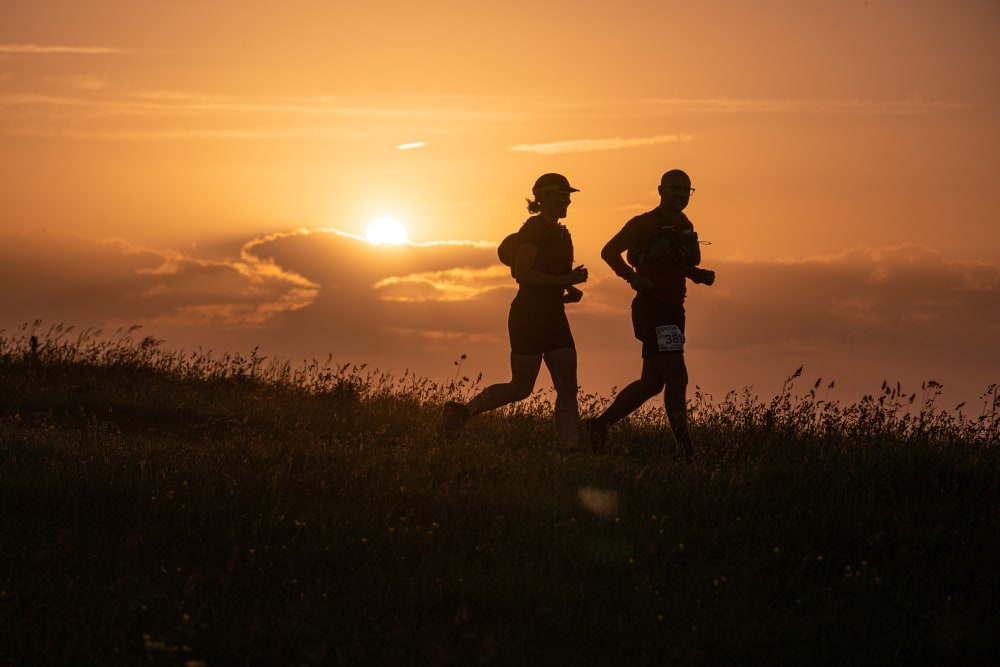 Steve Ashworth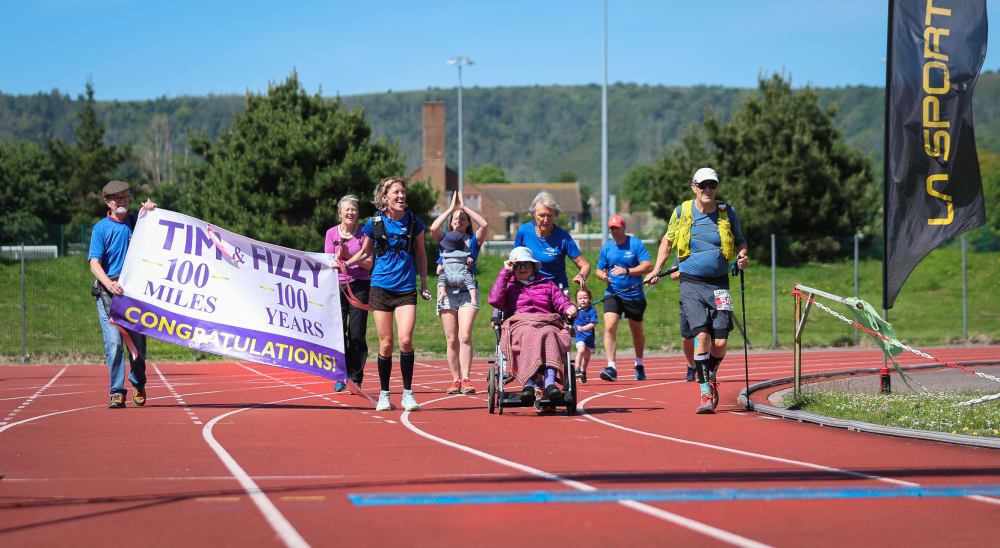 Stuart March Photography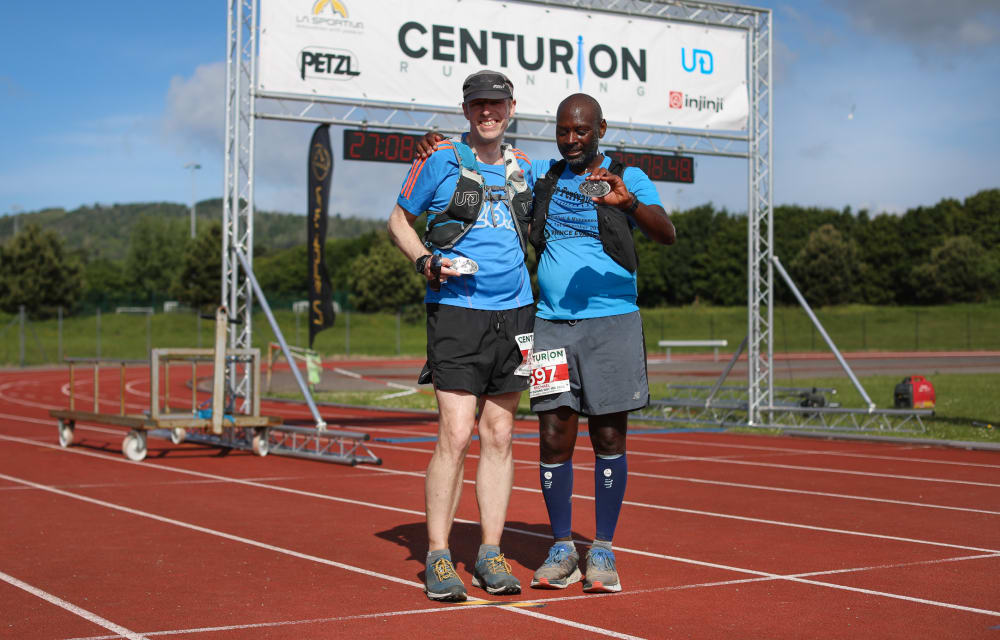 Stuart March Photography