A superb weekend of racing was had at this years Thames Path 100. Many records were broken as we watched some incredible stories and racing from up and down the field.
The day dawned cold but bright. The 309 starters eventually faced some cold showers through the early afternoon, mixed in with some sunny spells. Before a freezing night set in. Luckily with no rain or wind through the hours of darkness, most were able to cope with the cold on its own and of the 309 starters, 225 finished the event for 73% completion rate. By far the highest ever finisher ratio we have had at the TP100.
Both the mens and womens events turned out to be extremely close, hard fought races with some incredible back and forth along the way.
Up front in the mens race, the early lead was held by course record holder and GB international Craig Holgate. Behind him, previous champion Ed Catmur ran just a couple of minutes back and there was much excitement about a possible return to top form for Ed. After the front two a group of four had formed early and stayed together through the early miles, that group including both Ian Hammett and Paul Beechey.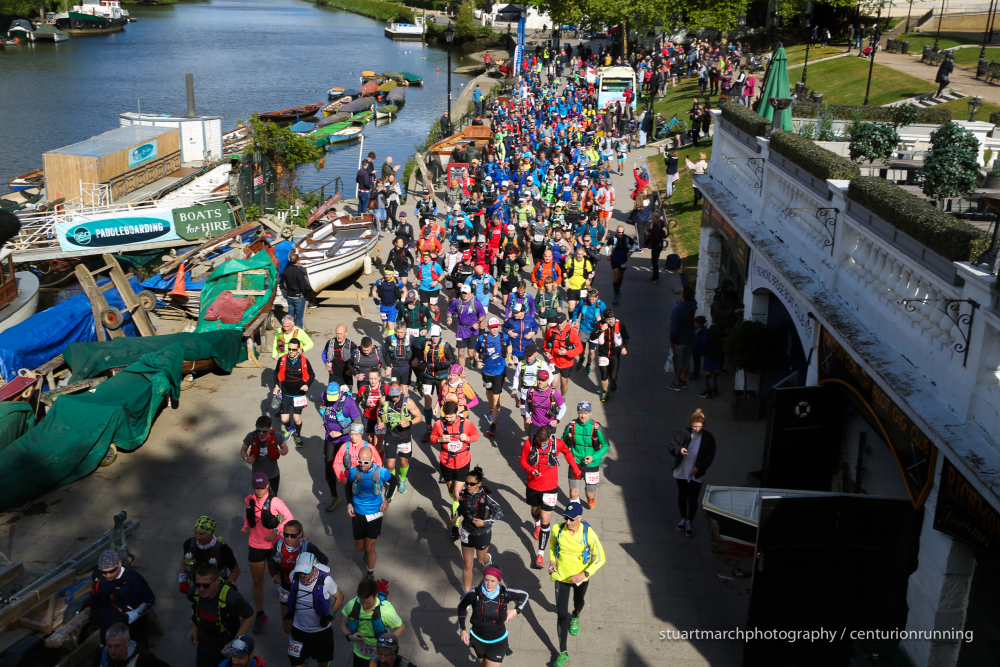 The 2019 TP100 gets underway from Richmond Upon Thames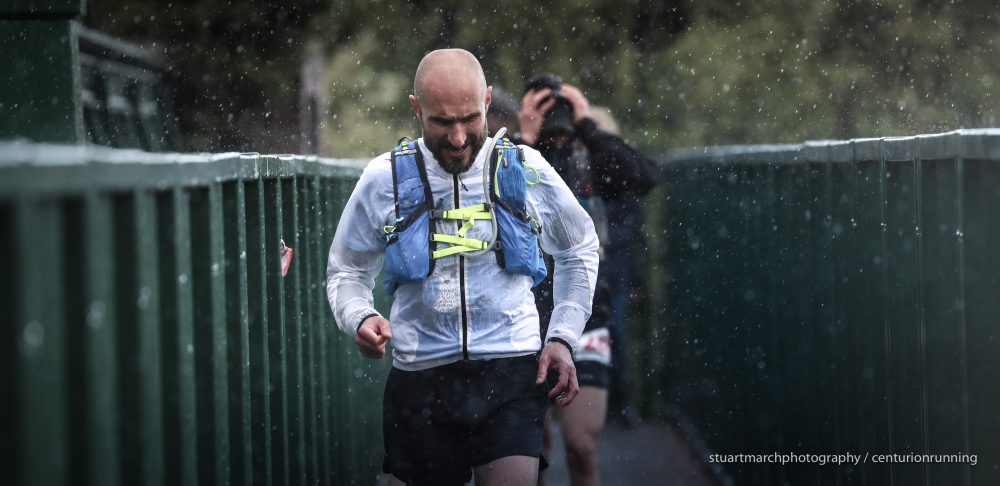 Bright sunshine was interspersed with rain showers throughout the early hours
Within a few hours it was all change however, as Craig pulled over just after the marathon mark with an ankle problem he had suffered from in one of his final training sessions just a week earlier. Ed faded back a little and that left Ian Hammett on his own out front having stretched away from the rest of the bunch. Over the next 70 miles, Ian ran from the front in a confident manner and paced the race very well. But it was far from an easy ride, with John Melbourne running strong through the field from 16th at CP1 to 7th at CP3 and by the half way point at Henley aid station in 3rd, he was 21 minutes back from Ian. He looked strong and over the next 35 miles, closed the gap on Ian to just 9 minutes. The two were certainly both aware of the diminishing margin and both pushed as hard as possible to make it over the line first. Both of them produced pacing masterclasses, and it was only in the final nine miles where John lost a little power, and Ian found a finishing kick to run sub 8 minute mile pace over the last 10km, that the gap opened back out again. Ian ran home for a second fastest all time on this course of 14:36 and his first Centurion win. John crossed the line in 14:58 for second - the first time we've had two sub 15 hour runs at the same race. Third place was taken by Paul Beechey who also ran strong throughout and came home in 15:48.
The Grand Slam for 2019 already looks like a fascinating encounter, with Ian and John both looking to the overall series as well as the individual events. If both can continue to stay in form through 2019 it looks like we are in for some spectacular racing, and results.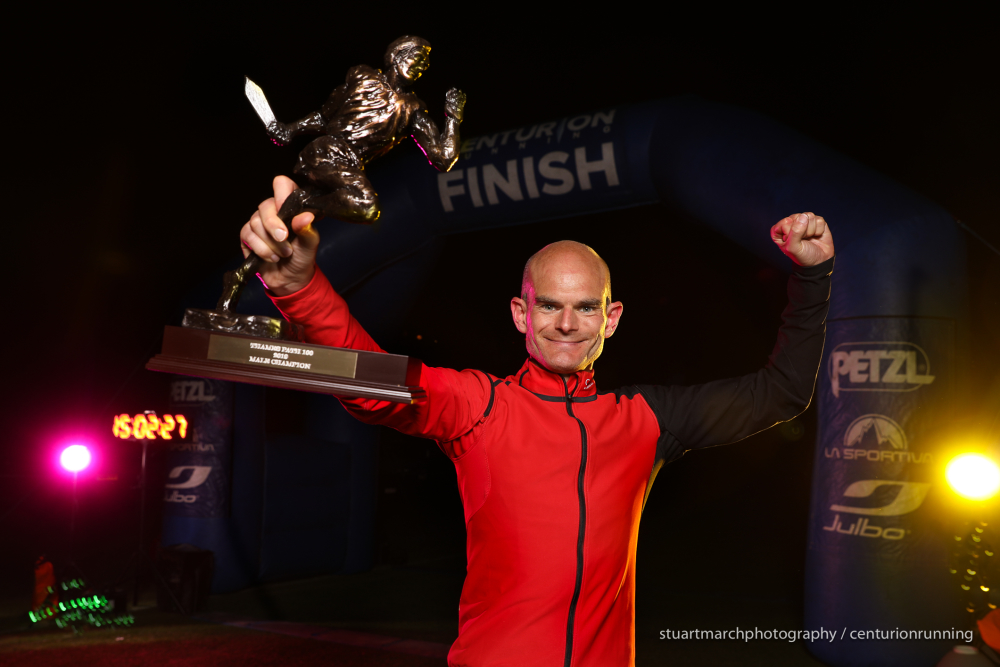 Ian Hammett collecting his winners trophy
If it's possible, the womens race was even more exciting than the mens. At check point 1 mile 12, Wendy Whearity going for her 19th Centurion 100 mile finish had the lead, with a group of 7 other women all within 7 minutes of her. At Dorney and the 50km mark, it was all change, as last years NDW100 champion Ingrid Lid had made her way through to head the field in 4:47.Centurion Ultra Team runner Debbie Martin-Consani was now just two minutes back and Wendy had briefly slipped to 5th place. Between Mile 30 and 44, the lead went back and forth between Ingrid and Debbie, but by Henley, mile 51, coming in in 8:11 elapsed, Debbie had a commanding 13 minute lead this time over Leanne Rive in 8:24 and Kelly Pepper and Ingrid both in 8:26.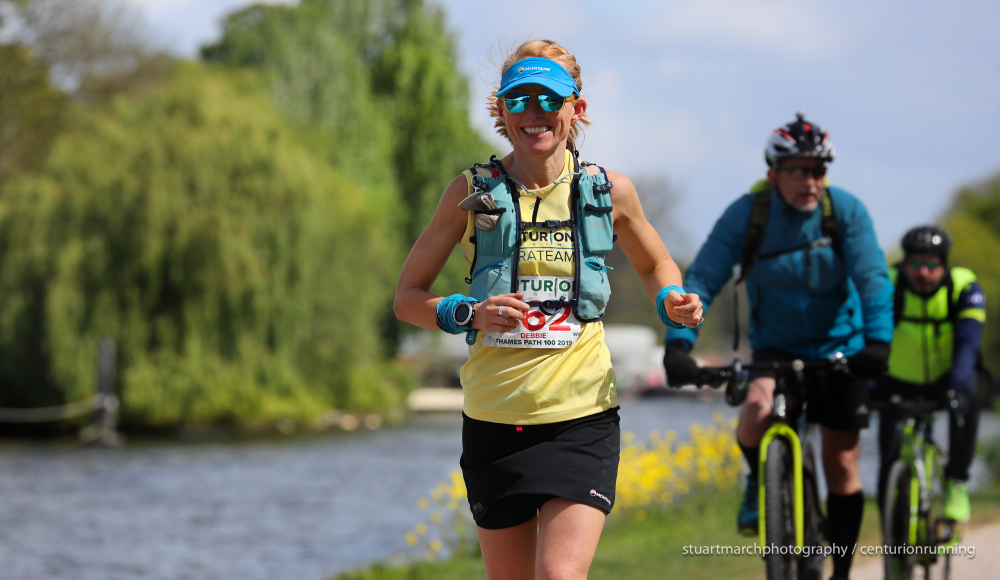 Debbie Martin-Consani running in Centurion Ultra Team colours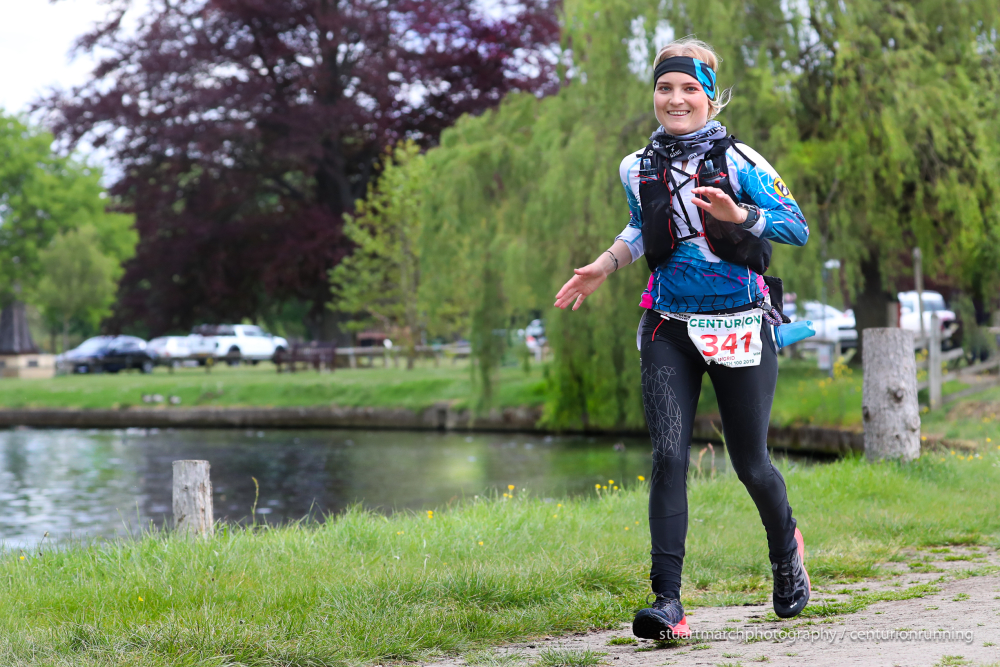 Ingrid Lid traded the lead back and forth with Debbie across the first half of the race
By Streatley at Mile 70, Debbie held a similar lead of 13 minutes but this time over Ingrid who was seemingly back from the dead and closing fast. Also coming good again, Wendy sat just two minutes back of Ingrid. What would happen from here was anyones guess. Ingrid closed the gap to 6 minutes by Wallingford mile 77 and after Debbie missed the bridge at Benson for a short detour, Ingrid briefly took over the lead again with just over 20 miles to go. Arriving at Clifton Hampden mile 85 together, it was Debbie who exited the aid station first and turned on the gas to run home the victor in 17:40 elapsed. Her fourth win at a Centurion 100 mile event and her second on the Thames Path following victory on the flood course in 2013. Ingrid ran home second just 8 minutes later, with Wendy holding on for 3rd in 18:26. Truly superb racing on all counts.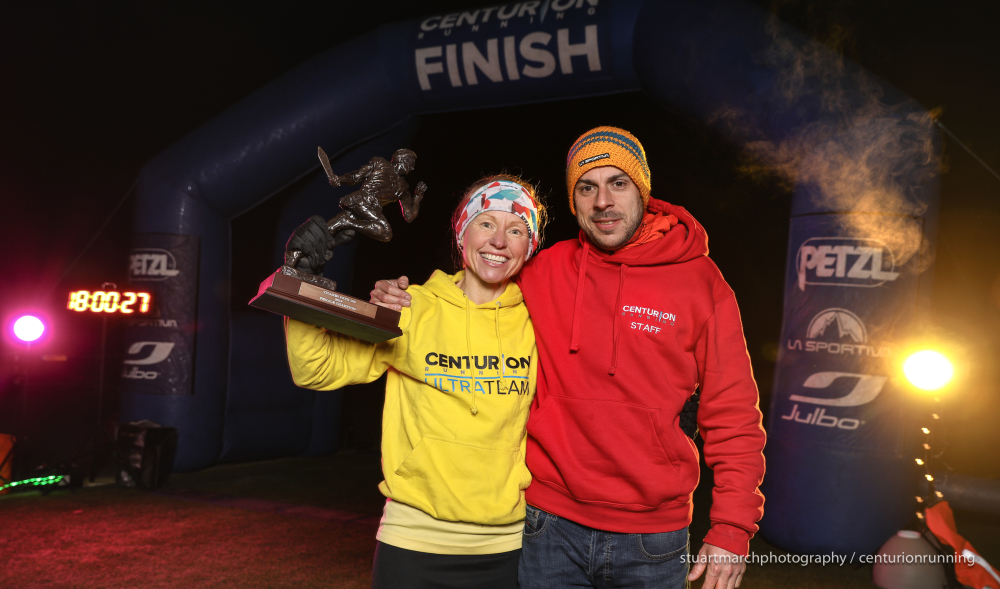 Of the 225 finishers, 123 of those came in under 24 hours to take home the 100 MILES - ONE DAY buckle, with Ben Coleman sprinting home over the line with under half a minute to spare in what was one of the best moments of the weekend.
Age group awards went to Debbie Martin-Consani (FV40) and Ian Hammett (MV40) - Ian setting a new record time. MV50 to Paul Radford in 18:01 and FV50 to Mel Horley in 25:08. And MV60 to Simon Bennett in 21:45.