This season started with a bang as the fifth edition of the South Downs Way 50 got underway with a record of field of 393 runners at 0900 Saturday 8th April.
The weather forecast was for clear skies, sunshine through the entire day which eventually led to some struggles with the heat for everyone, albeit the cooling easterly breeze played it's part in making sure it didn't get too rough. Underfoot the ground was completely dry and hard packed making for fast going. We were expecting a great race.
The intentions of some of the runners were made clear straight from the off, as a small group of three led the early pace. Paul Russhard, Jon Ellis and Danny Kendall as expected leading the charge in the overall positions. Through Botolphs it was that group together, but by Saddlescombe Jon had taken the lead and seemed to want to push the pace most of all three.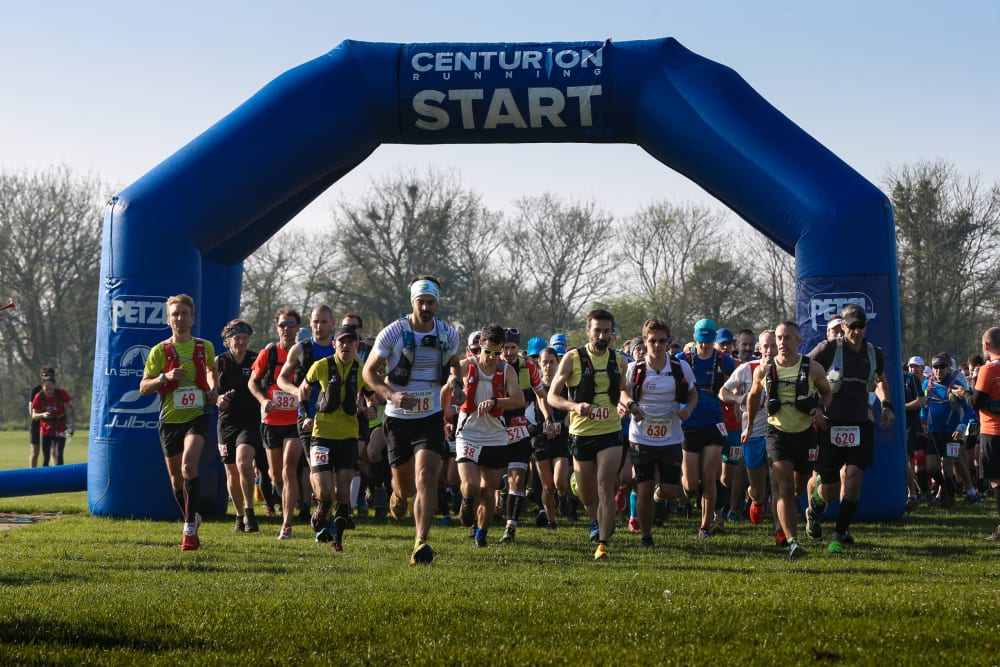 Paul was already noticing his legs and felt that the run for the win was likely to be slightly beyond him on the day. That left Jon and Danny moving back and forth over the next 10 mile section to the Housedean check point at just past the marathon mark. Coming in there, Danny had a slender 40 second lead, both making seamless transitions on towards Southease. However by the next check point it was all change as Jon forged a commanding lead and Danny dropped back with calf issues to eventually stop at that check point.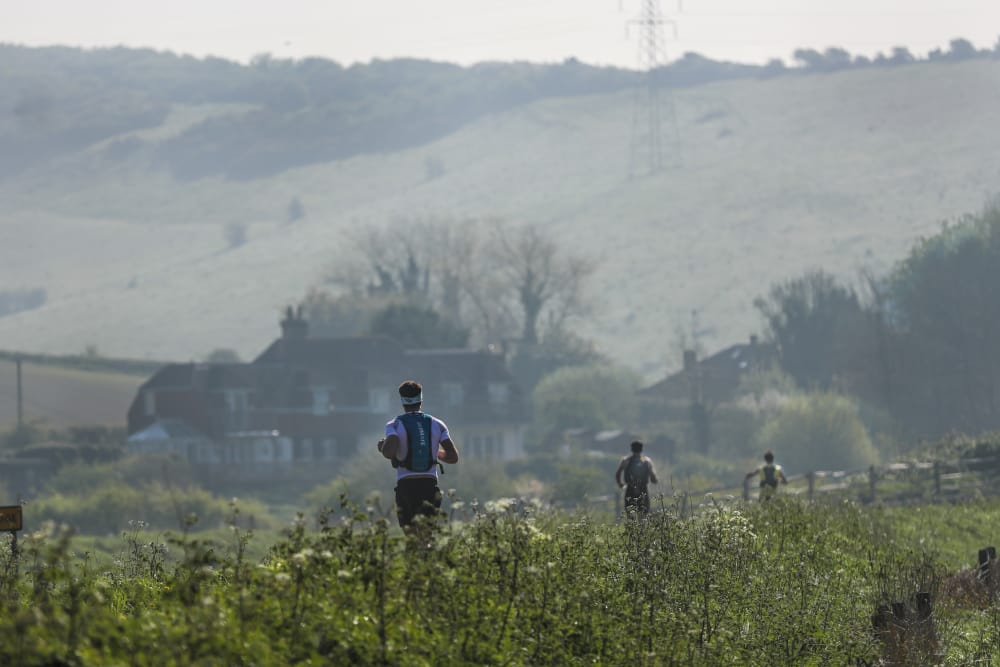 From there on in it was Jon against the course and although he slowed, he held a strong enough pace to run in a 6:27 for a win of almost 20 minutes. His second Centurion 50 win, following on from his Chiltern Wonderland Course Record last September. He now goes in to the NDW50 with a strong result under his belt.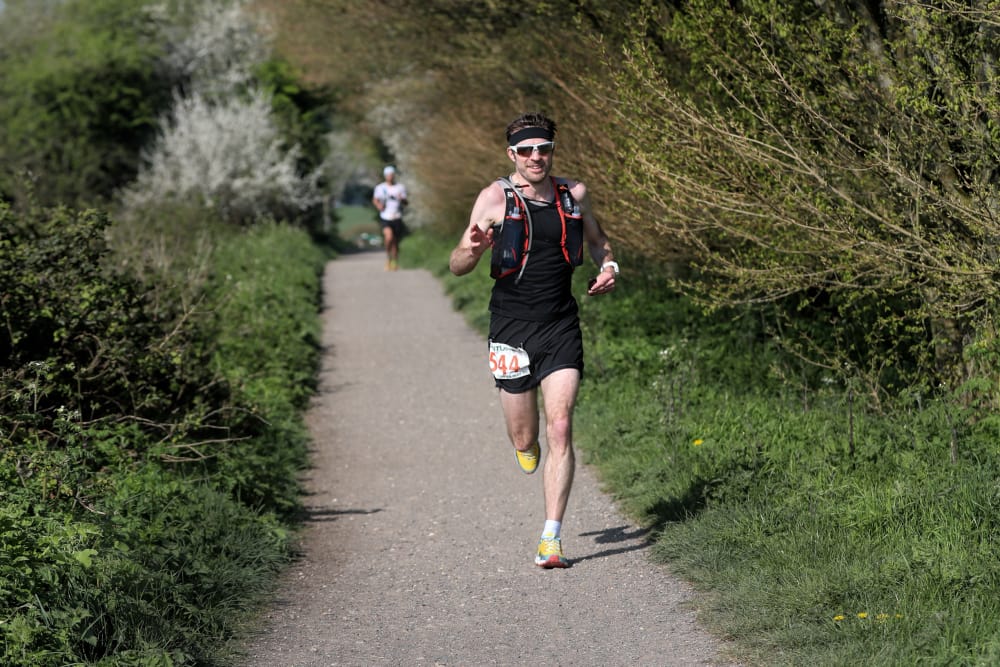 Behind Jon, Ry Webb ran probably the smartest effort level all weekend and made his way through the field to finish second in 6:47. That matched his second from the NDW50 in 2016. Ry's running has come on a long way in the last couple of years and he will be looking to take that top spot one day soon enough. He will race Jon again at the NDW50 too and moves on to try to run a 50 mile Slam record this year.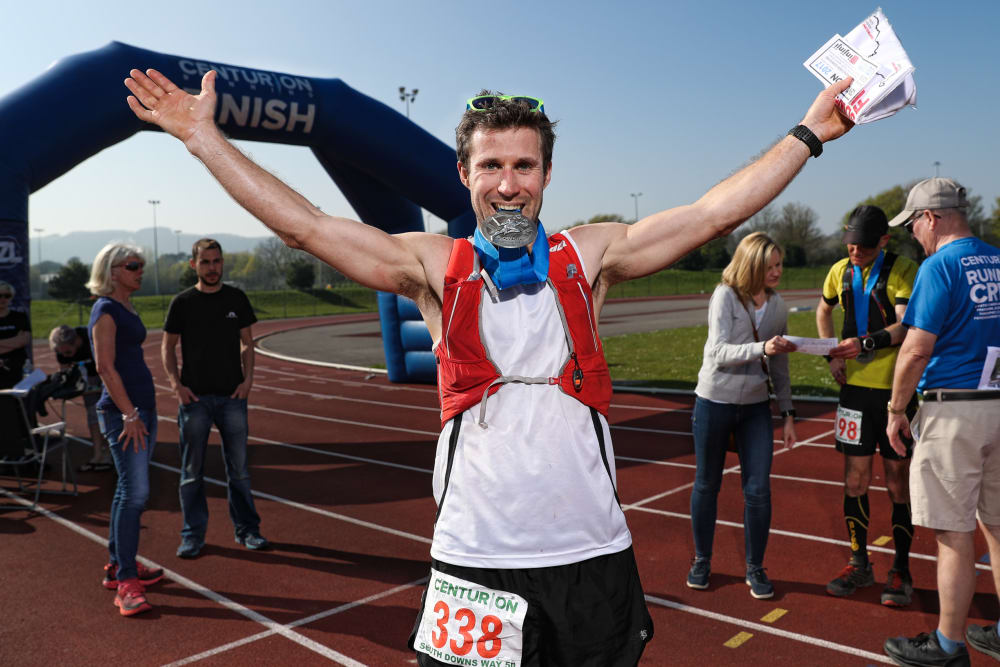 Third place went to Ian Hammett who worked hard all day. Ian brings a lot of heart to each event he shows up to and will look to build on this result towards Spartathlon later in the year.
In the ladies race, things changed around a little more and in the end, 2nd-3rd-4th were almost within sight of one another on the track.
But first home was Gemma Carter. Gemma has run many of our events over the years, with a couple of podiums to her name. Her 7:32 best at this event from a few years ago was a superb result, this time she went one better and came home with a superb 7:21 to walk off with her first Centurion trophy. 8th overall in a field this big shows what a great day she had.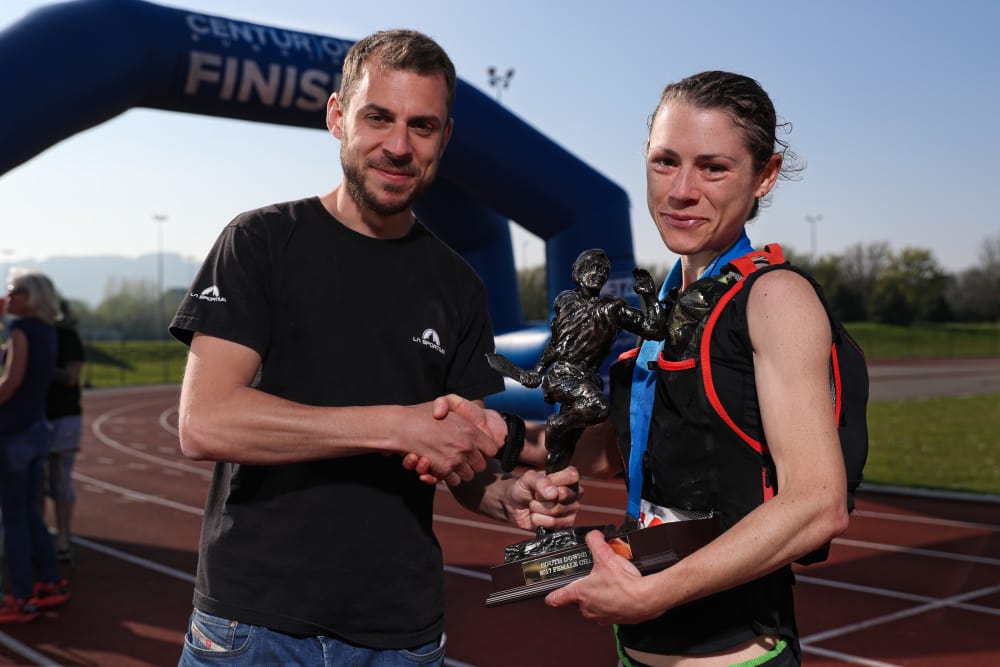 Gemma's usual style is to lead from the front, but this time she was a little more patient early on and she came from behind to record this result. Second place was won out by Mandy Regenass in 7:54, with Melanie Frazier third in 7:57 and fourth Jennifer Sangster in 8:00 flat. It is absolutely fantastic to see the ladies field full of this level of calibre and racing each other for superb times overall.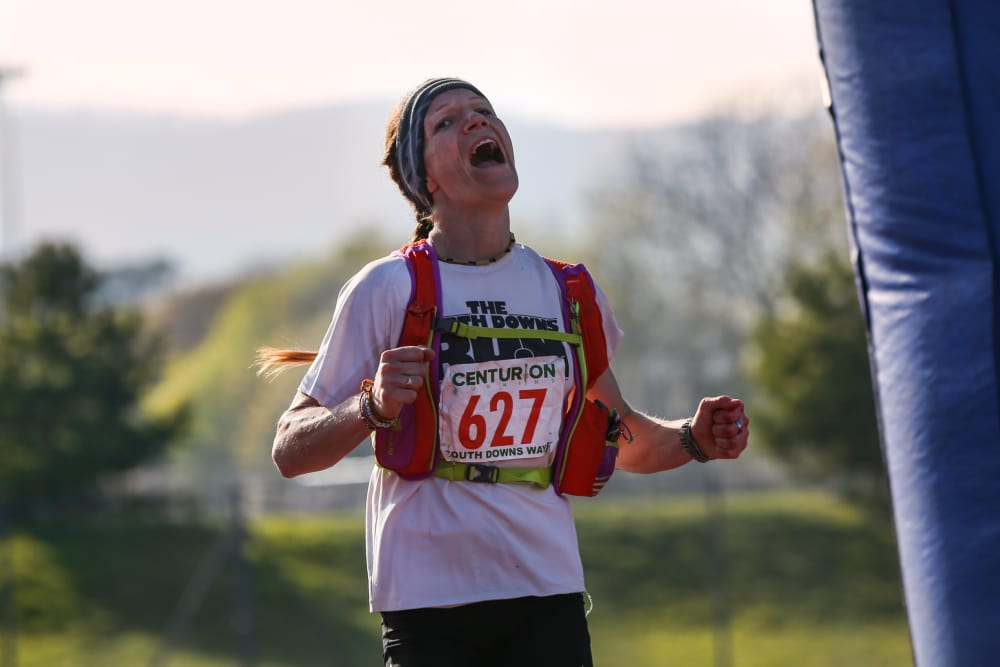 This was our first event for age category prizes as we look to try to highlight some of the incredible performances being recorded across the wider field.
The Mens V40 prize went to Mike Ellicock who with a 2:31 marathon PR is perhaps the second fastest person on paper from this field behind only Danny Kendall. He scraped home just underneath the 7 hour mark. Mens V50 went to regular and South Downs resident Rick Curtis in 7:40 and V60 to Timothy Boone with 8:47. What was a very special moment was to see Richie Morrissey, the only V70 in the field come home with a 12 hour finish. Richie was the second to final finisher at our first ever SDW100 and came on to the track with the biggest lean we've ever seen at one of our events. To have him back in this age cat and still an hour inside the cut offs - a truly special achievement for him.
In the ladies race, Mandy in second overall was also first V40 home. Janette Cross who has become so consistent in the last couple of years was fist V50 in a superb 9:15. Marion Hemsworth won the V60 category with a hugely impressive 10:53 from Diane Delderfield in 12:23.
Overall, from 393 starters we welcomed 364 runners home, our highest ever number of finishers. Our 58 volunteers held the event aloft and made it the very special day out that it was for so many.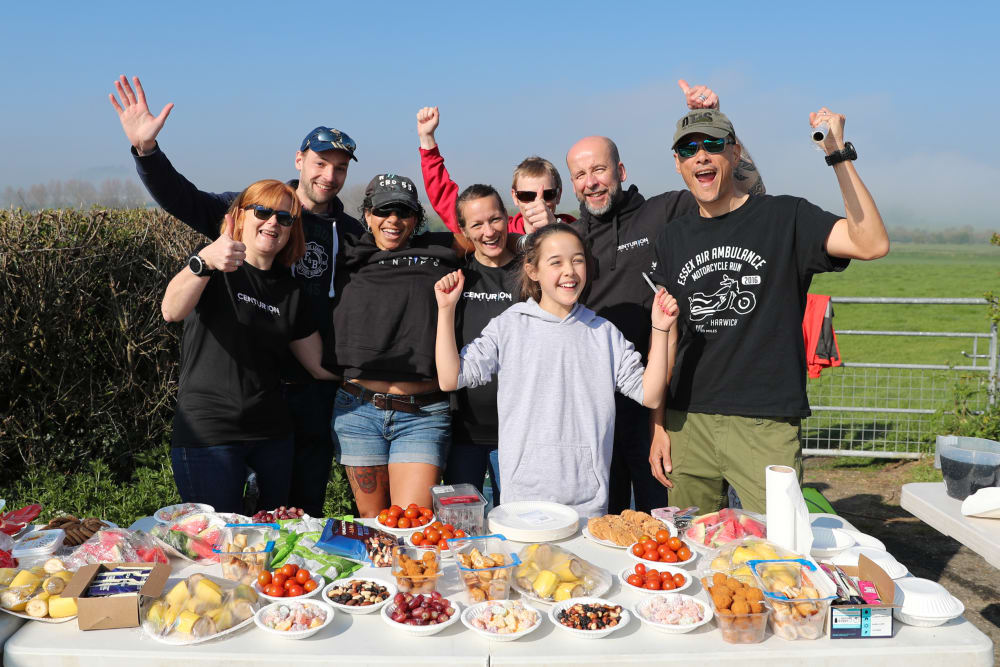 It's just three weeks until the first 100 of this year at the Thames Path and we look forward to welcoming many back to that one as well as many new faces too.