The seventh Edition of the North Downs Way 100. Arguably our toughest event, certainly if you look at the course records, average finish times and finisher percentages. That remained the story of the weekend this time out also when, in largely good conditions, we saw the highest attrition rate of any of this years events so far and the lowest proportion of sub 24 hour/ 100 mile one day buckles handed out at one of our100 mile events, ever. This was our 24th 100 mile event, so that is quite a record to be broken. It was however a magical weekend as always, made more special for those that completed the journey against the odds.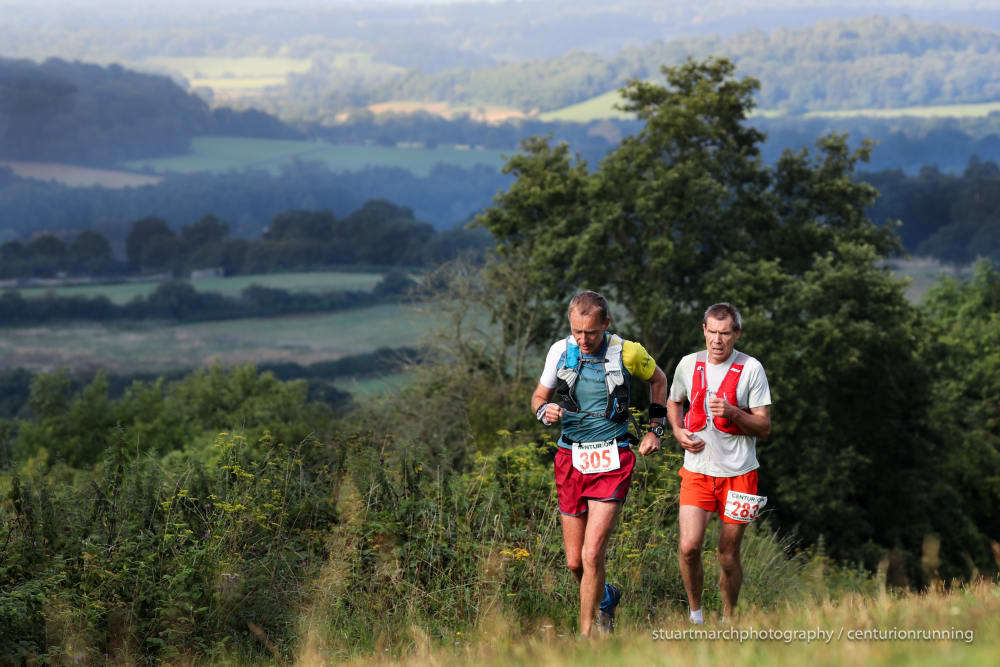 Runners push the pace early on
229 runners lined up at 0600 Saturday morning in Farnham. Returning runners aplenty but some new fast faces too. Amongst those, Paul Maskell winner of this years Arc of Attrition. Alongside Dan Doherty, one of our Centurion Ultra Team Runners.
Paul and Dan went off together and led the early pace through CP1 and CP2 reaching Newlands Corner together, mile 14.7 in 1:44 elapsed. Just a couple of minutes back, Norbert Mihalik, finisher of this event in 2016 and fresh off of a super result at the 220km Ultra Balaton earlier this year looked relaxed and in control also.
A couple of miles after the check point, a short diversion made by the leaders left Norbert out in front. And once he took the lead, despite the odds, he was able to hold on to it for the entirity of the race.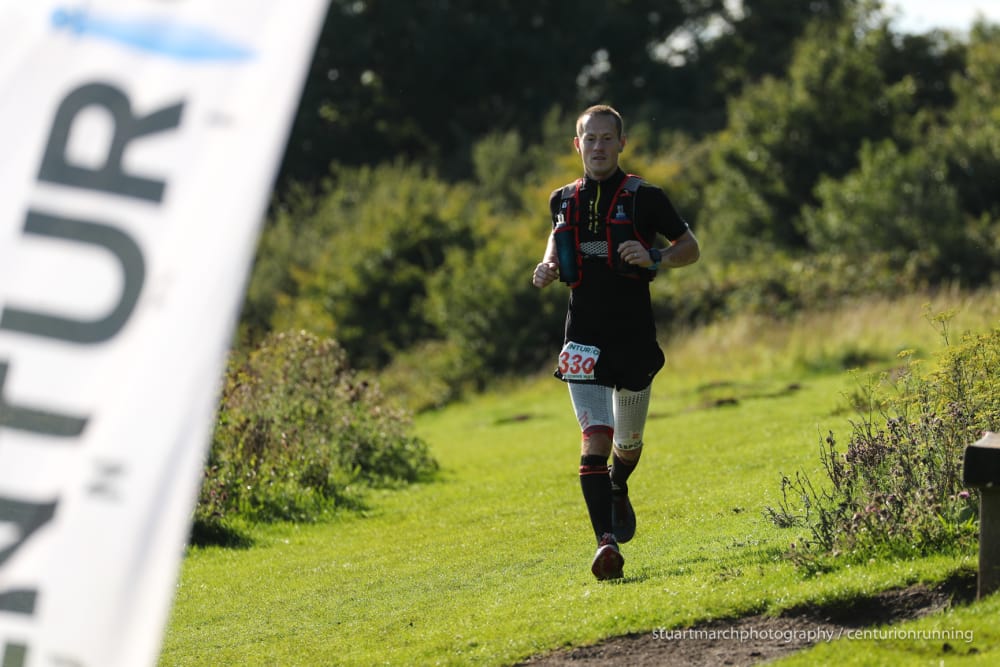 NDW100 2017 Champion Norbert Mihalik
Norbert looked strong through CP3 Box Hill and CP4 at Reigate, seemingly running within himself but pushing the pace too with the wind in his sails from taking an early lead. His split of 7:28 through Mile 50 was a way off of course record pace and that seemed to be always just slightly out of reach, but was enough to give him a 20 minute margin over Paul Maskell in second and Kristian Morgan, also a returning runner at this event, in third. Those three would go on to finish in that order with seemingly no serious hiccups throughout the remainder of the course. Ollie Stoten at one point forged ahead of Kristian in to third but unfortunately later dropped at Detling, mile 82. Norbert was by far the strongest on the day however as he put time in to everyone else with every passing mile. At Mile 66 his lead was 36 minutes and had reached almost an hour by Detling. Over the last 20 miles he put another 15 minutes in the bank over Paul to eventually cross the line with a time of 16:39 which put him third on the all time list for this event. Norbert has been getting stronger year by year, earlier in 2017 he lowered his marathon PR to a 2:38 and he clearly has scope for more in terms of both speed and endurance. An exciting future awaits him in the sport.
Paul Maskell worked hard all day after his running partner Dan Doherty stopped with a groin injury at Reigate Hill, 50km in to the race. He ran out in second on his own all day and deserved a fine podium finish at his first Centurion event in a time of 17:53. Kristian Morgan ran a solid race for third place in 18:18.
The ladies race was fascinating on paper coming in, but sadly two of the top contendors - Maryann Devally and Zoe Salt - withdrew due to injuries in the week leading up to the race. That left Mari Mauland, this years TP100 champion and Grand Slammer ladies race leader as favourite and she did not disappoint. Solid and patient early on, Mari ran 17th overall / 1st lady through Box Hill Mile 24, with Sarah Cameron over from France, 5 minutes back in second. They already had quite a lead in the ladies field with Kate Whitfield and Laura Swanton in third and fourth, 16 minutes behind at that point.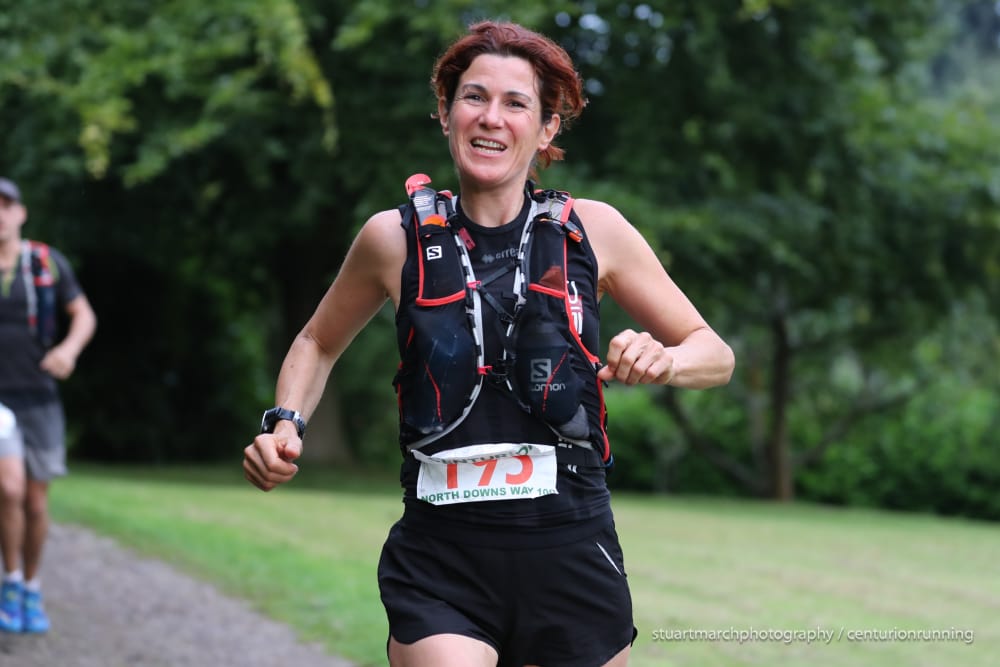 Sarah Cameron took second on the day
Much like the Mens race, the ladies positions proceeded to remain static all day. Kate Whitfield unforunately dropped later in the day but Mari, Sarah and Laura held first, second and third right through to the finish and in true style as we see every time from the ladies, paced it brilliantly. Mari moved from 17th at CP3 to finish 8th. Sarah from 24th to finish 11th. Laura from 51st to finish 34th. The gaps between the three leaders widended across the day also mirroring the mens race. Despite suffering stomach issues as she did at this years SDW100, Mari extended her lead to almost an hour at the finish, coming home in 19:35, our third fastest ever female time at this race. Sarah's 20:28 put her 5th fastest all time and Laura was the final lady to break the 24 hour barrier on the day with a 23:31.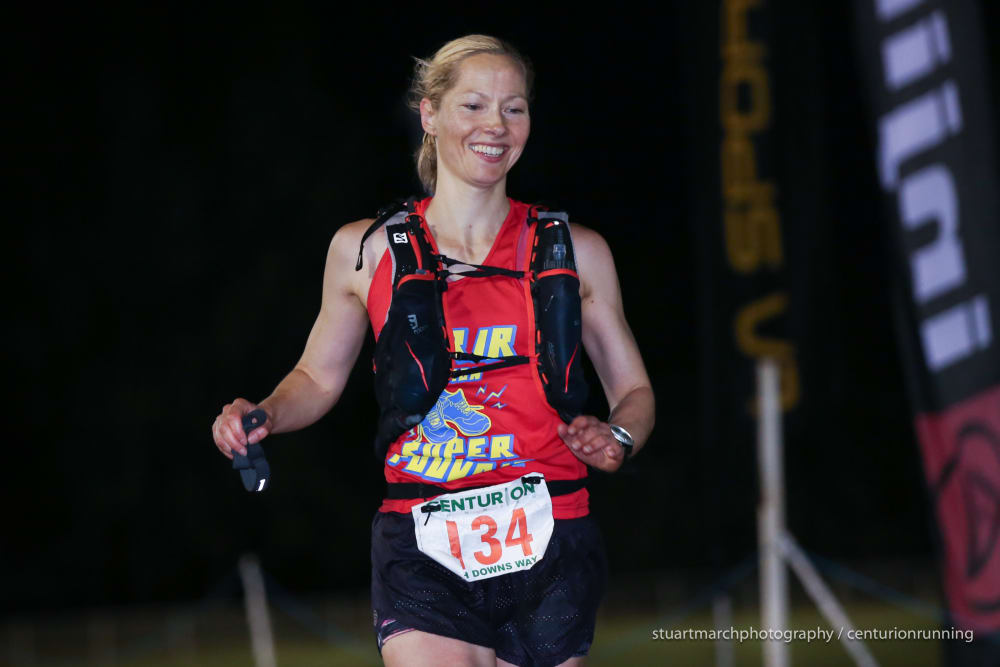 Mari Mauland. Now two time Centurion 100 mile champion in 2017
Overall we saw an attrition rate of 36%, 147 runners from the 229 starters eventually making it across the line at the Julie Rose Stadium in Ashford. This was our second year finishing on the track, runners completed a full lap this year and that seemed to be a big hit. We're starting to feel at home there now and it's provided a much better finish than the green at Wye. Superb weather on the Sunday saw lots of family, friend, crew/ pacer support out to cheer in all of the runners. Lorna Muirhead taking the honour of our final finisher cheered over the line just as vociferously as the first, with just over 6 minutes to spare under the 30 hour cut off.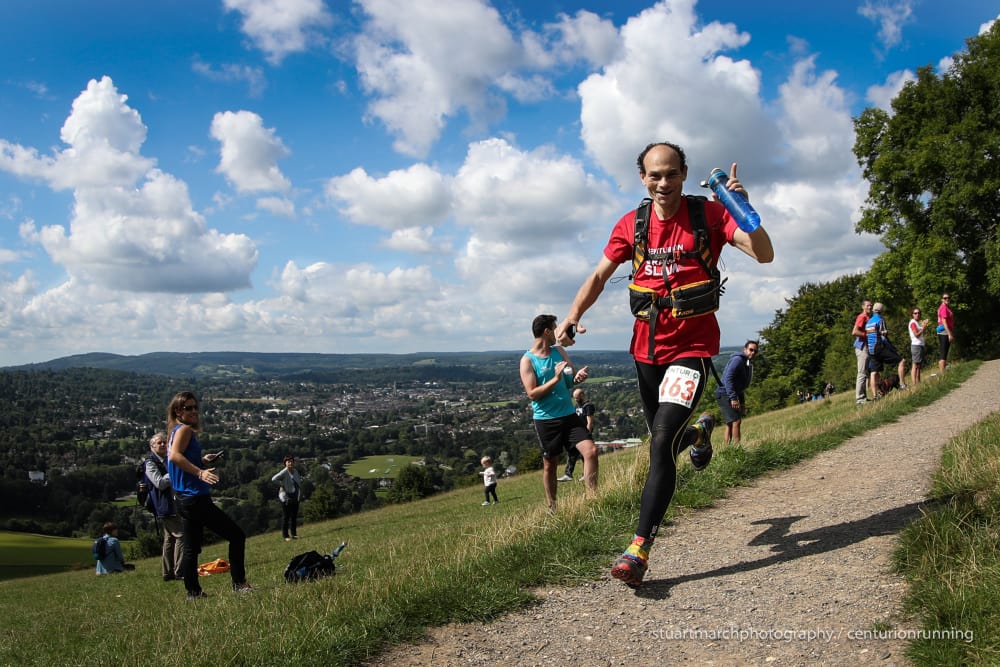 Double Slammer Calvin Hemmings putting on a good show over Box Hill
A massive thanks as always to our 93 volunteers who made this event everything that it was. Battling some pretty heavy rain showers on the Saturday and the long dark night as runners made their way ever east toward their destination.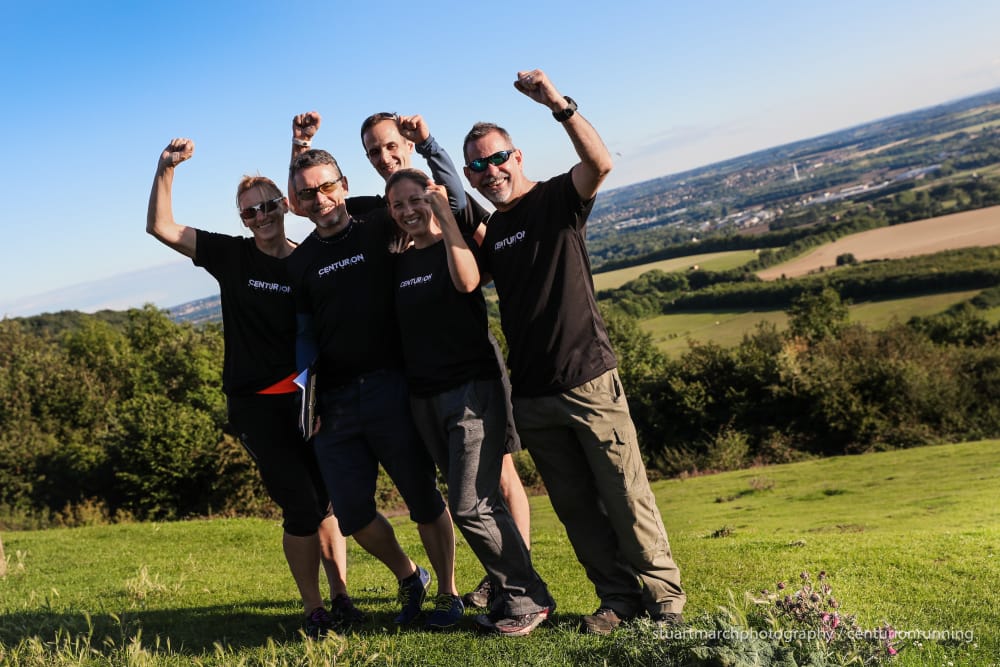 Bluebell Hill Volunteer Team
We have one final 100 mile event of 2017, the Autumn 100. For our slammers that means just one leg of the journey left. Mari has a deficit to make up to reach Sally Fords overall record, but she is within reach. Dan Masters requires a 16:34 or better to capture the overall Grand Slam record from John Stocker who is also still in this years competition.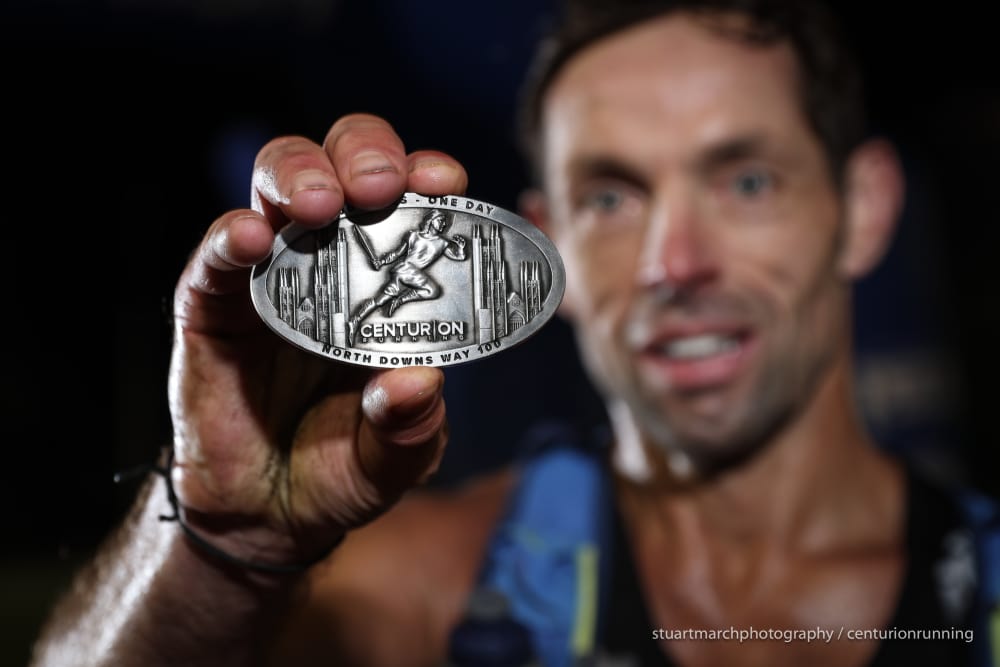 Dan Masters now leads the overall Slam Standings