The 2017 Thames Path 100 was our sixth edition of this event. The relationship between this race and weather conditions has traditionally been more tumultuous than any of our other seven. Things were set perfect this year however. A high of 14, low of 8, dry underfoot and overhead and with a gentle following wind for the runners all the way to Oxford. Would we see some records tumble?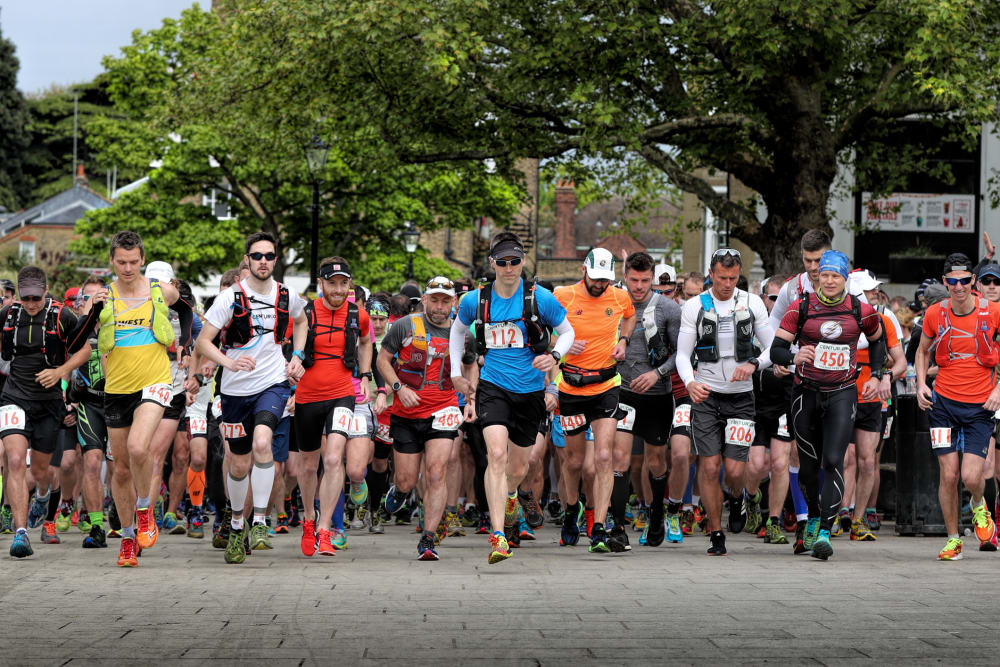 Race Start at Richmond Upon Thames
The gun went at 1000 exactly and as we expected, it was Mark Denby who immediately looked to stamp his mark on the race. The 2016 Autumn 100 champion and course record holder went off, incredibly, even faster than his sub 7 minute mile pace from that event, dropping 6:30 min miles one after the other as he ran through the first two check points out in front. His pace made Craig Holgates 2016 Record splits look pedestrian. He hit Wraysbury, mile 22 in 2:32 and pressed on to the 50km mark at the Dorney aid station in 3:40. Behind Mark, Steven Lord, winner of the 2016 Hardmoors 110 and indeed the Hardmoors Slam was keen not let Mark get too far ahead and worked hard to stay within 7 minutes of him at the same point. That put Steve bang on CR pace.
By Cookham just 7 miles later however, everything had changed. Mark had walked in to the aid station with a hip problem. Steve had taken the lead, through in 4:57 and Michael Stocks had moved in to second just 4 miunutes back. From that point, Steve paid the price for chasing Mark and Michael surged to the front, never looking back. Through Henley in 6:48 elapsed it was clear it wasn't in fact going to be a day for records to be broken, but Michael's progress from there was solid and steady. He eventually crossed the line in 14:57 elapsed, becoming only the fifth runner to break 15 hours at one of our 100 mile events.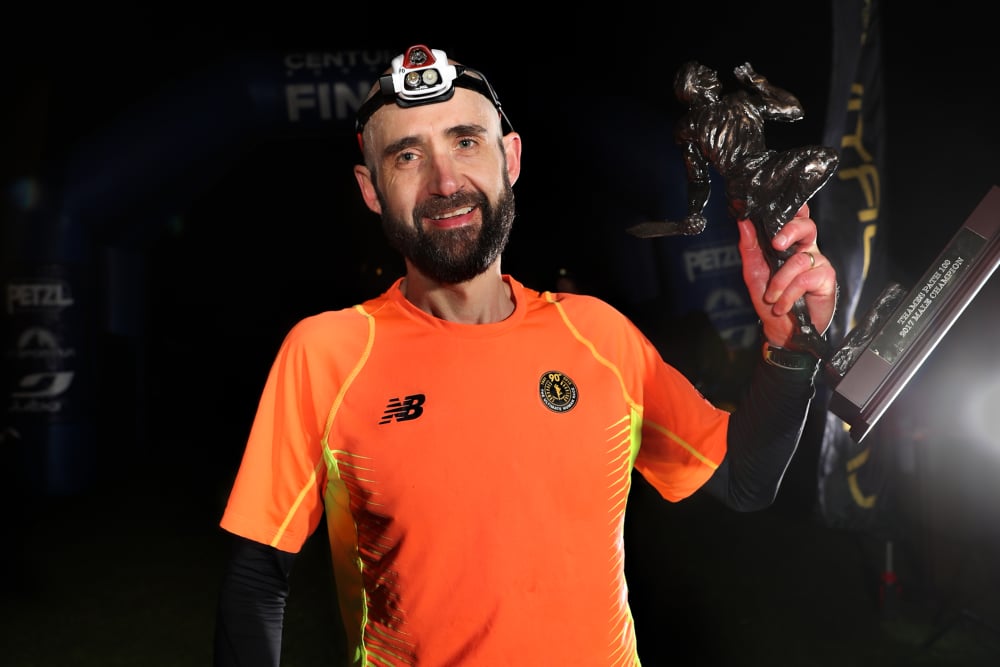 Behind Michael, pacing prizes go to second place Dan Masters (15:30) and third place Jeremy Isaac (16:25). Fantastic to see two returning runners learn from previous 100 mile pacing errors and have such fantastic overall races. Dan is heading for the Grand Slam and is already 2 and a half hours up on John Stockers 2016 record split at stage one. There is a long way to go yet though, about 300 miles!!
For the ladies, it was Mari Mauland who ran out in front from wire to wire, bettering her 2016 second place and 19:11 overall time, with a superb 16:55, our fourth fastest ever womens 100 mile performance. As typical from our female runners all the way from the front to the back, her pacing was superb. At Dorney the 50km mark, she lay 18th overall, 29 minutes ahead of second place Sarah Sawyer. By the time she crossed the line, she'd dropped her pacer in the final few miles and made her way up to fifth overall. A sensational run. Mari is also running the Grand Slam this year. As with Dan in the mens field, she is off to quite the start with a 90+ minute margin over incumbent record holder Sally Ford's 2015 splits.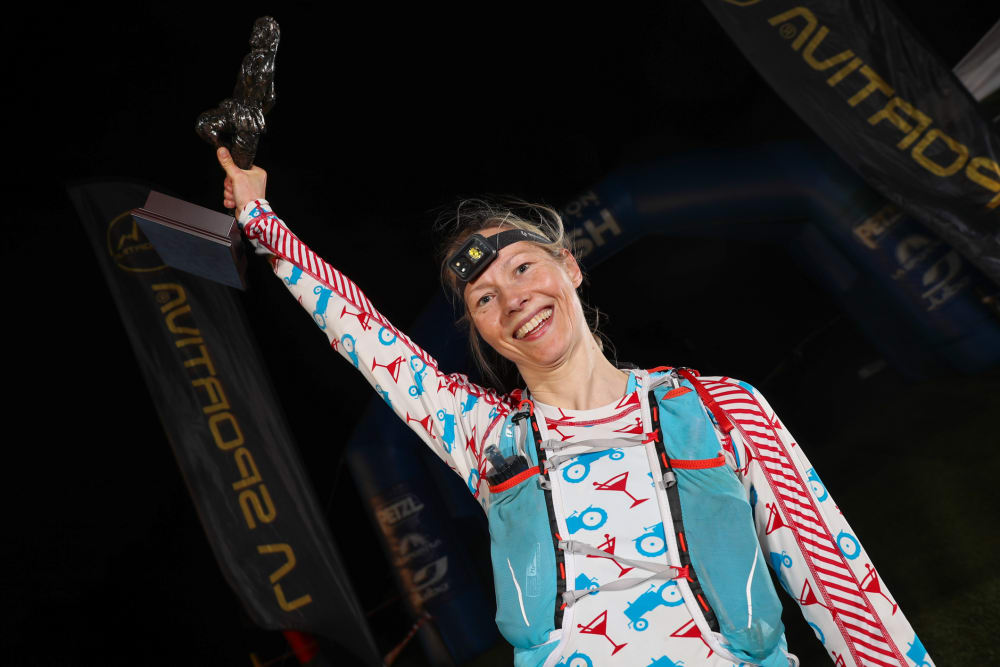 Behind Mari, Sarah Sawyer held on to second place all day. Having a bumpy ride in her training through early 2017 Sarah came in with a lot of question marks over her fitness, but she proved yet again that she is in the right sport, as she ground out a gutsy finish having suffered many issues from around the mid-point of the race. Naomi Moss, eventual third place finisher, closing in all the way, fell just six miunutes short of Sarah at the finish. Fantastic to see both of those ladies put in such huge efforts to get the achievements they deserved.
Overall, we had expected conditions to present us with much higher than average finisher rates at this event. But that was far from the case, with 209 of 297 starters making it home inside the 28 hour cut off for a 70% finish rate. 297 incidentally was our largest ever 100 mile starting field, 2 more than in 2016!
There were some incredible other stories amongst the field as always. Ken Fancett came through for his 19th Centurion 100 mile finish, his 6th consecutive Thames Path 100. He is joined by Markus Flick from Germany as the only other runner to finish every edition of this race.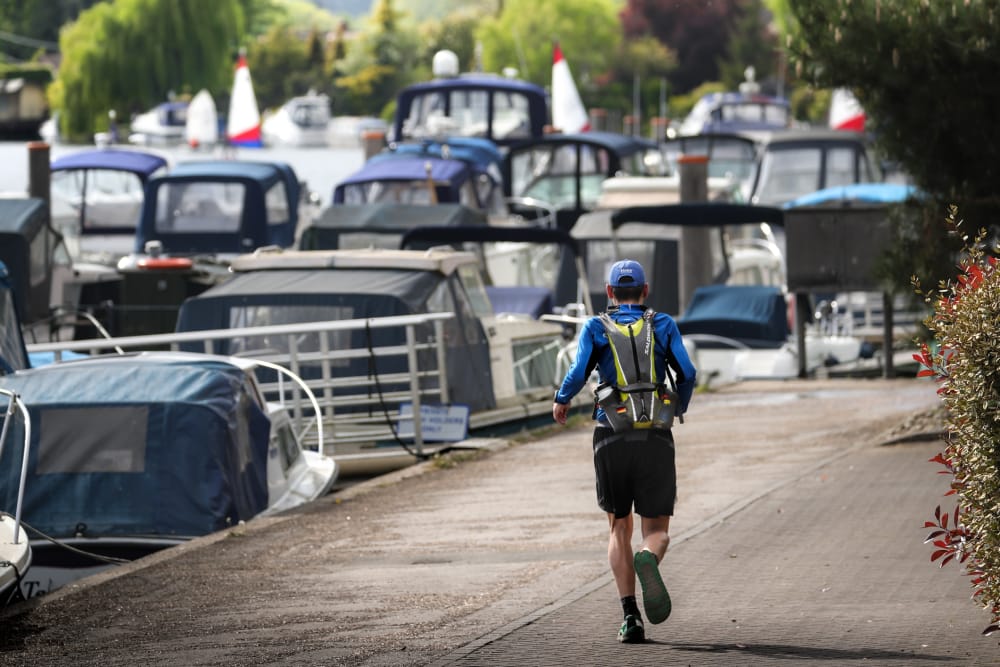 Markus Flick on his way to 6 out of 6
Darren Handley finished the race, and then proceeded to run back down the course to return again later, in his effort to cover 166.4km on behalf of the Royal Marines Charity. Mentally a huge effort and impressive to behold. All finish line proceeds will also go to his charity from this event.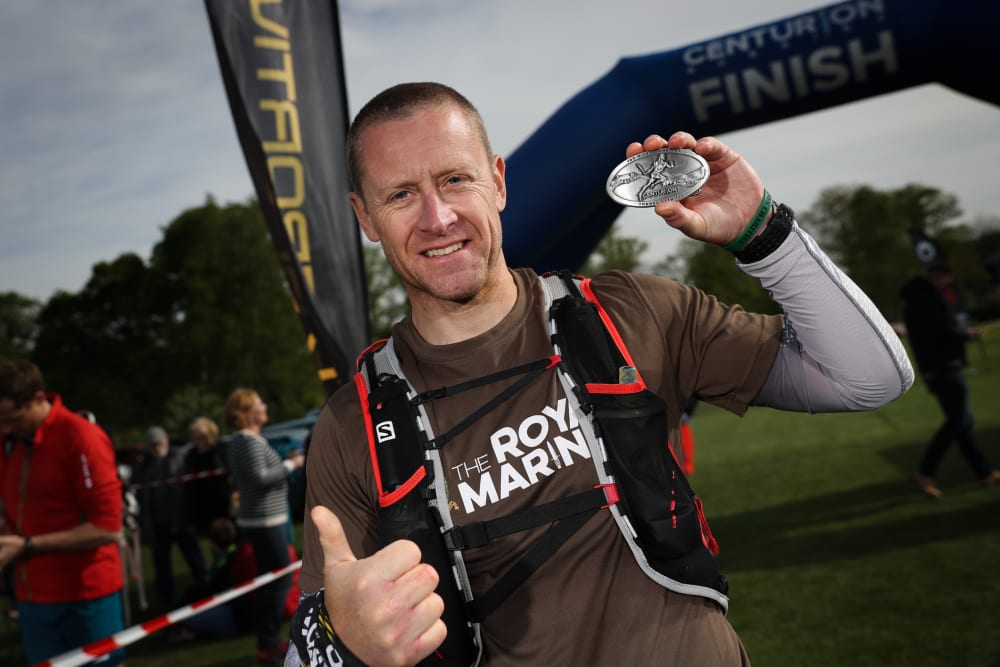 Last but not least, it was Bryon Powell from www.irunfar.com who perhaps won the day in many ways. He ate and drank his way to the finish, soaking up every ounce of Thames Path ambience along the way. We were honoured to have him join us for this one after all he and his partner Meghan have done for this sport.
88 volunteers out on course made this the safe and successful race that it was. Our deepest thanks to them as always.