This was our 4th South Downs Way 100 and the 2nd one sponsored by Petzl. With prize money on the table we had a full field of 266 starters and a huge range of experiences.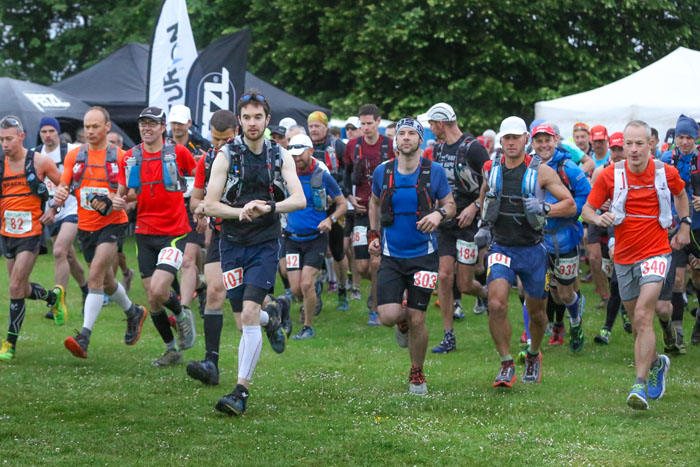 After a heavy storm overnight, conditions cleared in time for race start as the last of the rain dispersed. Runners were left with almost perfect conditions for a June day in the UK, with temperatures around 19 at their highest and a tail wind for the vast majority of the race.
As the race set off with a lap of the Sports Ground, it was already clear we were not going to see the blistering early pace set by Stuart Mills from 2014. Mind you with his opening 6 minute mile, perhaps we will never see that again!
The first runner in to Queen Elizabeth Country Park at mile 22 was Stellan Fries with a slender margin on a group of other runners. He made a navigational error however, which led to Simon Martin who was right behind, making the check point first, 2:57 on the clock, a 4 minute lead over Gordon Forrest in 2nd, before a gap back to a very tightly bunched field (including Stellan), containing within the top 10, the two lead ladies Sally Ford and Jess Gray, just seconds apart at this point. Stellan found his way back on course, but this and a later error were to cost him dearly.
The early part of the race makes for fast running and that often has the effect of a heavy slow down in average pace right across the field, between the next major Check Point at Cocking (mile 35) and the 'half-way' aid station of Washington (mile 54). It is by there that we get the clearest indicator of how the race may pan out.
Simon Martin held on to the lead all the way to Washington, but a lead which was at one point 15 minutes, had been eaten away to under a minute, Stellan Fries now right behind. At 8:15 and 8:16, times were over an hour off of Mark Perkins' 2014 splits, unsurprising given his 14:03 course record, but a sign that the race was perhaps going to slow considerably too.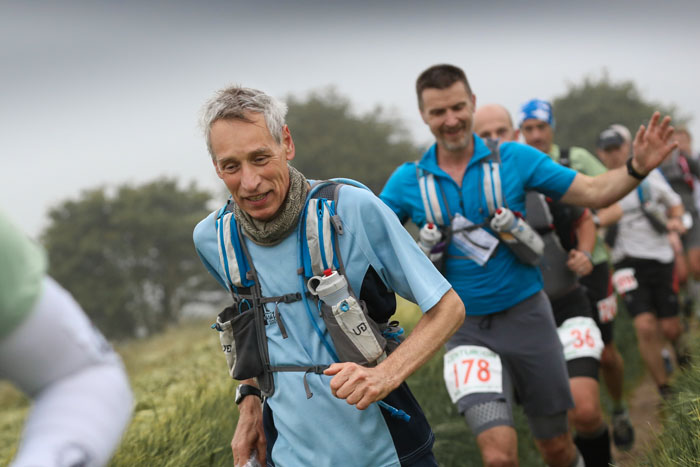 Behind Stellan, Luke Ashton, Pete Kaminsky and Sally Ford were all within a few minutes of one another and roughly 15 minutes back. These three runners together with Stellan would go on to secure the top places in a display of consistent running from each. Sally was making the biggest move, at one time climbing up in to second and we were looking forward to seeing if she couldn't challenge the guys for the overall win. Jess Gray came in to Washington with 8:48 elapsed but sadly dropped there with a number of issues leaving Kate Whitfield and Annabelle Stearns, previous NDW50 champ, in 2nd and 3rd respectively, just a minute separating them also.
On to Clayton Windmills mile 70 and we had a really close race on our hands. Simon had begun to drop back through the field, but Stellan had forged ahead in 1st and had a 10 minute lead over Peter Kaminsky. Both looked fresh and motivated. Sally, Luke and Graham O'Loughlin were between 16 and 22 minutes back and it looked like our winner would come from that group of 5. Through Housedean Farm mile 77, Stellan held his margin, but by Southease mile 83.5, Peter had taken 3 minutes back and was now 7 minutes behind. But Stellan held strong through Alfriston and was making his way on down to Jevington at mile 95 when disaster struck. His eye caught by some reflective green tape not associated with the race, he followed a trail off course through some woodlands and found himself off course. He was unable to find his way back to the point he had left the trail and quickly became disorientated. Around 40 minutes later with a number of people out looking for him and his map and in hand, he did re-find the trail to the check point, but by then had been passed by Peter, Luke, Graham and another runner Nick Wolversen. Heart Breaking for Stellan who had run in 2014 and finished 8th overall.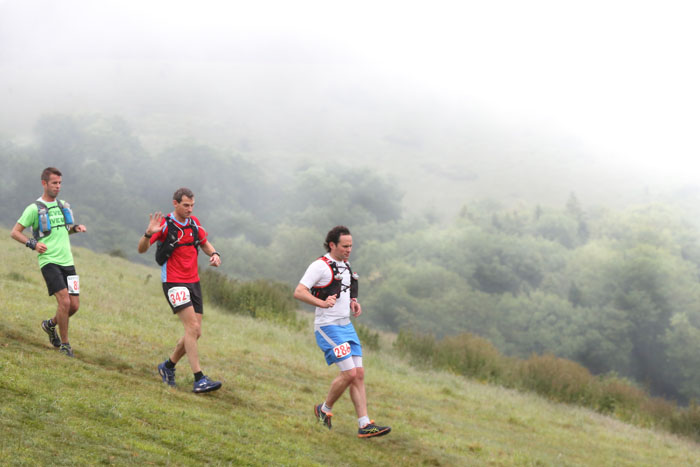 Peter held his lead through to the finish and ran in for a time of 16:50:36. Luke finished incredibly strong and came home 2nd just under 2 minutes back, hitting the track as Peter was finishing his lap. 3rd and 4th were separated by just 30 seconds as they rounded the bend in to Sports Park and with some loud encouragement from his pacer, Graham O'Loughlin dug as deep as he could to hold that margin to the line over 4th place and closing Nicholas Wolversen. They had pushed each other all the way on the final 2 mile road section but were congratulating of one another in the true spirit of the sport.
Next home came Stellan. I often quote Karl Meltzer when asked about runners getting lost on a course, 'that's trail running'. And Stellan's beaming smile at the finish showed his class. Obviously gutted at losing his way he was pragmatic and delighted to run as well as he had for those final 5 miles after re-finding his way. A truly classy competitior.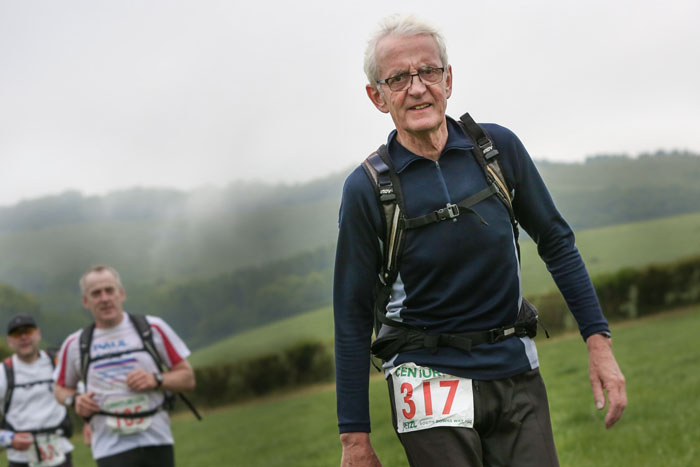 Sally Ford came home in 6th overall with a superb winning time of 17:28, 5 minutes faster than her TP100 time from last month. As a Grand Slammer it's exciting to look ahead at the final two races and see what she can deliver. So far it's 2 races, 2 wins.
Annabelle Stearns enjoyed an extremely strong race, clinching second lady in 19:01. Kate Whitfield took 3rd and also broke the 20 hour barrier, running home in 19:49.
The first three male and female runners each took home £500, £250 and £150 respectively, courtesy of race sponsor Petzl.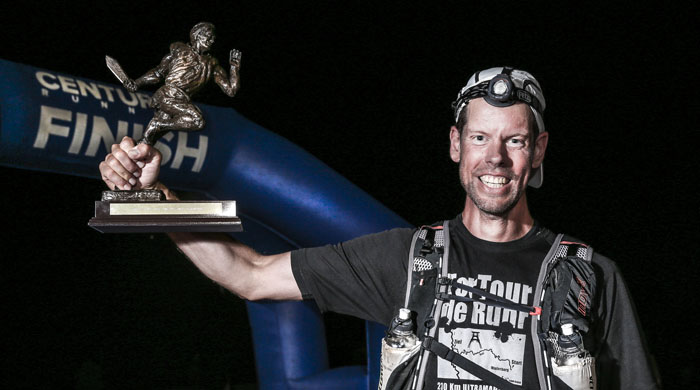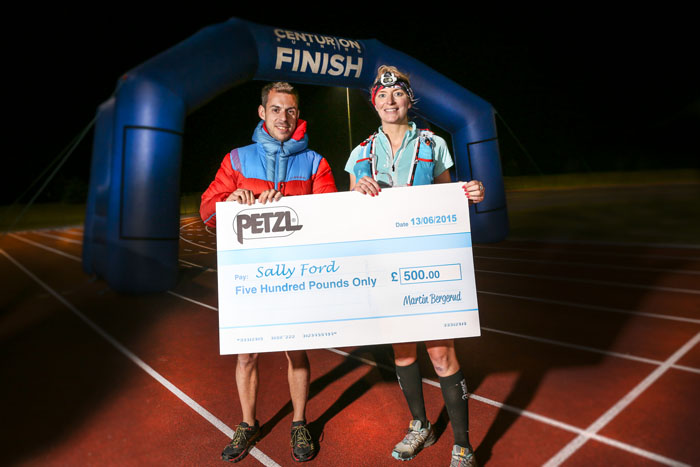 The field were much more tightly bunched than usual at a 100 mile event, which made for some exciting exchanges in positions all the way through to the end.
Of 266 starters we welcomed 109 home in under 24hrs for the 100 MILES ONE DAY buckle. Leaving the final few aid stations close to the cut off, Joanna Turner our last runner out on course and potential Grand Slammer was clearly going to give us the nail biting finish we love down at the finish! Reports from the Trig Point with 2.6 miles to go were that with 48 minutes remaining it would be tight. With a mile to go she had 15 minutes and we knew she would at least be on the track as the cut off of 29:59:59 passed. Hitting the track with 4 mins 30 to go she eventually finished with just under 2 minutes to go in 29:58:01.
Overall the event was a huge success, thanks largely to the 97 volunteers who carried the runners through their 100 mile odysseys. We welcomed home over 200 finishers at a 100 mile event for the first time and passed the 3000th ever Centurion finisher mark. Thank you to every single person involved with getting our field home safely.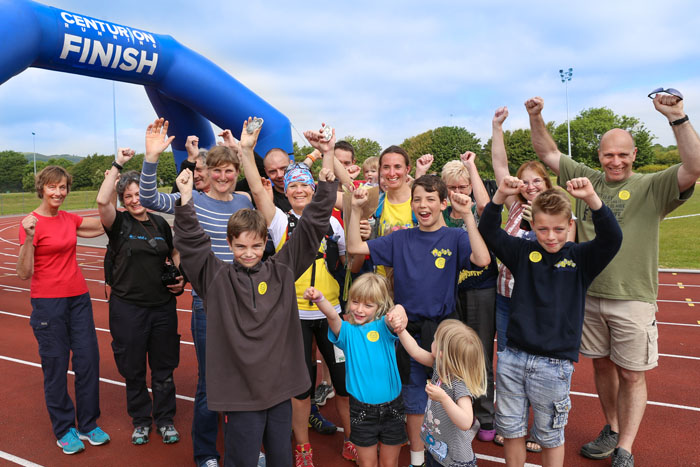 Focus on Individual Runners:
James Binks who has course marked for us since 2012, turned 70 last year and was our oldest starter. He finished in a 'disappointing' time of 28:41. He has given so much to our sport and our events in particular the last few years, being personally responsible for seeing so many runners safely over the finish line without the need for navigation.
Ken Fancett is now mid-way through his 3rd Grand Slam and has 1400 Centurion miles to his name. His time of 20:48 comes as a 65 year old.
Two ladies, Lou Dutch and Bex Johnson were raising money for Mosaic, a charity set up to offer support to bereaved children. A big group awaited them at the finish and after a 400 metre lap of the track, they crossed together with many of the kids and charity staff members. Their support was incredible and made for one of the most emotional finishes we had on the day.
Finally, a shout out to Tim Vincent who clocked our slowest ever lap of the track at 12 minutes. It was everything he had left to give.