The first race of the 2019 season kicks off this Saturday 6th April at 0830. The circa 400 runners will have 13 hours to make it to the finish line in Eastbourne, with many first timers amongst them. This course holds a challenging 5600ft of climbing but is usually good going under foot with the chalk downland draining so fast even in wet weather. Last year saw both the male and female records fall. Tom Evans' 5:44:22 and Sarah Morwood's 7:03:55 were both in fact the respective fastest mens and womens times we have ever had at one of our events.
As usual, the race has attracted a good depth of faster runners who will be looking to contend for top honours on the day. A quick look at those, starting with the womens race.
WOMEN
Amy Sarkies: Amy took home her first Centurion trophy in the final event of 2018, the Wendover Woods 50 - breaking Sam Amends course record by just 1 second in the process. With two other podium places behind her at Lakeland 50, she is clearly a fan of the hillier courses which could mean a good outcome for her here, albeit this is a much faster/ more runnable route than either Lakeland or Wendover presents.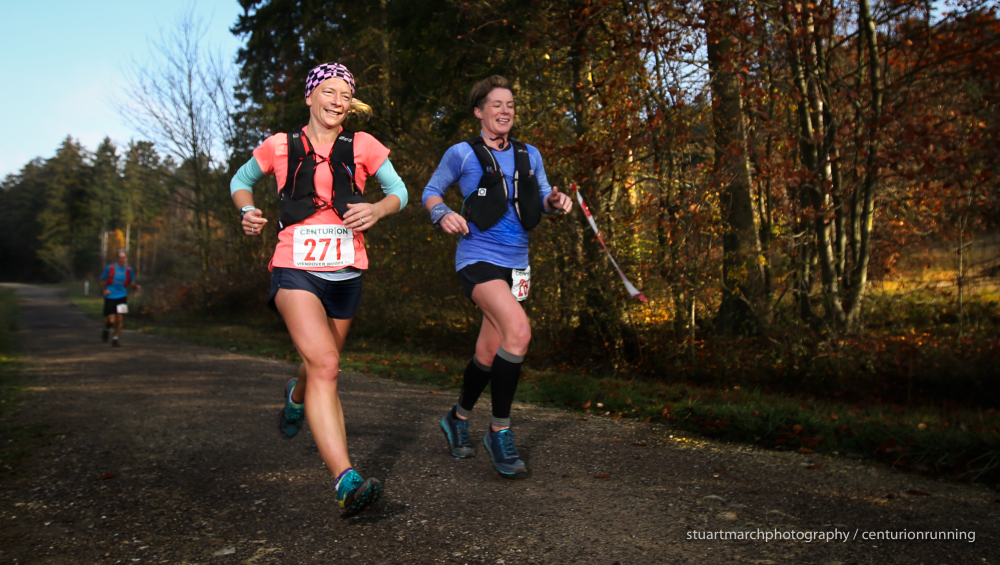 Amy Sarkies
Charmaine Horsfall: Charmaine has been a consistent performer over many years now. In the UK some of her results include wins at the Hardmoors 55 and Ultra Brecon 40, with podiums at the Lakeland 50 and Thames Trot amongst others. She's also shown good form internationally with a 4th at the Mozart 100km last year and a 6th at Sean O'Brien 100kmin 2017, alongside solid finishes previously at CCC and Transvulcania.
Julia Davis: Only a couple of shorter ultras in her background, Julia was 2nd at the Endurance Challenge 50k in New York last year, before an impressive 4th at the Ultra Trail Cape Town 65km in December. But her marathon pace is what stands her out here, with a PB of 2:39 and this being a runners course with such fast fluid descents, it will be great to see what she can turn in at her first try at the distance.
Rachel Fawcett: A regular performer at our events over the last several years, Rachel's consistency has been impressive. In 2018 she took 4th place in all 4 of our 100 mile events, as she went on to complete the 100 Slam. Prior to that she had recorded podiums at many other events including our own SDW100 and she was the 2017 Chiltern Wonderland champion.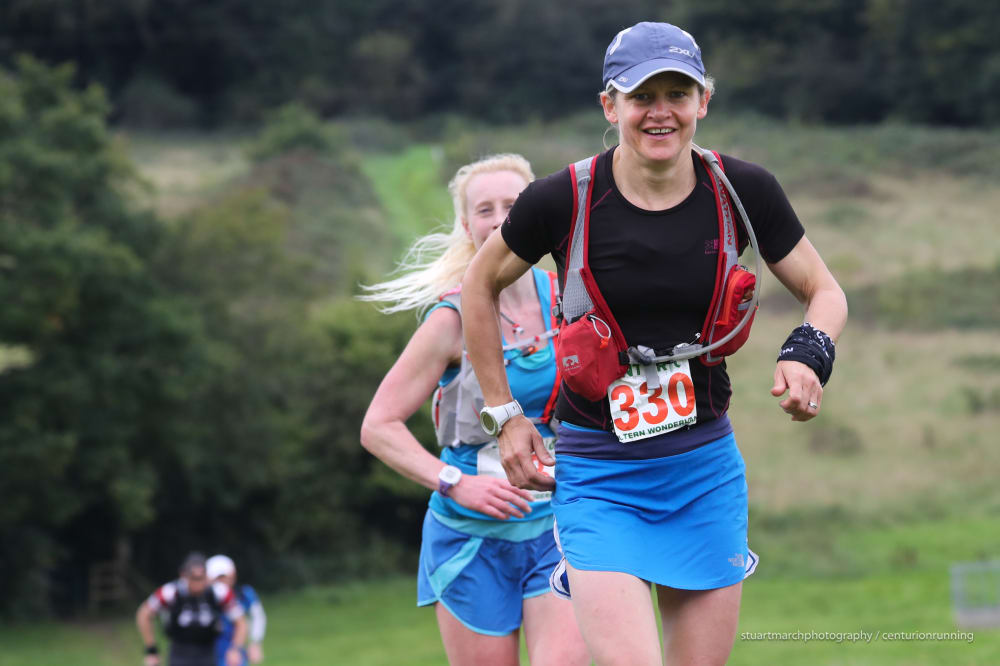 Rachel Fawcett
Kate Mitchell: It looks like Kate came on to the ultra scene in 2017, and whilst her results have been at shorter events, they have certainly been consistent. Amongst others she took home the wins at St Albans Stampede 12 hour, the Bewl Water Ultra (37.5 miles) and third at the Weald Challenge 50km all in the last 12 months.
Sharona Harrington: Sharona was 9th here in 2017 and 12th at the SDW100 last year. She's also had podium finishes at the Downland Ultra and Dark Star over recent years.
MEN
Neil Martin: Neil has had an outstanding start to the year, picking up the win at the inaugural Arc of Attrition 50 in February. Neil has also previously picked up wins at events such as the Thames Trot and New Forest 50km, as well as a raft of other podiums and top tens in other events over recent years. An entrant to the 50 mile grand slam this year, he will be hoping to get the perfect start.
Jack Blackburn: Jack blitzed to a 6:29 2nd place finish here in 2015, one of the top ten fastest times we've seen on this course. Over the years he's recorded other strong results at Race to the King (2017 winner) and Wendover Woods 50 (3rd in 2016) but looks to have only raced long once since the start of 2018. It would be great to see him back on form here.
Mark Innocenti: Mark has really progressed well over the last few years and is a top contender for sure at this one. In 2016 he took home an 6th at the NDW50 and 4th at WW50 and in 2017 improved substaintially to break the 7 hour barrier for 2nd at the NDW50. Last year he lowered his marathon PB to 2:35 and took home a summer win at Race to the King. On route to this years Dragons Back race it would be great to see him pull off a fine run here.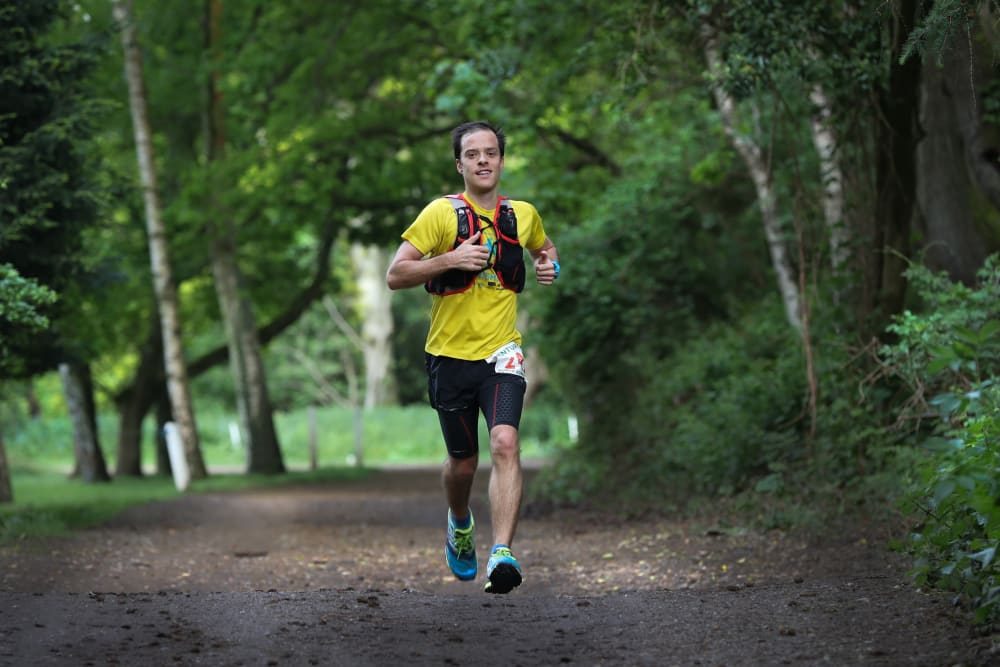 Mark Innocenti
Ben Osborn: Ben was 6th here in 2018 and has a 2:35 marathon PB, although seemingly no other ultra finishes to his name as yet.
James Warren: James was second in the overall standings for last years 50 mile Grand Slam, with two top tens along the way.
Ben Parkes: Ben has a 2:25 marathon to his name which on paper puts him amongst the fastest in the field, yet to show what he can do in ultras but this course definitely offers a tremendous chance for someone with his pace.
Follow the race live
via the link here
on race day. Good luck to all of our runners and thanks in advance to the army of volunteers we will welcome on the day.