For 2023, the Track 100 returned to Bedford International Athletics Stadium for the second time. The format remained the same for this year with IAU/ IAAF ratified splits taken at 50km, 50 mile, 6 Hour, 100km, 12 hour and the ultimate prize, the 100 mile distance. The overall cut off remained at 17 hours and with exceedingly high qualification marks required for applicants, the small and elite nature of the event keeps record setting conditions to an optimum.
The 2023 runners had a tough act to follow, with five World and nine National records set at the 2022 event including of course the Mens 100km World Record of 6:05 from Aleksandr Sorokin and the Womens V40 50 mile and 6hr records from Dominika Stelmach. But also from the winning times achieved last year; Sam Amend's 14:10 British Womens 100 mile record and Alex Whearity's 12:42.
In the past the field sizes have ranged from 8, up to 15. With four weeks to go until race day, 16 athletes remained on the start list but that began reducing as we approached race day for a variety of reasons, illnesses, injuries and other derailments all affecting the field. Athletes shooting for performances so close to the red line, will only race if everything is optimal. Some of those we would miss greatly in terms of being able to see what they could have achieved, but the remaining 8 starters gave us plenty to get excited about and honestly, from an organisational stand point it's still such a huge amount of work for such a small group.
Four UKA officials, a team of ten volunteers and six race day staff as well as the runner crews all required to make it happen.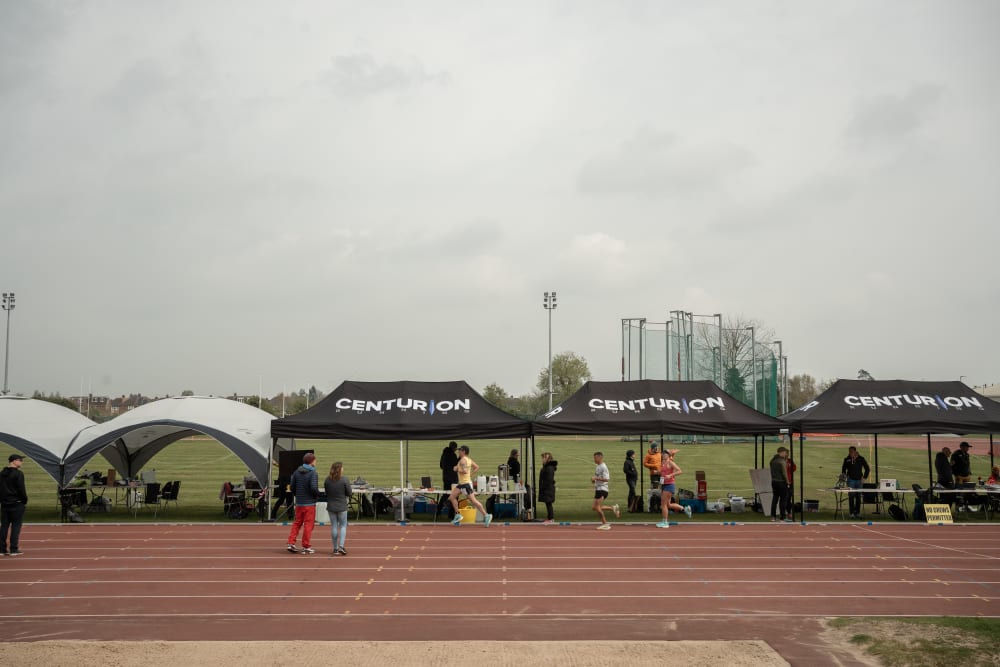 The unique thing about the event this year was that whilst it all ultimately came down to just a 100 mile race for the men and the same for the women, every athlete had their own target and was almost out there just racing against themselves. Every runner this year had either a World or National target, or their own personal ambition in mind - and due to the varying age categories and nationalities, none were directly competing with each other.
Ultimately the womens race was won by Ingrid Lid in 14:13:15 and the mens race by Dan Lawson in 12:37:10. But for the report we'll touch a little on every athlete.
Conditions overall on the day were frankly, perfect. Last year the wind was significant and impacted runners substantially, something that makes the performances achieved that much more remarkable. But this time the weather stayed cloudy, the wind extremely low and the temperatures in the 6-12 degree range for the majority of the day. The sun did emerge between hours 6 and 10 and did have an impact on some of the runners but otherwise, we could not have asked for a better day.
It was a day of the finest of margins overall and in every case, the margin fell the right way - whether it be for a record or a finish.
WOMENS RACE
Ingrid Lid: Ingrid came in with a PB of just north of 15 hours and with the lofty ambition of setting new Norwegian records at 12 hours - 135km+ and 100 miles - 14:25. We know Ingrid well, she has won our NDW100 and finished second at the TP100 twice and each time she races she brings both an incredibe steely determination whilst remaining so positive to those around her, constantly thanking and smiling whenever encouragement is offered. She started the race out at an incredible rate, pushing a 7:10-7:30 min mile pace for lap after lap, seemingly too quick for her to be able to maintain and the concern was that the drop off could then be dramatic, compromising the overall 100 mile goal. But she reaped the additional reward of a new Norwegian 50 mile record of 6:22:32 as she hammered through the half way mark way up on schedule. Whilst she then began to slow, hit a couple of rough patches and certainly suffered with some stomach issues, she just dug in over and over again and made excellent pace once again. She began closing in on the 12 hour record and it was obvious she would break it comfortably, in the end adding 3km to it with a distance of 138.617km. Her running through to the 100 mile finish was sensational and she crossed the line for a finishing time of 14:13:15, setting a new Norwegian record by 12 minutes and only missing out on Sam Amend's course record here by 3 minutes.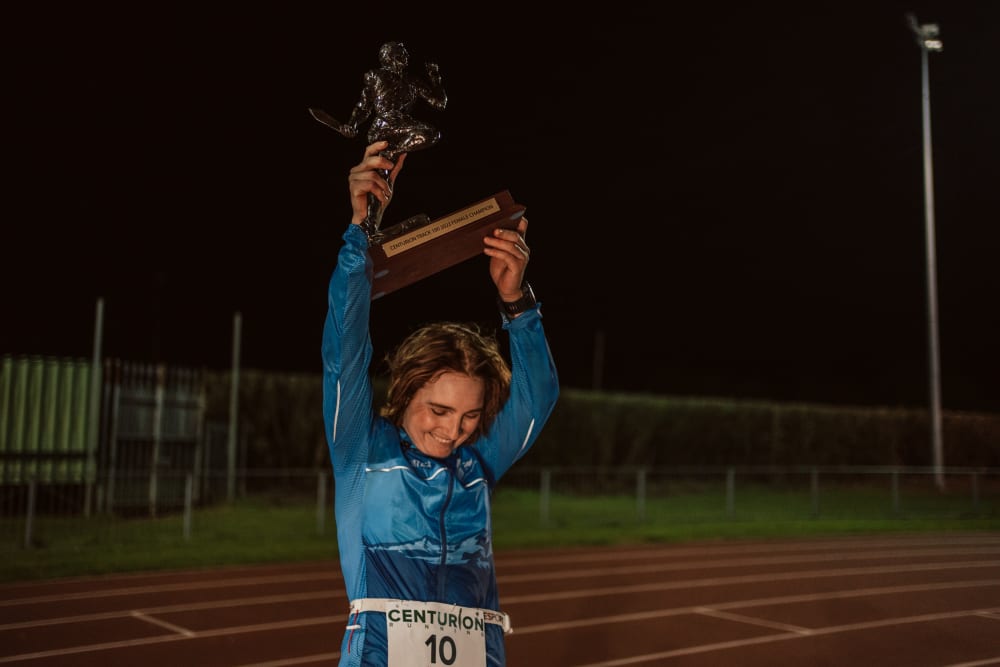 Sarah Sawyer: Sarah ran this event back in 2021 and came heartbreakingly close to finishing before injury slowed her down and she succumbed to the 17 hour limit just 5km or so from the finish. This time she was back with the singular purpose of finishing inside the cut off, in fact she would need to run a PB to achieve her goal of finishing. From early on it seemed that she was able to eek out small margins over her 2021 splits for a seemingly equiavelent effort level and this seemed to bouy the spirts of both her and her crew. In the end whilst she slowed in the latter stages and her time looks quite close to the overall cut off, it didn't really ever seem in doubt that she would do it. A really well executed and managed race from Sarah and a deserved finish in 16:43:32 for second.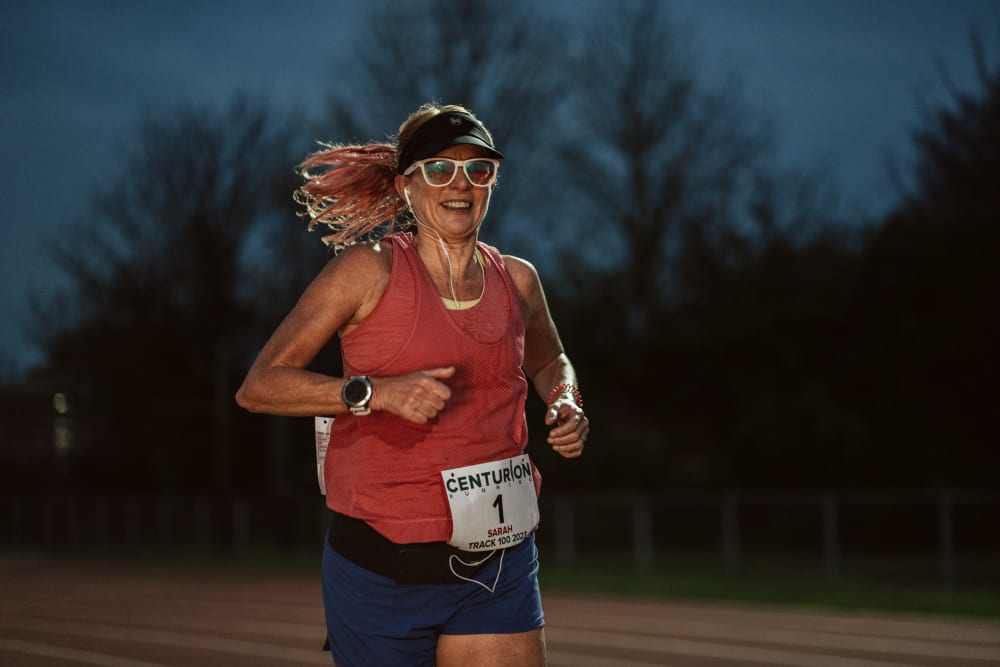 Chavet Hills: Chavet had travelled over from Colorado to take part in the event and like Sarah, had one singular intention, to try to finish inside of the 17 hout cut off. Her day got off to a scrambled start as on the start line she lost a couple of minutes sorting her bib numbers out which for IAU / UKA rules need to be on display at all times - the race referee overseeing that all was above board. Once off and running, she was metronomic in her pacing and again like Sarah, ran extremely consistently throughout. Chavet, however, was very marginally slower than Sarah for the first 14 hours or so and from a long way out it looked like whilst Sarah was likely doing just enough to finish, Chavet was going to be very close indeed to the overall 17 hour barrier. With about 90 minutes to go, tensions began to rise as the realisation dawned that she might miss the finish by the margin of time she spent sorting her bib numbers out at the start. She needed to average a 2:46 lap pace with 60 mins to go, to make the cut off. She began to speed up just enough and began clocking between 2:39 and 2:44 for each loop, giving herself the finest of margins to get it done. In the end she crossed the line in 16:58:01, to take third place and round out a 100% finish rate for the ladies. The perfect end to everyones day.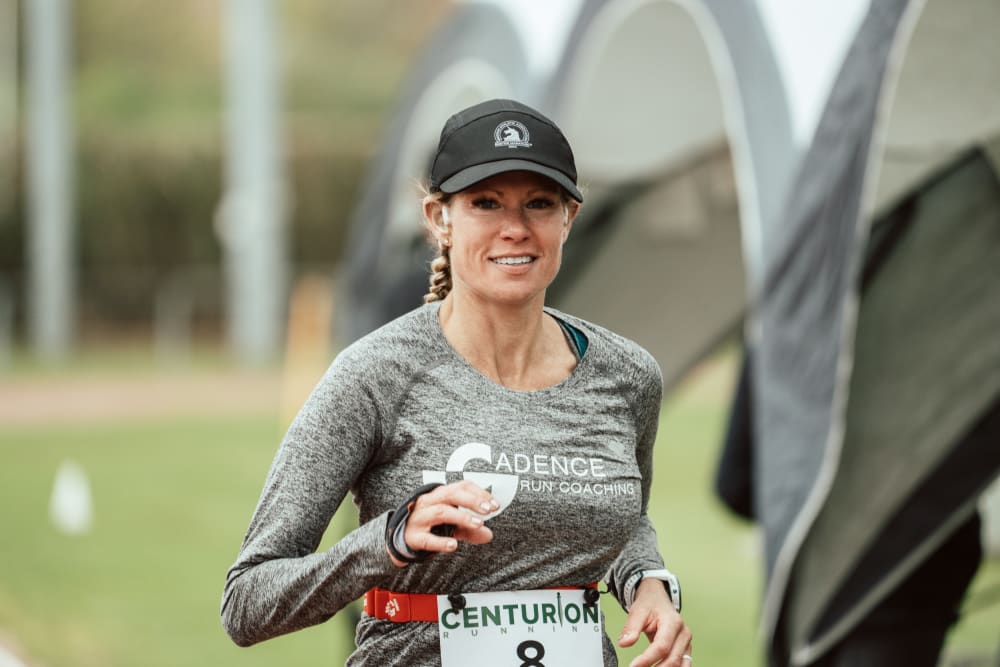 MENS RACE
Dan Lawson: Dan came into the race running as well as he ever has. Last October he set a new 24hr PB in Verona of 273km, good enough for fifth place at the European Championships. This year he has already won the Eastbourne Half and set a new 10km PB to boot. Earlier this year he also crossed into a new age category, when he turned 50 and this brought into view a host of potential records, most notably the 12 hour and 100 mile MV50 World bests of 148.59km and 13:41 (set here last year by Mike Stocks) respectively. Dan got off to a rapid start and hammered through the early miles all at sub 7 minute pace. Everything seemed to be flowing really well. Through 50km in 3:35 he missed out on a British 50km record by 9 minutes or so but if he kept that pace up he would endanger the MV50 50 mile European Record of 5:47:15. A decision was made to hold that information back from him until about 30 minutes from it, because he was running so close to the pace he needed to achieve to get it and it was of course, not the main goal. Would an interim push for it, derail his overall ambitions? But in the end he was so close we made the call to let him know. He upped the pace by just a few seconds per lap and began to hunt it down, he had to work a tiny bit too hard for it but he did bag it, coming in with 14 seconds to spare in 5:47:01. He also bagged the MV50 British 6 hour record shortly after with a mark of 83.133km. He could now ease right off and cruise to the next set of records, however the extra effort caused him some stomach issues and a spell of walking/ sitting and rallying. But Dan is the master of staying in his own space, he knows better than anyone else that the lows don't last and together with his partner and crew Charlotte, what to do to turn it around. The wheels started turning again and he gradually began to gather steam until he was practically flying again. Having dropped to third from first, he rose back up to first again and from there it was a formality. A new MV50 12 Hour World Record of 153.941 (also a PB for Dan) and a new MV50 100 mile World Record of 12:37:10 were his rewards. That and his first Centurion Trophy.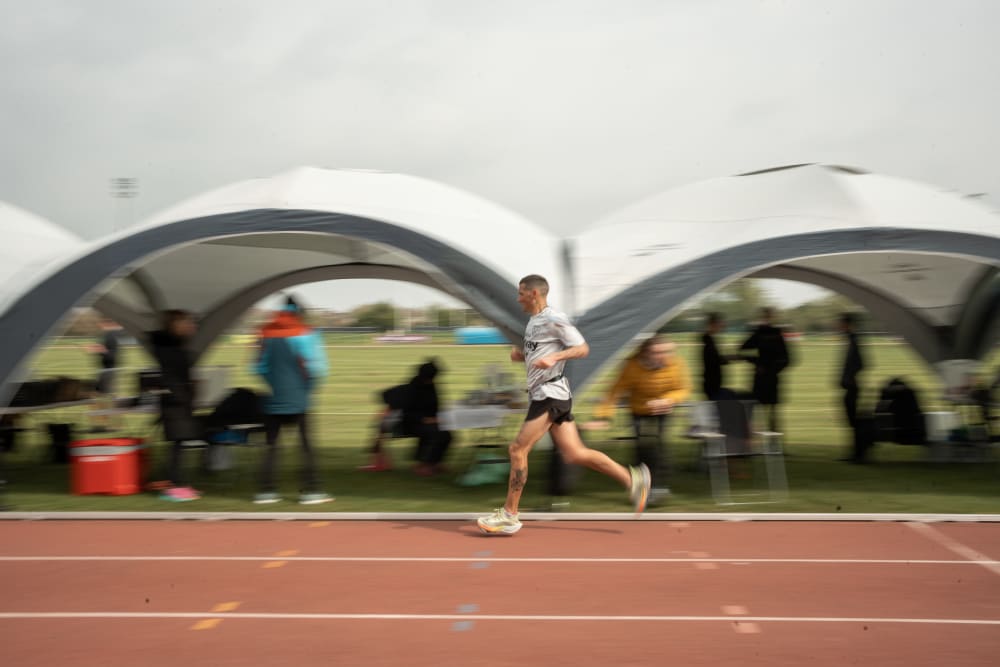 Luka Videtic: Luka came in as Slovenian 12 hour and 100 mile record holder, the latter a time of 13:38 which he ran on route to a 10th place finish in the Euro 24 Hour Championships last October. His aim was to better those marks. He went off at an extremely fast pace and initially led the race. His plan seemed to be to allow for a fade, but how much, only time would tell. He made it through 50 miles in 5:55 and on to 100km in 7:34 and seemed to be doing just about enough as time drifted on. Then he hit a bit of a wall and walking breaks became longer and longer, but with some gentle (loud vocal) encouragement he dug in for the final 20 minutes to ecplise his previous 12 hour Record by just under 500 metres, with 148.957km. From there the 100 mile looked to be possible too and he went on to take that too, with a second place finish in 13:35:19.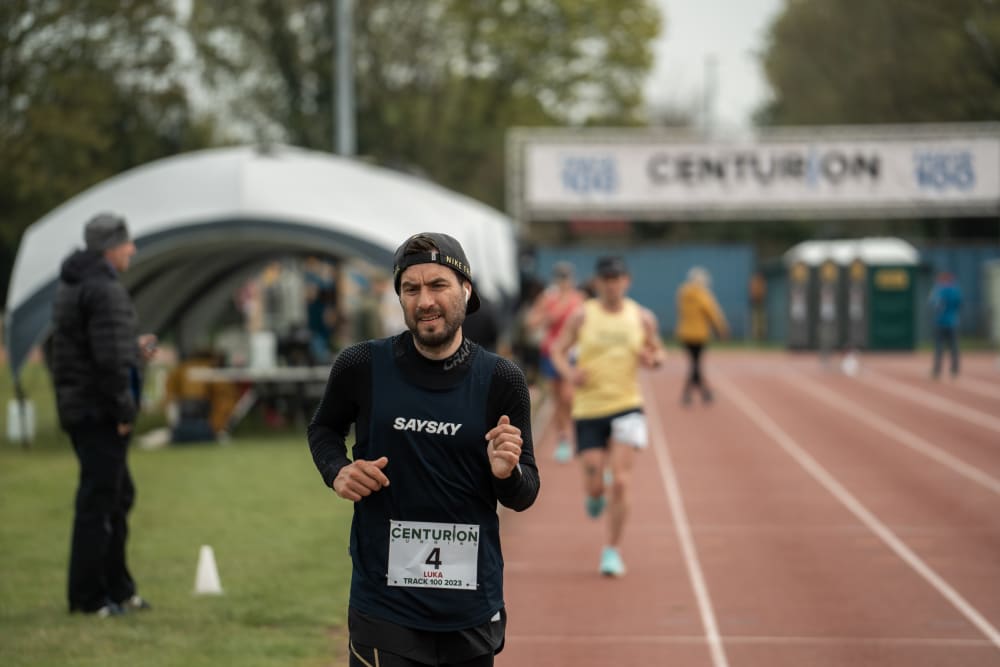 Ciaran Mcaneny: Ciaran's story at this race was unique. He wasn't in the event to shoot for records and with an 80km, 6 hour PB it didn't seem as if the final cut off would threaten him at any stage either. He was out just to run the best race he could and to that degree his was a very successful outing. A super attitude, thanking everyone throughout and seemingly really enjoying the whole experience, he made good, steady progress as he made 50 miles in 7:18, 100km in 9:25 and went through 124.22km in 12 hours. He slowed in the final stages but as Tristan and Robert had stopped early, he eventually took the final podium place in a time of 16:17:20.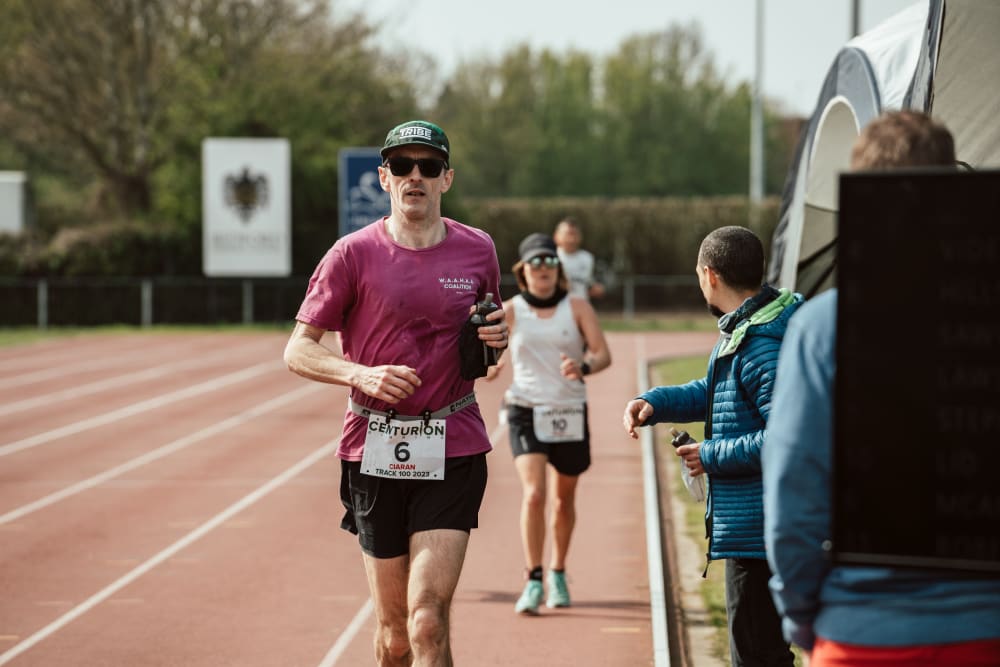 Tristan Stephenson: Tristan came into the race with limited track ultra experience, but with some super performances on the trails behind him including a 13:59 win at the TP100 last year. It is quite clear to all that he is capable of some special performances and he came into this event with rightfully lofty goals, the main one being an MV40 British 100 mile record of 12:37:55, a time that would also likely also yield by default a new MV40 12 hour British record in the process. He started out right at the 7:00 - 7:05 per mile range and held it metronomically. His day seemed intertwined with Dans from the start, slightly behind of him for the first 50 miles, the MV40 50 mile British record of 5:54:20 came into view and was on his radar, but like Dan it was clear Tris would have to push a little harder than he had been, in order to get it. He upped the tempo just fractionally and came in with 13 seconds to spare, with a new age category 50 mile record of 5:54:07. He ran through to a new 100km PB of 7:26, as Dan suffered and Robert and Luka dropped back, Tristan found himself in the lead of the race around the same time. Seemingly the strongest and most consistent out on track, as the temperatures warmed slightly and the day wore on, his stomach began to waver and he began to suffer some dizzy spells which led to some problem solving in the moment. Walking some, stopping some, cooling, trying a variety of different food and drink for the first time, he would get back to running well but then suffer the issues all over again. The third or fourth rallying attempt was the final one and he called it a day just short of ten hours into the race. Nobody has any doubt, he will be back!
Robert Hajnal: Robert came in with the intention of shooting for a new Romanian 100km record, which stood at 6:41. A star of the international trail running scene, he is one of many top off road runners to dip their toe into this side of the sport in recent years and it promised to be fascinating to see what he could achieve. His first 40km went largely to plan, but he began to slow just slightly to 50km. He led through there in 3:20:33, but now needed an even split to set a new record. That possibility quickly faded away but to his immense credit, he rallied and stayed out on track, to run a new Romanian 50 mile national record and eventually finish the distance he started out for, making 100km in 7:56:53.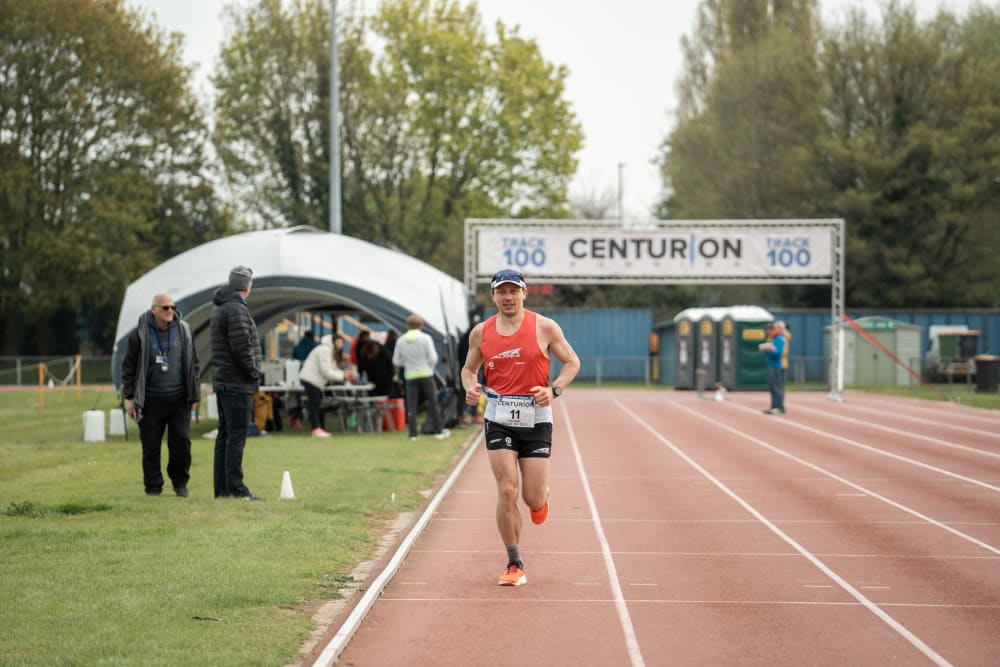 So three World/ Continental Records and eight National Records later, despite the small field it was another exceptional day on the track. A huge thank you to our team of officials and all of the volunteers who make this possible year after year for the love of the sport and nothing more. To the athletes and their crews for making it such a memorable and inspiring day for all of us. And to all of you following from home on the live stream.
All Photos Pierre Papet/ Centurion Running, final image c/o Norbert Mihalik