All Photos Courtesy of Jack Atkinson Photography
The first edition of the Track 100 brought a small, elite field of ultra distance athletes together to compete against each other and the clock under the optimal racing conditions.
Over the past year we have compiled the most comprehensive list of GB 100 mile records ever collated (see here for further details) and are still adding to it. Historical performances have been unearthed thanks to statisticians, particular thanks to Andy Milroy and Adrian Stott.
Our aim was to bring a 100 mile track race back to the calendar with the specific intention of getting together the highest calibre field possible, to go after some of the all time records and re-establish this format as a championship event.
Small factors go a long way in allowing runners to make the marginal gains. The race took place at the Julie Rose Stadium in Ashford, a superb facility largely protected from the wind. The race took place in lanes 1,2 and 3 with the crew and official aid station all in lane 4 to minimise any additional distance runners had to travel to receive support.
We had chosen September to give us a chance of optimal conditions on the day and it is fair to summise that they were close to perfect. 10 degrees at the start, rising to a high of 17 but with a cooling light breeze at times and one or two brief passing showers, we had our dream day.
Eight runners came together on race morning for the 0600 start, the final cut off being set at 17 hours or 2300 that evening. Amongst them were six men and two women, all of whom had met the stringent qualifying criteria we put in place.
Splits were taken at each of the ultra distance marks on route to the final 100 mile distance. 50km, 40 mile, 50 mile, 100km, 150km, 6 hour and 12 hour.
Out front right from the gun was Thomas Payn. With a marathon PB of 2:17 and national level performances at every distance from 800 metres through to 100km over the past decade, he was on paper the highest calibre runner in the field. Whilst this was a significant step up in distance on the flat for him, he has had finishes at tough mountain 100 milers in recent years including 100 miles Sud De France and UTMB. The question was whether he could combine all of his experience and run a well executed race. Something that is so elusive in long distance track events.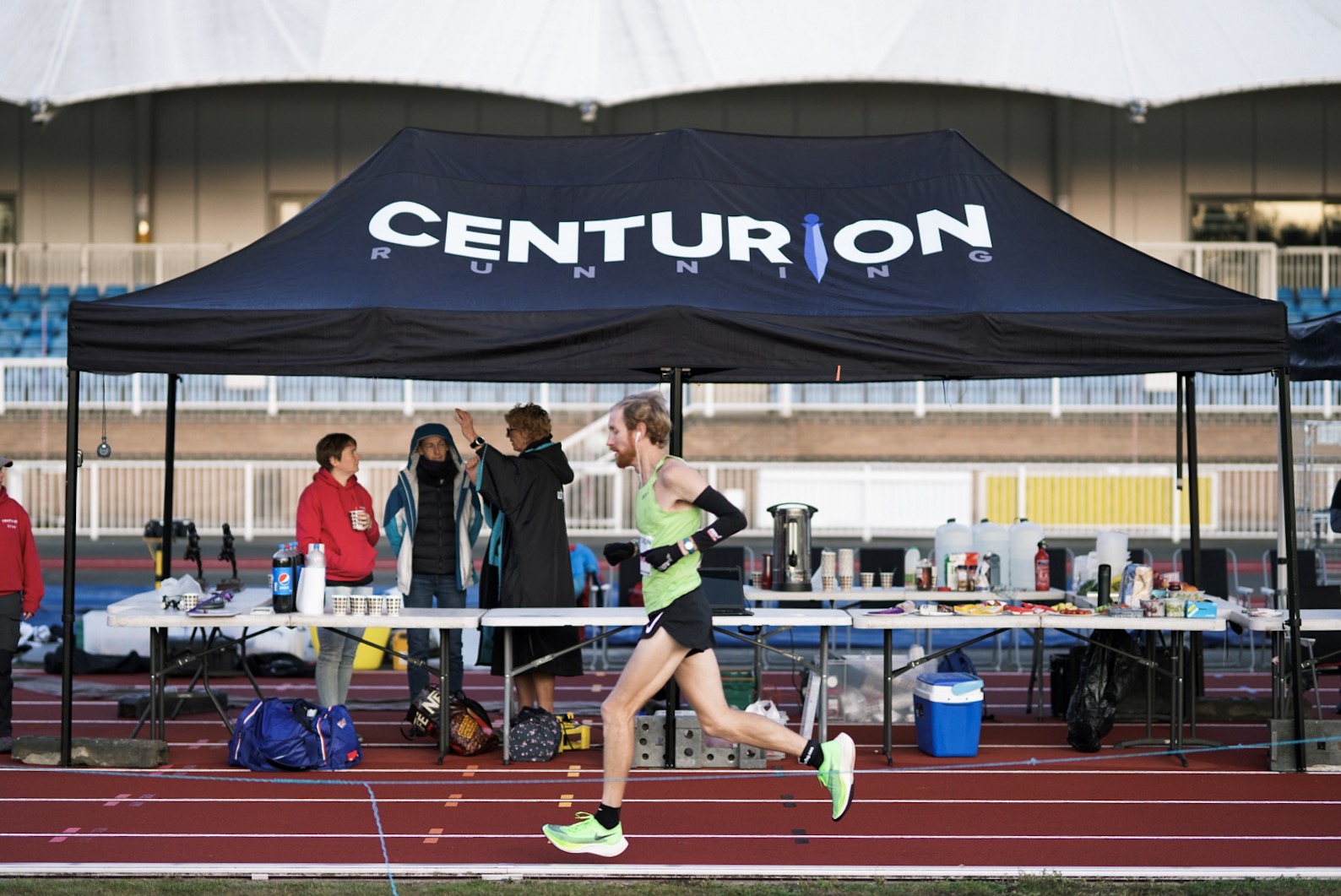 Tom cruising during the early miles
His pace over the early stages was metronomic. Right around the 7 to 7:15 minute mile mark putting him in the realms of the British Record holder Don Ritchie's 11:30 set back in 1977. Through the 50km barrier in 3:44 before speeding up towards the 40 mile barrier which he reached in 4:46. He slowed a little over the next couple of hours, crossing the 50 mile point in 6:00:41 before suffering his first and only significant issues of the race. His knee was bothering him a little and he seemed to have a minor low patch as he ran through 100km in 7:35. But this is perhaps making too much of something which he overcame with total authority. He continued to smile and greet everyone with polite nods and thank you's lap after lap after lap. Through 150km in 11:32, there seemed to be less and less time for any possible issues to arise and it became clear that we were going to be lucky enough to witness one of the truly great all time GB 100 mile performances. His finish time of 12:25:30 was the 8th fastest time run by a Briton, and the second fatest time of the last 35 years behind only Mark Perkins.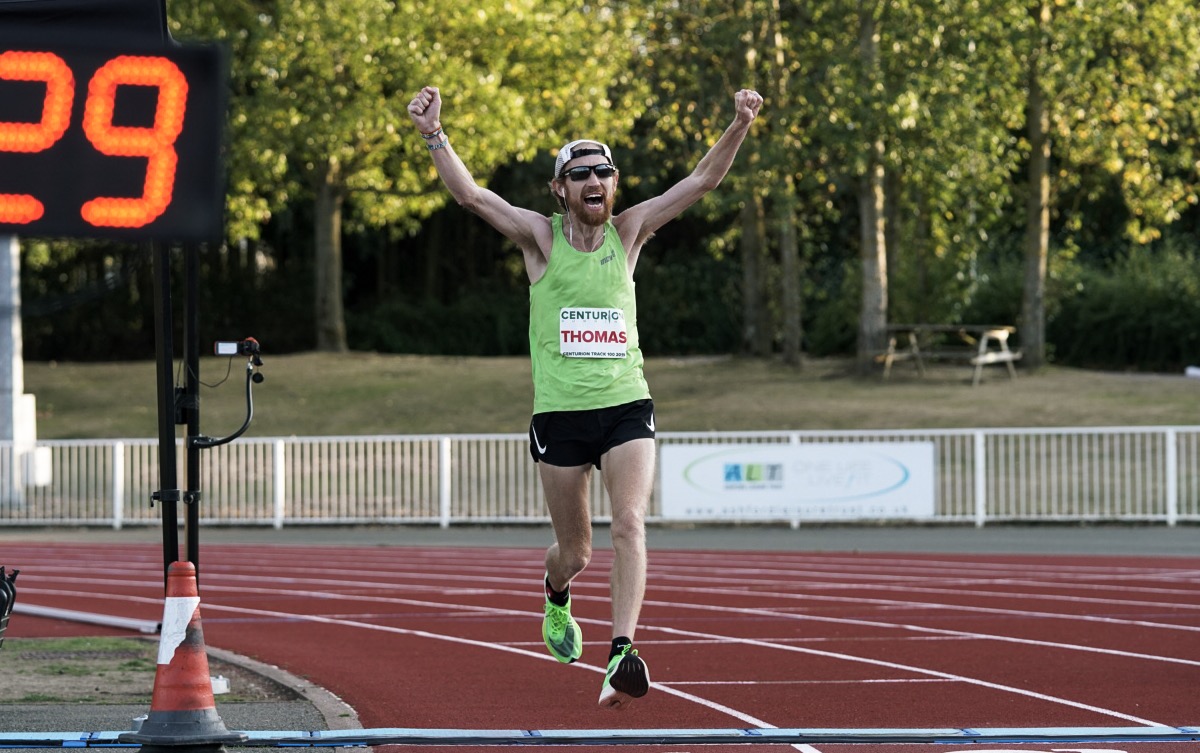 Above: Tom crosses the line for the win. Below: Greeted by his wife Rachel who crewed him throughout the race.
In the womens race, Jess Gray and Debbie Martin-Consani both started with 5 hours of patient, consistent and dead even paced running. With only the two in the race, this was far more about achieving personal goals. Debbie still holds the Scottish 100 mile record of 15:48 and Jess has her PB of 16:42 from our Autumn 100, both were looking to lower their marks.
Unfortunately, Jess ran into stomach issues just prior to the six hour mark. And after battling back and forth and trying to grit through it, her day sadly ended shortly after as she was unable to get any fuel on board.
That left Debs out there to battle the track and the mental and physical demons that this format brings. A previous winner of all of our 100 mile races with the exception only of the Autumn 100 (2nd in 2014), Debs is one of the most consistent 100 mile and 24 hour runners of the past decade. But it was not all plain sailing on the day and she battled the roller coaster ups and downs, especially through the middle portion of the race when the finish goals seem to be so far away.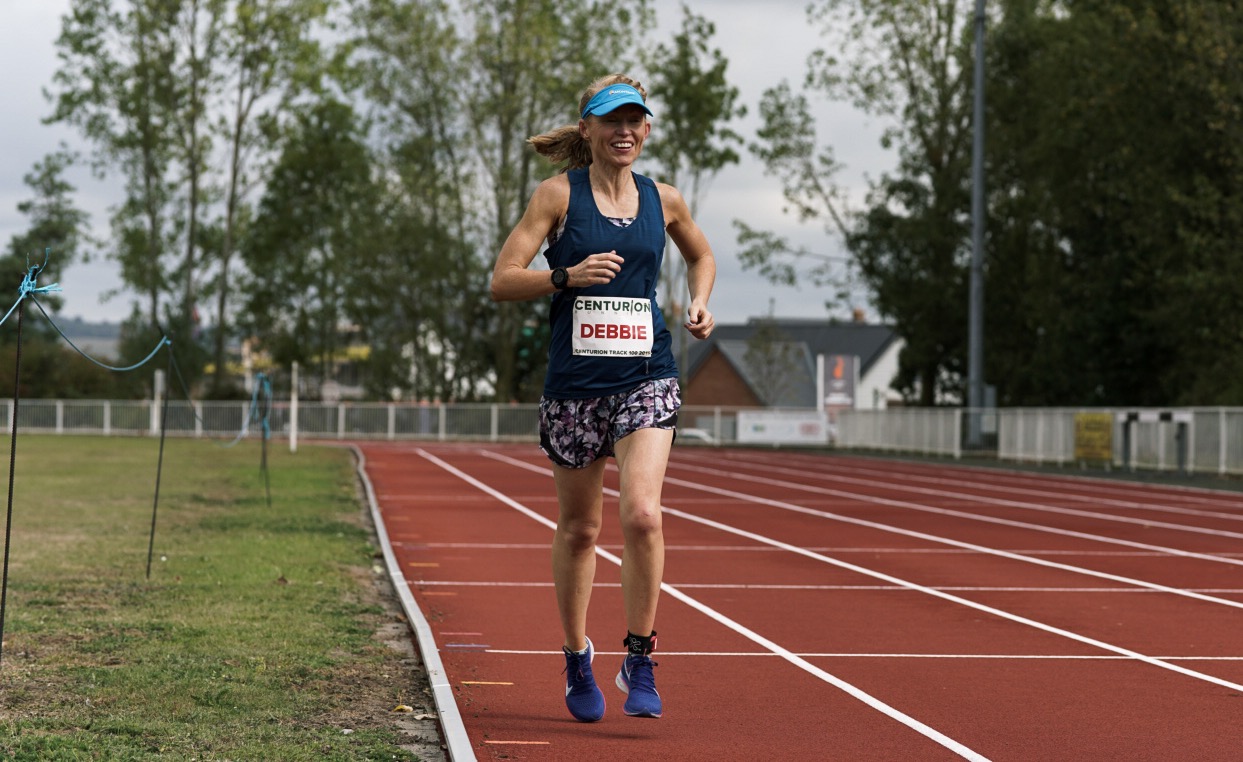 Debs Martin-Consani
Through each low point she rallied and found her groove again and began to reel the finish in. With just a few hours to go it was clear she was looking at a time in the vicinity of her 100 mile best. Although she slowed a little in the final stages it was all running through to the final lap, and she crossed the line in 16:21:03 for the win and a second best 100 mile time for her.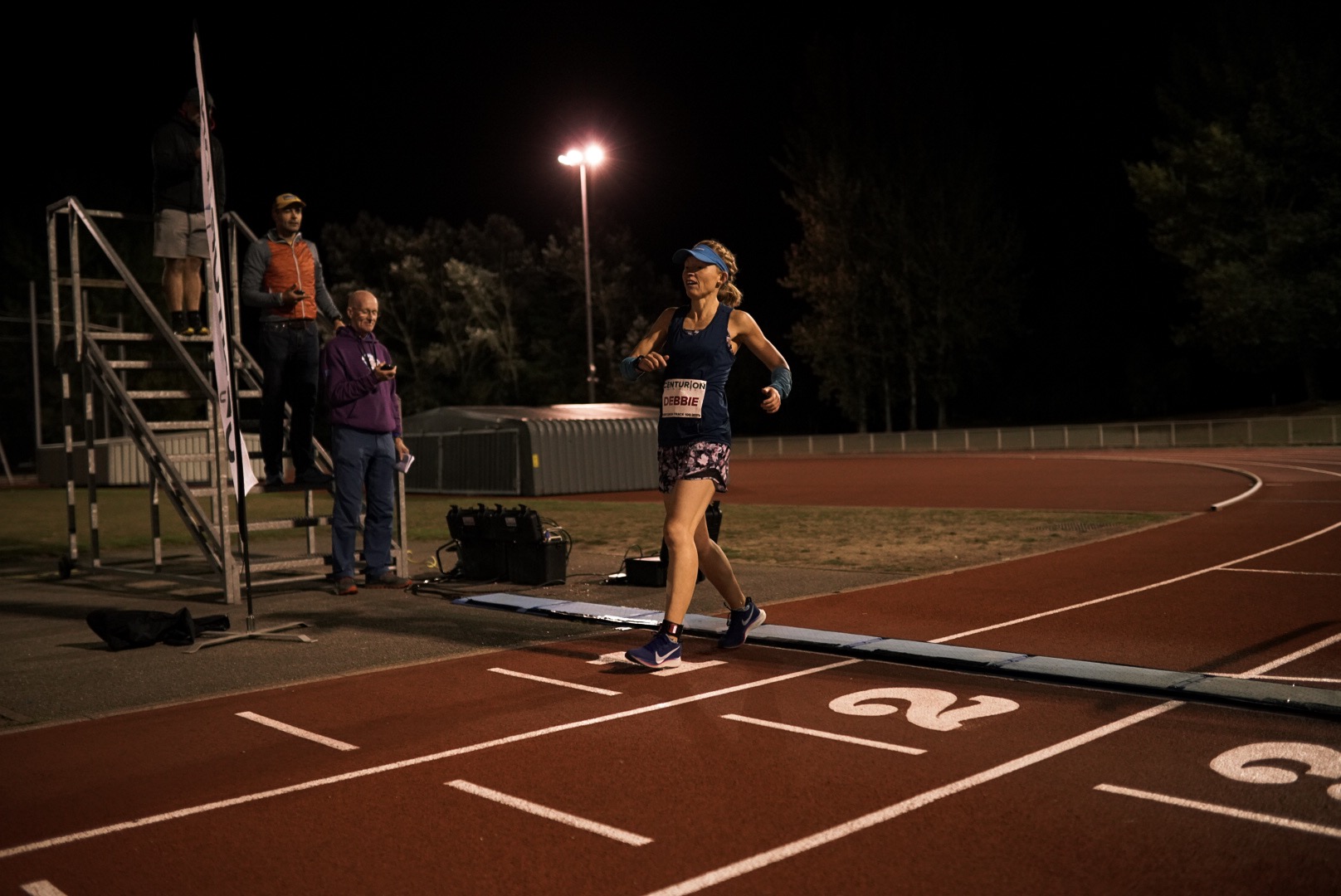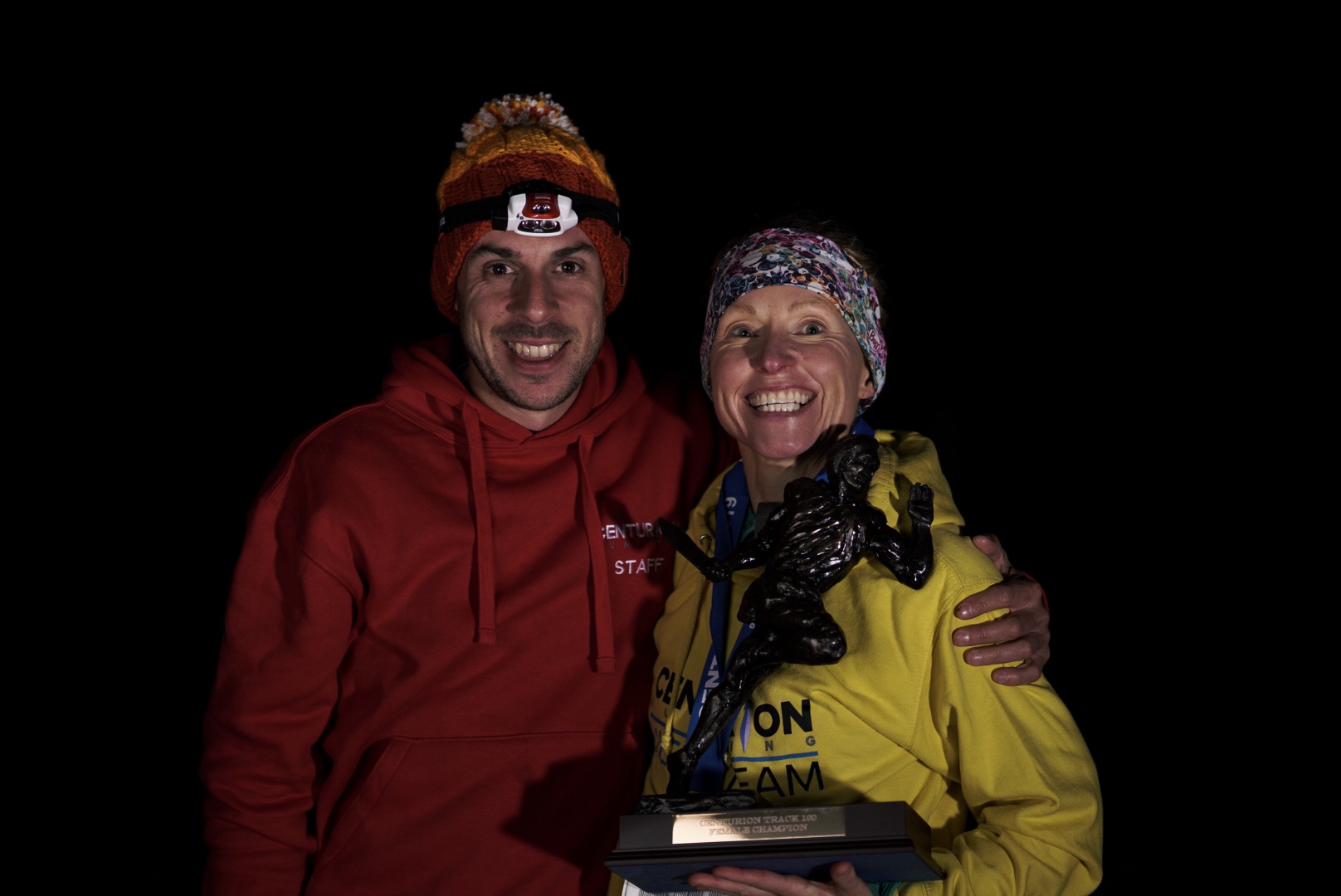 Debs with yet another Centurion Winners Trophy
Behind Thomas there were a string of fine performances in the mens race. Ry Webb and Matt Dickinson went off together and seemed to have similar goal paces in mind from the outset. Ry had an extremely good day with only one fairly substantial wobble around the start of the final third of the race where his stomach and then his calves caused some issues. But he toughed through that and eventually crossed the line for second place in 13:24:59. A superb result for him.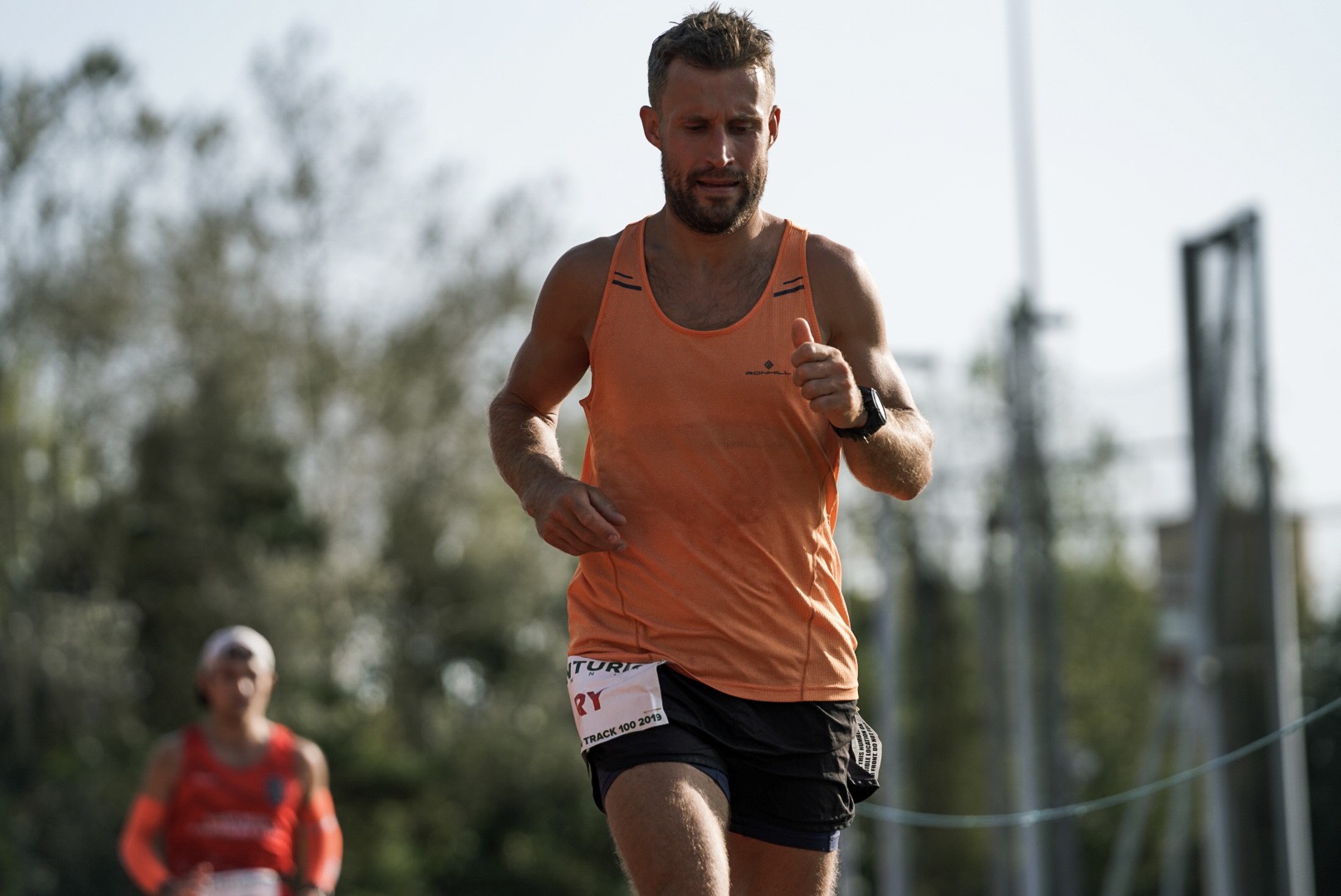 Ry Webb on route to second place in the mens race
Fairly early on in the race, Matt began to suffer stomach issues but fought with grit and determination to both handle things as best as he could, whilst ignoring what he couldn't. It was a truly gutsy run from the start. He ended up being forced to stop as many as 28 times for toilet breaks and yet emerged each time focusing in on what was left to achieve. With 20 or so miles to go it was clear that he could still break the 14 hour barrier despite all adversity and he wound the race in lap by lap to achieve that mark with nine minutes to spare, a final time of 13:51:09.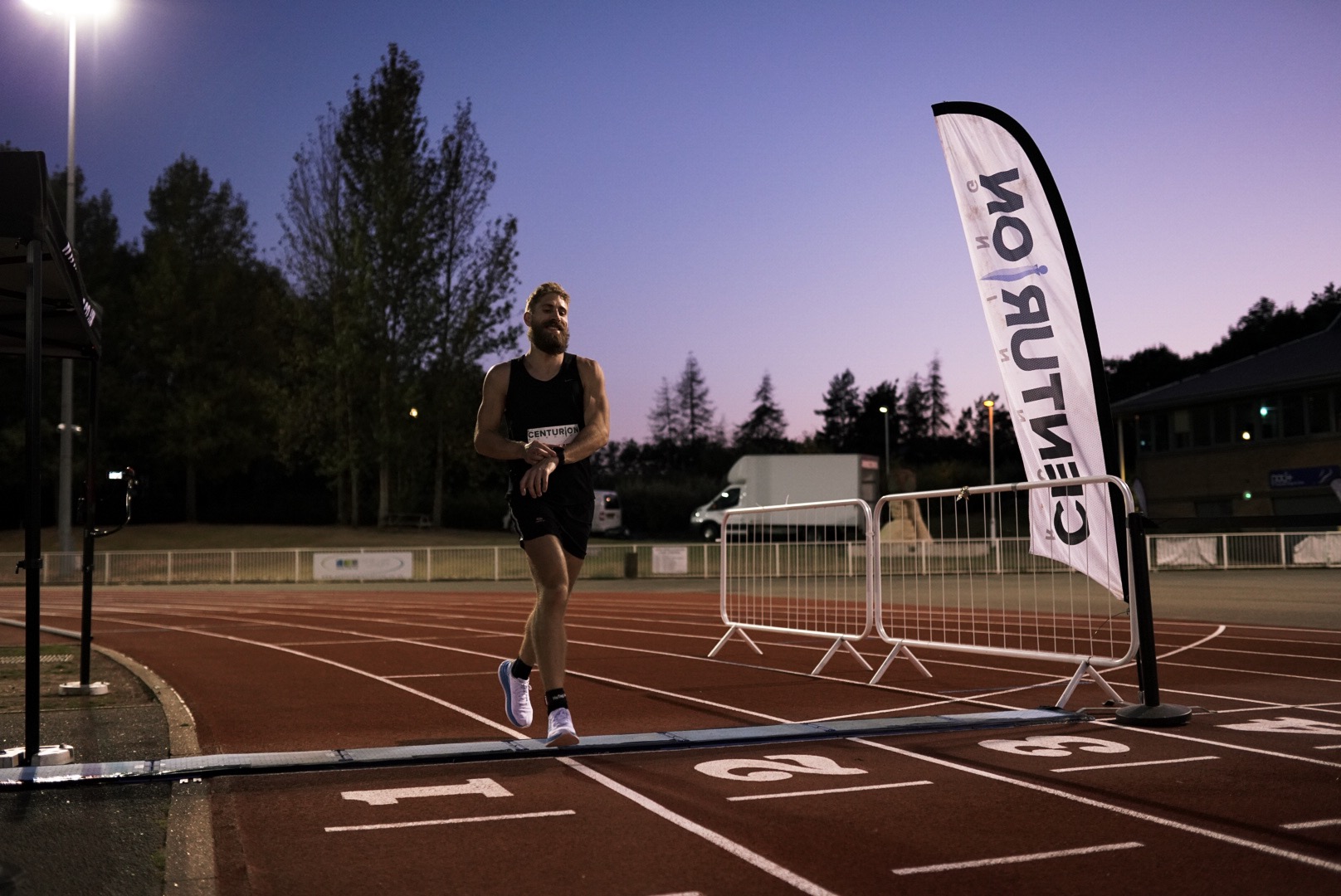 Matt Dickinson crossing the line at the end of a hard fought battle
Behind Matt, Andy Jordan came into the race focused on a MV55 record, certainly on a UK level and with an eye on a world best mark. He stayed consistent all day and like Matt, wound the race in lap by lap, focused in on his dream target of 15 hours. With a PB of 15:29 previously, he eventually crossed the line to better that mark by 31 minutes with a finish time of 14:57:38. In doing so it seems likely that he has set a new World best mark by beating the mark of Dave Cooper from 1990, of 15:14:35. We will be looking to ratify this mark over the coming weeks.
Andy Jordan in action
Our fifth finisher in the mens race, Mark Bissell also shattered his 100 mile PB in running 15:15:12. His previous best coming on route to a 24hr finish at Tooting Bec.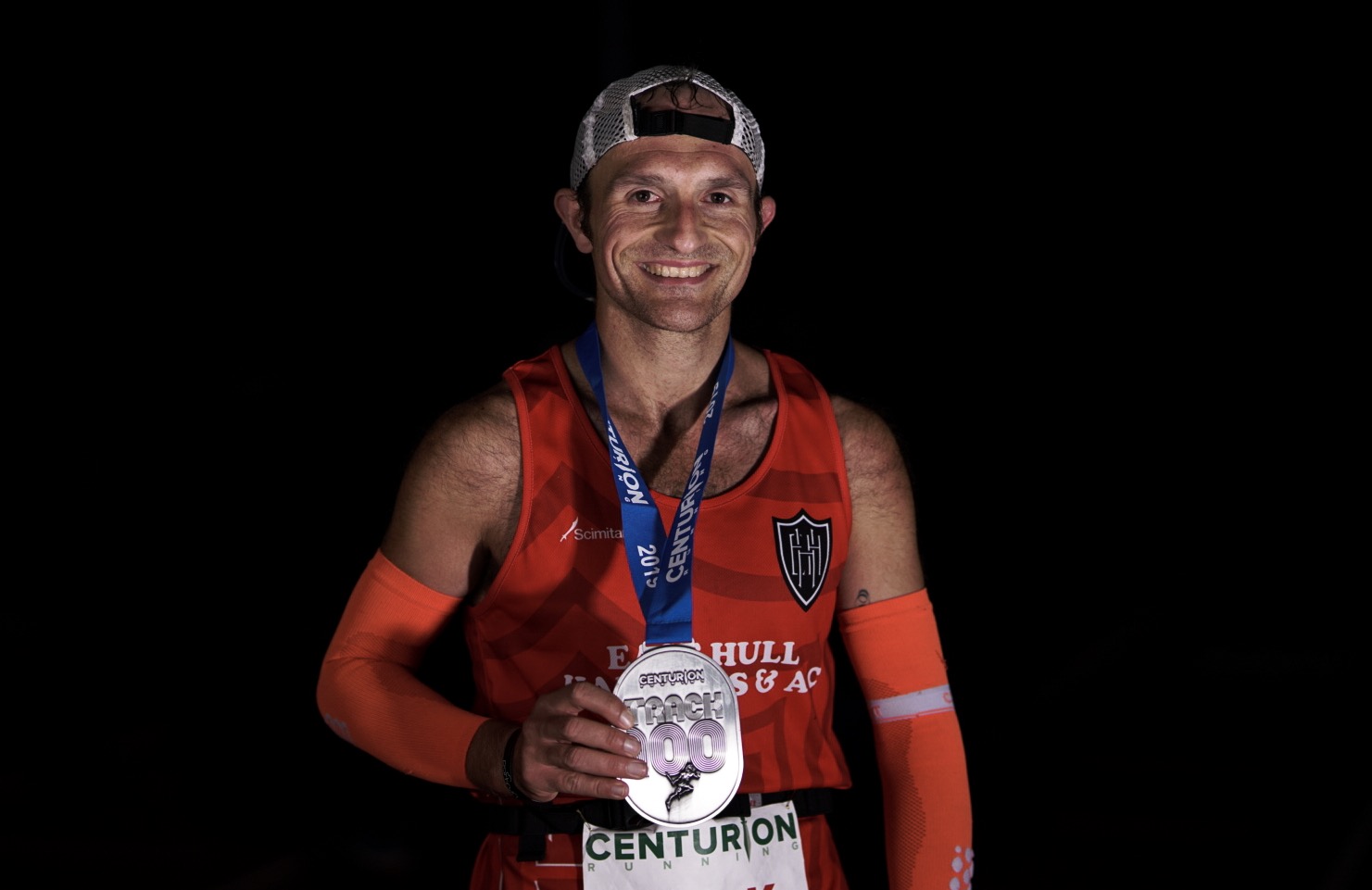 Mark Bissell with his finishers medal
To have six finish from eight was a tremendous result and it was a wonderful day for all involved. Next years event takes place on April 18th 2020 back at the Julie Rose Stadium in Ashford and we welcome applications from all qualified runners. The website with full details is available here.