As we look ahead to our inaugural Track 100 Mile this weekend we do so hot off of the back of a new 100 mile mens world record from Zach Bitter at Six Days in the Dome in Alaska less than 10 days ago. He lowered the world mark to 11:19:13. It goes to show that through many years of perseverance and experience, it is possible to hone in on and improve upon outstanding marks. We hope that this will remain a fixture in the calendar for many years to come and allow the best of British and International runners to have a run at British and World Record marks.
The all Time GB 100 mile records can be found here.
This year we welcome a field of 8 to the start line, 6 men and 2 women. All with high hopes of running big performances and the set up of this race is designed to provide them exactly that.
Race start is 0600 Saturday 7th September, with a 17 hour cut off in place. You can join us live on the day via the live link here which will give lap by lap splits for all runners. Follow our twitter feed and insta page for further content across the day.
MEN
Runner: Thomas Payn
Qualifier: 100km, Marathon.
Details: 2009 Fukuoka Marathon: 2:17:29. 2013 Self Transcendence 100km: 7:25:34. A further 10+ Marathon Qualifiers.
Bio: Tom's career as a road runner is an impressive one. It's hard to know which of his PBs is the most impressive. But he has done it at all distances. 800m - 1:52. 1500 - 3:50. 5km - 14:13. 10km - 29:46. 10 mile - 49:49. Half - 64:55. His marathon at 2:17 put him in the top handful of runners in the UK. But his consistency is perhaps even more impressive than this pinnacle as he has year after year gone after fast times and achieved them. He broke 2:30 and often 2:20 almost every year between turning to marathons and moving up to ultras in 2013. He ran 2:26 as recently as last year. His 100km of 7:25 is just one of a number of ultras under his resume. He has represented GB on the trails. More recently he has turned his hand to some tougher mountain races and looks to have had much lesser results in that area as he has perhaps yet to hone is craft there. This is far more in his wheelhouse and it will be fascinating to see how someone with as much raw speed as Tom can turn his hand to the distance on the track.
Runner: Matt Dickinson
Qualifier: Marathon
Details: 2018 Valencia Marathon: 2:29:23
Bio: Matt cracked the 2:30 barrier at Valencia Marathon last year, which followed his win at the 2018 NDW100 on this very track. A race in which he exercised a lot of patience early on and ran super strong over the final 15 miles having taken the lead with that distance left to run. He's shown he has both the speed, endurance and combination of a smart head to have a great race here, though this is a step into the unknown.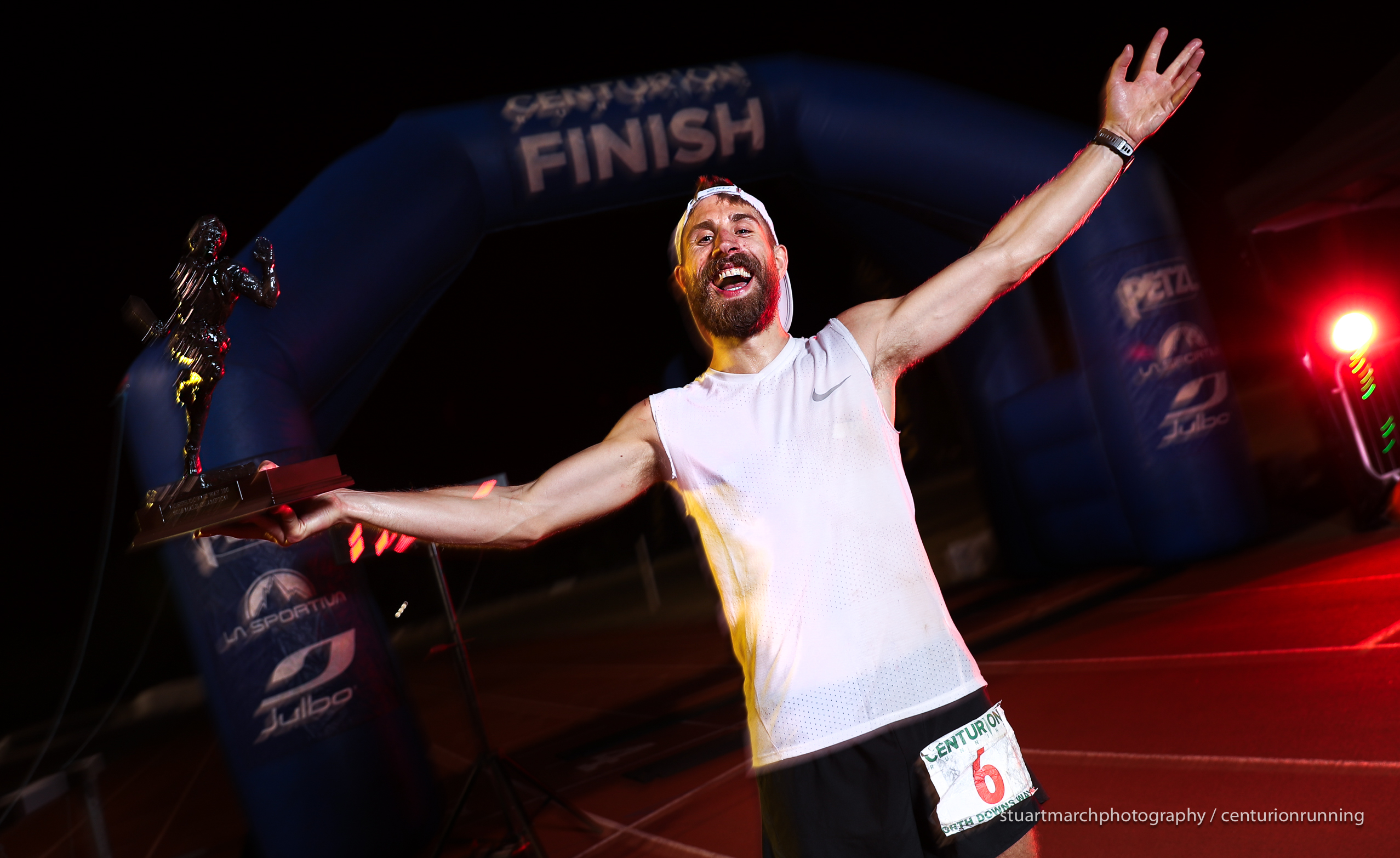 Matt Dickinson took the win on this track at the end of his 2018 NDW100 debut 100 miler
Runner: Rob Isolda
Qualifier: 100km, 6hr.
Details: 2019 6 Ore del Parco Nord: 79.252km. 2018 100km di Seregno della Brianza: 7:15:02.
Bio: Rob ran a 7:15 100km in Italy last year and he has followed that up with a solid 6hr already in 2019. His resume includes the full spectrum of different terrains and conditions as he has raced everything from UTMB to 24hr track.
Runner: Andy Jordan
Qualifier: 100 mile, 12hr.
Details: 2016 Tooting Bec 24hr 100 mile split: 15:29:45. 2017 Barcelona 24hr (12hr split): 131.684km.
Bio: Andy has raced lots of track events in recent years, mainly over the 24hr distance and indeed both of his qualifiers were interim splits in 24hr events. He has gone on to 2 solid 24hr runs in the low 220km range following those initial faster eariler splits, which strongly suggest this distance could suit him well. So far in 2019 it looks like he has raced just once with 71km and 2nd place at the Crawley 6hr.
Runner: Mark Bissell
Qualifier: 12hr
Details: 2018 Crawley 12hr: 133.753km.
Bio: Mark had a solid 2018 where is 12hr qualifier was run, on his way to 2nd place at Crawley 12hr. He has a number of 24hr performances behind him with a best of 217km. He is clearly a fan of the track format, looking to combine his experience across 6, 12 and 24hr hour here.
Runner: Ry Webb
Qualifier: 6hr
Details: 2019 Dorney Lake 6 hour - 80.145km
Bio: Ry comes in off of the back of a qualifier just recently at Dorney Lake 6hr where he cracked the 50 mile barrier. He ran a solid 24 hour last December in Barcelona finishing on 216km which will stand him in good stead experience wise for this, with that race also taking place on the track. Other solid results from him have been mainly on the trail with 2nd at the SDW50 in 2017 before taking 3rd at each of the remaining 50 mile races in our Centurion Grand Slam of 50s. 5th at the 2016 NDW100 in 18:31 is his best trail 100 result.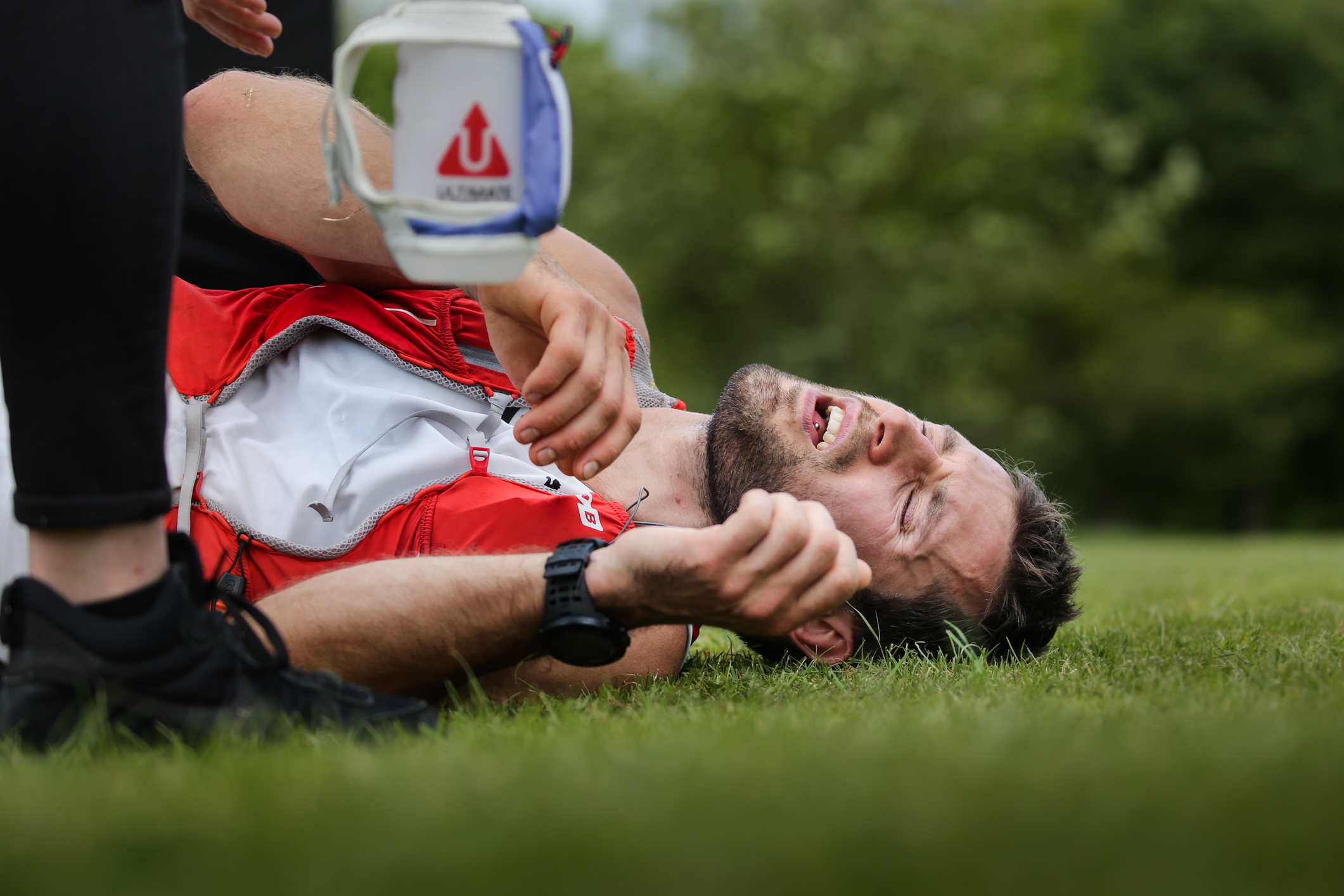 Ry finishes third at the 2017 NDW50
WOMEN
Runner: Debbie Martin-Consani
Qualifier: 24hr, 100 mile, 12hr.
Details: 2015 World 24hr Champs Turin: 221.714km. 2014 Crawley 12hr: 129.171km. 2012 World 24hr Champs 100 mile Split: 15:48:18. 3+ Further 24hr.
Bio: Debbie is the most qualifier runner over long distances in either the mens or womens field. She represented GB in the 24hr format five times, with a PB of 221km from Turin in 2015. She still holds the Scottish 100 mile womens record of 15:48 set on route to one of her 24hr finishes. On the trails she has won numerous events over the 100 mile (and greater) distance with the SDW100, NDW100, TP100 (x2) Lakeland 100 and Grand Union (overall win) amongst the key ones. Her course record at the NDW100 still stands where you finished on this very track and she is already off to a great start in 2019 with a win at the TP100. Having recently improved her Marathon PB she has greater speed coming into this and it will be great to see her achieve what is possible here.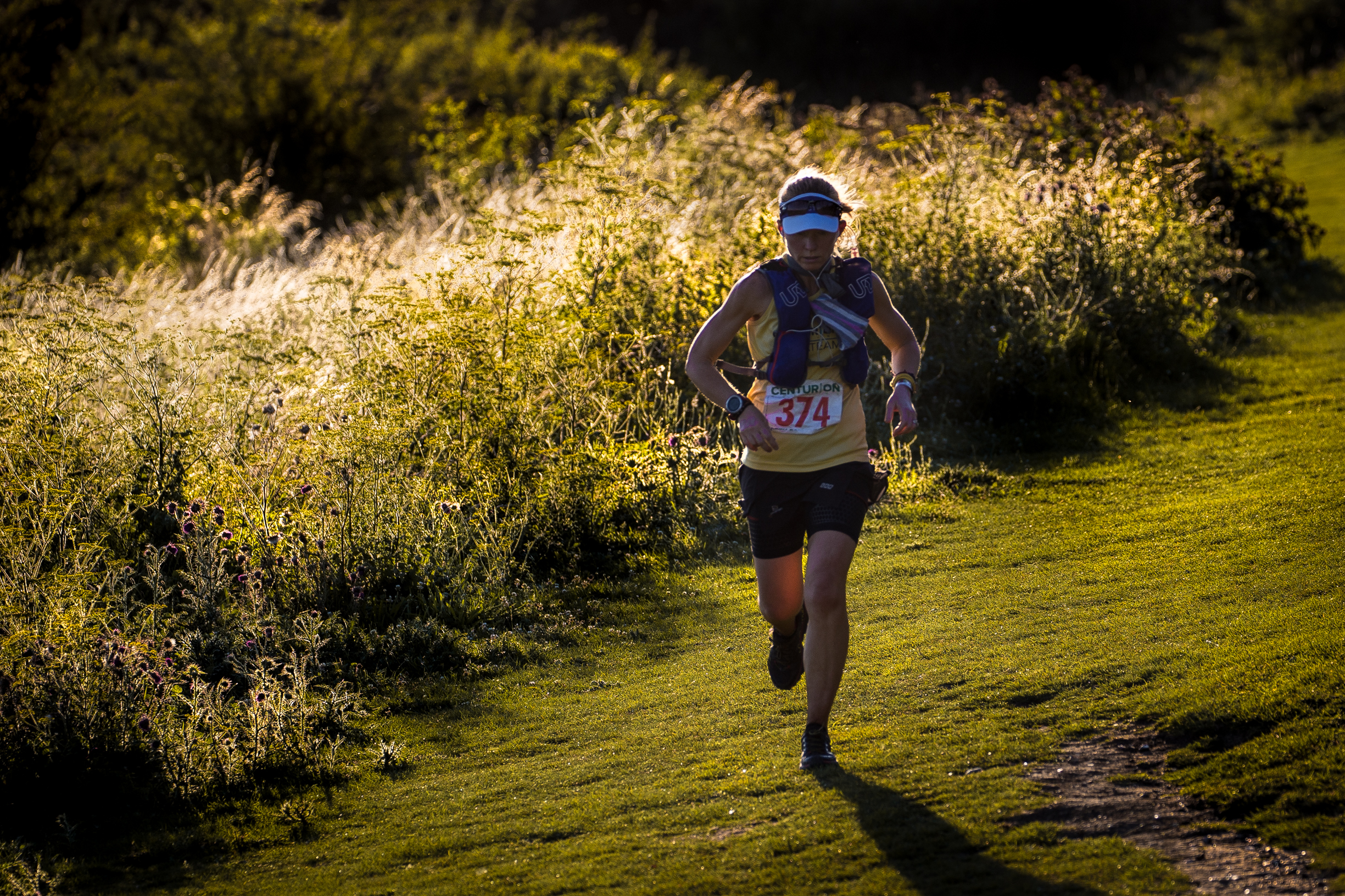 Debs running to another Centurion 100 mile victory in 2016 at the NDW100
Runner: Jess Gray
Qualifier: 100 mile, 50km.
Details: Autumn 100 2016: 16:42:12. 2014 Royal Parks Ultra 50km: 3:37:14.
Bio: Jess has had excellent results in the past few years with wins at the Ridgeway 86 (Course Record at the time), SDW50 and perhaps most impressively a second place at the Autumn 100 with a time of 16:42 which puts her on the all time list. This will be a new challenge for her in what looks to be her first lapped/ track event.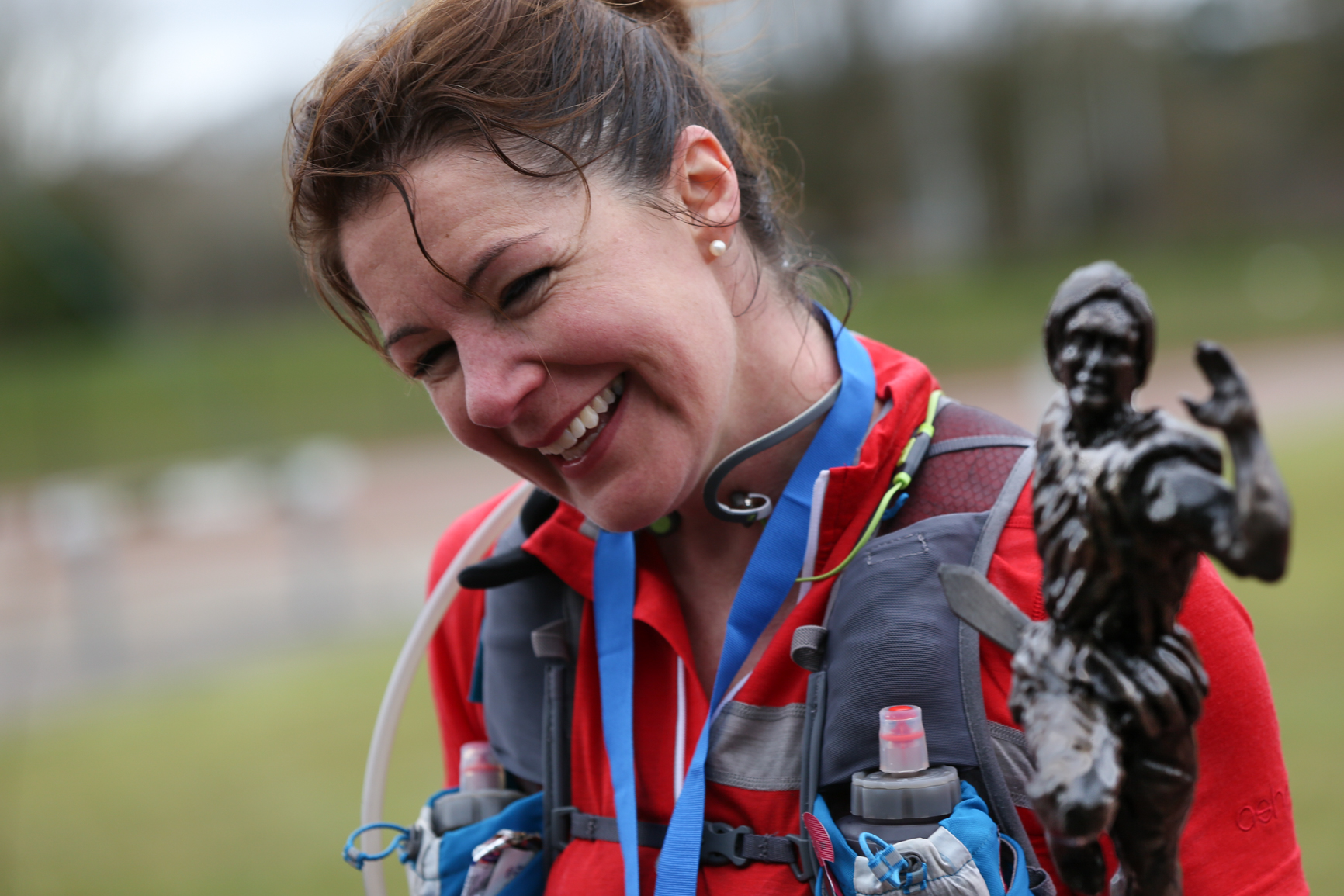 Jess at the conclusion of her victory at the SDW50