This sixth edition of the 2017 Thames Path 100 is expected to see a starting field of 300 and takes place over the weekend of 29th - 30th April.
In 2016, Craig Holgate lit the course on fire with a performance that saw him reach Abingdon Aid Station on course for a 13:30 finish time. A single navigational error led him off course just after and he eventually crossed the line in 14:09. That run showed what previous editions of the TP had not, that this course is incredibly fast if conditions are good and the race is approached in the right way.
This is a runners course, with around 1500 feet of elevation gain in total and a mixture of underfoot conditions. This year we see a situation similar to the 2015 Autumn 100, where lots of returning runners with extremely solid performances under their belts at this or others of our events, look to take things one step further and take home a trophy.
MEN
Mark Denby: Must go in as favourite after storming our last 100, the Autumn 100 in October 2016 in a blazing course record of 14:07. He knows the Thames well having also run and won the T184 also in a course record time. He has finished the TP100 before, back in 2015 in 19:03 so he made a 100 mile improvement of 5 hours in just over a year!! Since the Autumn he has struggled with injury and dropped out of Athens 24hr in February. He will certainly be looking to make amends here.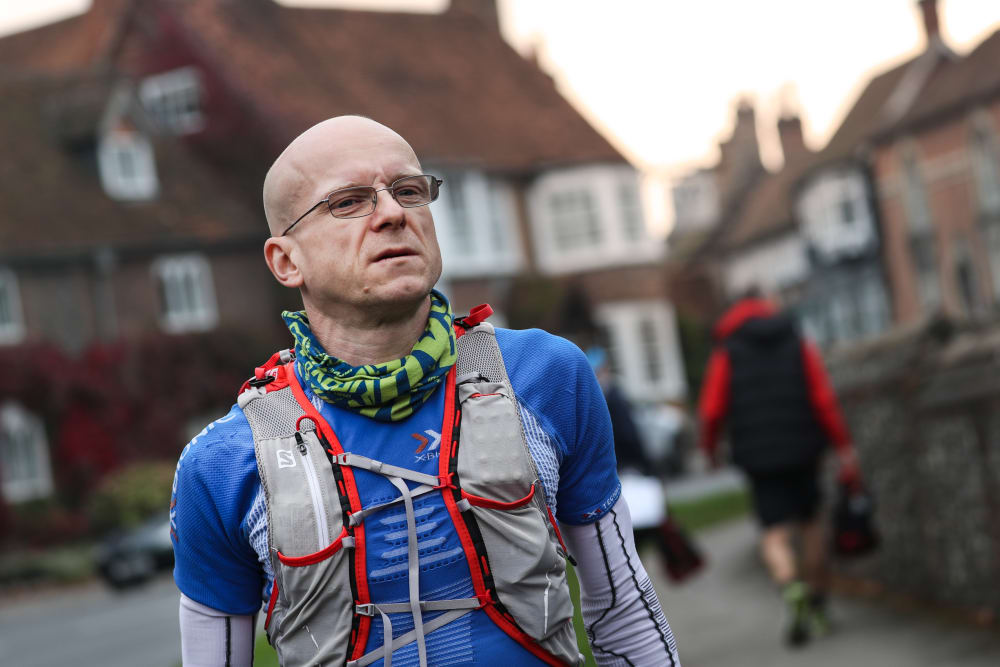 Mark pre-A100 2016
Steven Lord: Steven took home the Hardmoors Slam title last year with wins at the 55, 60 and 110. He's also placed 5th at Lakeland. If he can move from hills to flat he should do really well here.
Mark Grenyer: Mark was 3rd last year in a time of 17:11, though it doesn't look as though he has raced since. If he can bring that form in here, that will put him in the mix with many of the below.
Fergus Edwards: Fergus ran 23 hours in 2012, 21:10 in 2014. He was 10th in 2015 in 19:08 and then 6th in 2016 in 17:55. Can his upward curve continue here?
Dave Ross: Dave Ross' back catalogue is massive. He is one of the most experienced runners, if not the most experienced in the field with over 100 ultras to his name. Dave's first 100 mile finish was our first event back in 2011. So far he has 11 Centurion 100s to his name including 3 Thames Path 100s. His best time was a 15:58 at the SDW100 in 2014 - a race I think he would have to count as his best 100 to date. He has never quite got the TP100 right, his best is back in 2012 where he came home 6th in 18:48. I am quite sure if he is fit and motivated which he seems to be at the moment, he will have designs on going a long way under that this time.
John Stocker: John became our new Grand Slam 100 record holder last year, taking Dave Ross' crown by just 9 minutes. His TP last year was an excellent run for 7th in 18:04 and he will look to go better this time.
Nick Greene: Nick comes in to the TP100 with a best of 16:52 for 2nd in 2015, making him I think second fastest 100 miler coming in to this event. He ran a very solid SDW50 just over a week ago and will look to build on that to another strong finish here.
Sergiy Ionov: Sergiy has some solid results behind him, most notably a 3rd place at Rat Races' The Wall. However one result stands out above all others and puts him as exceptional - a 27:27 for 15th at Spartathlon last year. If he can bring anything like that form in here he could challenge for the win.
Richard Heath: Richard is a very experienced and very capable runner. His biggest result perhaps, was a win at the Ring O'Fire in 2015, a tough race. He has plenty of Top 10 finishes behind him as well as experience at much tougher events like UTMB, GUCR and the NDW100. If he can get his ultra pace to match his road running pace he could be a podium contendor once again here.
Ammon Piepgrass: Expect Ammon to be the guy who is back in the mid pack at the start, then cruise through the field to show everyone how to really pace a 100. He's a strong guy with plenty of long experience behind him including recent finishes at UTMB and Laveredo. He has 2 Top 10s already in 2017, Country to Capital and the CTS South Devon Ultra. He's my pick for another here.
WOMEN
The ladies race looks particularly wide open this year with only two names standing out at the moment.
Sarah Sawyer: Sarah has improved consistently over recent years. From a 2015 finish here of 23:24, she has since gone on to bring her 100 mile best down to 18:39 for 3rd at the 2016 Berlin Wall 100. She's posted wins at RTP Stage Races and runs strong across all distances regularly placing top 10 - her last ultra was a 3rd at our inaugural Wendover Woods 50. Whilst the winter has brought a few more bumps than she would have hoped, she is a strong competitor and will bring the desire to go all the way here.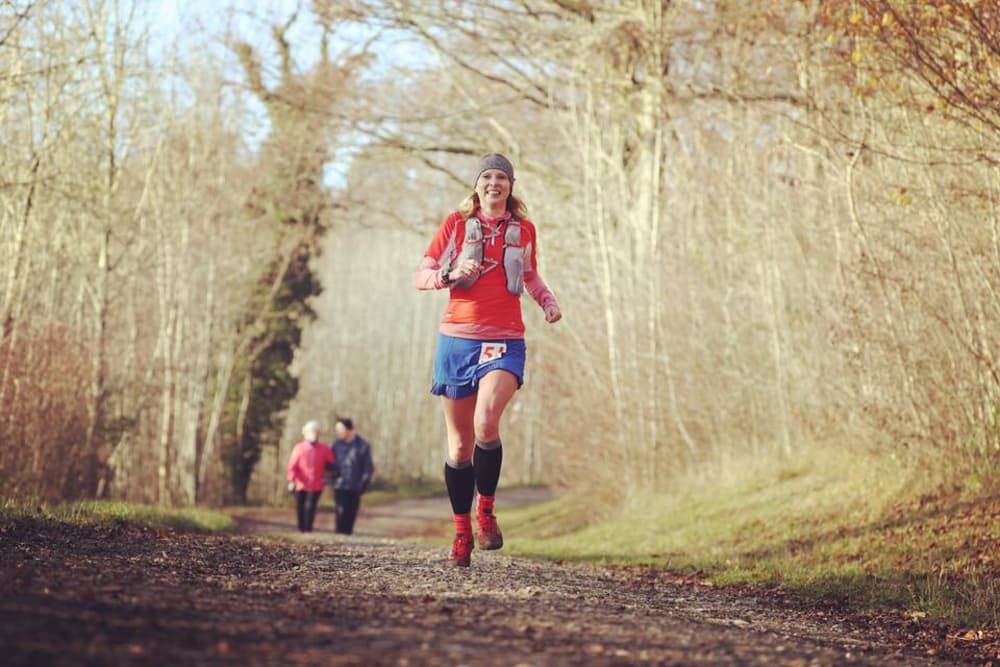 Sarah running to third at WW50 in 2016
Mari Mauland: 2nd here in 2016 in 19:11 and with lots of other podiums and top tens to her name in the last several years, Mari is a strong runner who also knows the course. With her and Sarah it has the making of an exciting race, the question is will any other ladies step forward to challenge for the overall placings.
SPECIAL GUEST
Bryon Powell: Bryon is a true peoples hero. In 2009 he was one of the first people in the sport to put his neck on the line and turn what he did for fun in to a way to live life - creating what is undoubtedly the best Trail, Mountain and Ultrarunning Resource available today - www.irunfar.com
Whilst Bryon has some incredibly strong running results of his own in the past, including but not limited to multiple finishes at Hardrock, Western States, the MDS, a top ten at Leadville 100 - I think his main aim for this event is to see some of the English Countryside and sample the local delicacies along the way. Whatever the case we are honoured to have him running with us.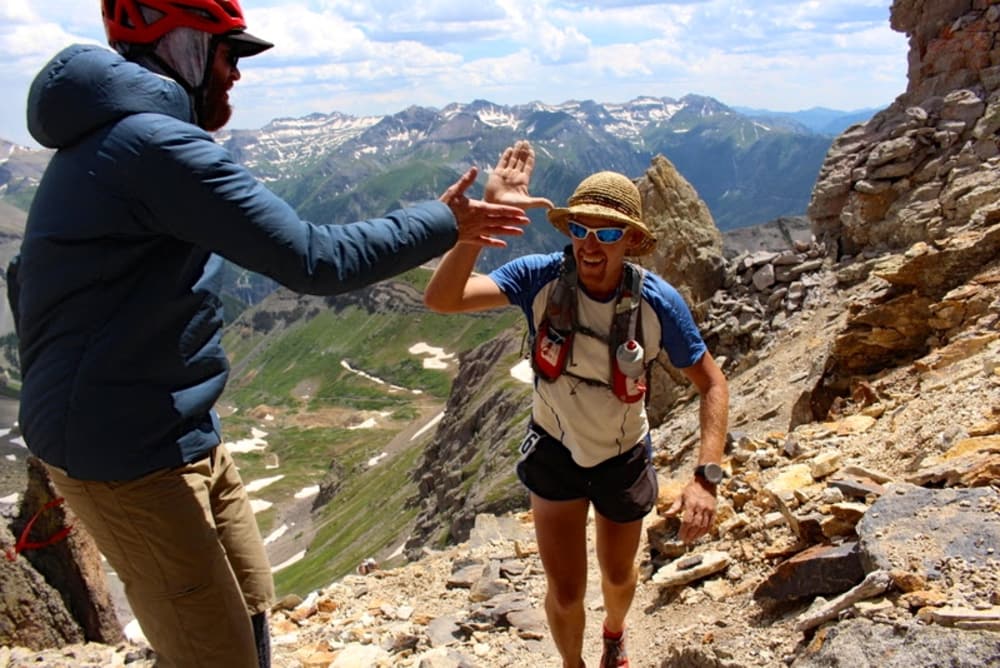 Bryon at Krogers Canteen on the Hardrock 100 course. Photo c/o Jared Campbell via irunfar.com