The first and quite possibly only outing for a Wendover Woods 100. An opportunity for runners to attempt 10 laps of our Wendover Woods loop, making it one of the tougher 100 mile races out there and certainly a true test of endurance. We gave runners 32 hours to complete the course. With the looped format offering 20 aid stations and access to crew and drop bags every 10 miles, there was a chance for us as staff and volunteers to watch the race unfold as spectators, as well as offer the runners as much support as possible. This was all about making it just about the physical and mental challenge of staying out there when it was so easy to stop.
In the mens race, the king of Wendover Woods was attempting to finish his first 100 miler. Stuart Leaney has twice been Wendover Woods 50 champion and last November lowered his own course record to a phenomenal 7:17. He still holds the single fastest loop time of 1:21 set on his second lap of that event - a record that nobody in the 50km got anywhere near this year either which certainly says something.
He began comfortably, holding right back, spending much of the loop chatting to Ian Hammett who after a win at the TP100 and a third place at the SDW100 already this year, was looking to add this one off event to complete our full calendar of 100s in 2019.
During the second lap, Stuart pulled away gradually and from there it was only ever a race between himself and the clock. Stuart shares the love we have for this course and it was the reason he was back. His form never really faded and he didn't seem to face the demons that make themselves known to most on 100 mile outings. His smile was ever present at the end of each loop and his transitions extremely efficient, wasting almost no time in check points. The gap over the rest of the field grew lap after lap and his 8:21 split for the 50 was extremely solid in its own right. As he wound in the final few laps he slowed but seemed to relish in the grind. It was simply a joy to watch someone execute a tough race the way he did. He crossed the line for the win in 18:56. The king simply staking an all time claim to the crown.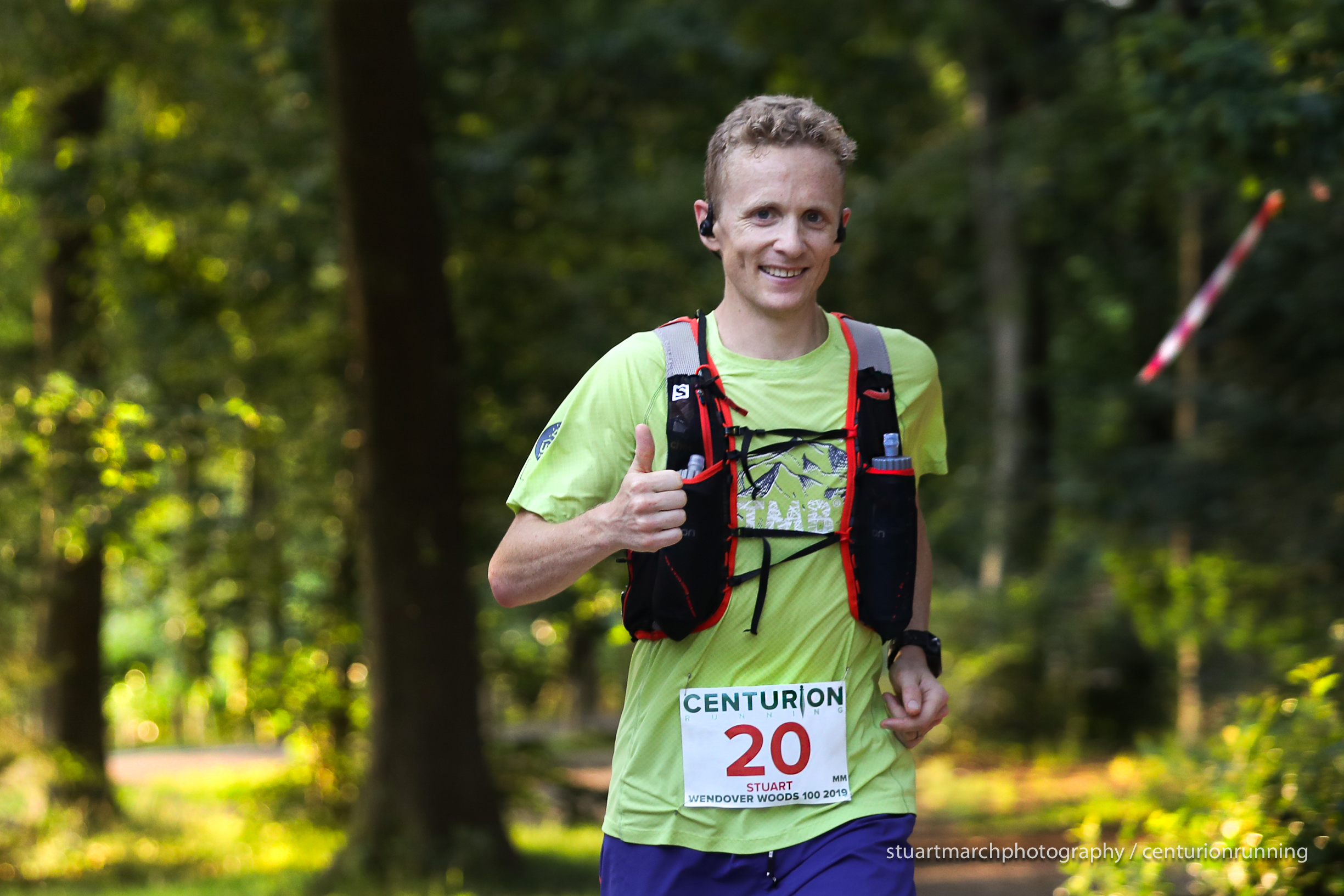 Stuart Leaney now has four of these
Ian Hammett ran strong through the first few laps but seemed to fade behind Stuart at an increasing rate over laps 5-8, suffering with a foot issue. That eventually ruled him out, half way around lap 9 and at 85 miles he sadly had to call it a day. He looks ahead to the NDW100 in three weeks time for his continued assault on the grand slam crown and the overall slam record.
In the womens race, Mari Mauland our 2017 Grand Slam champion, led early on and retained a slender lead over Anna Troup during laps one and two, before the positions were reversed on lap three. Anna ran a strong race in from that point and much like Stuart, seemed to smile throughout. The attitude of both the eventual champions was exemplary. Although Anna looked comfortable for one of the coveted 100 Miles - One Day buckles, it wasn't a formality as the pace ineveitably slowed late on, but she eventually crossed the line in a superb time of 23:15 for the win. She also finished second overall.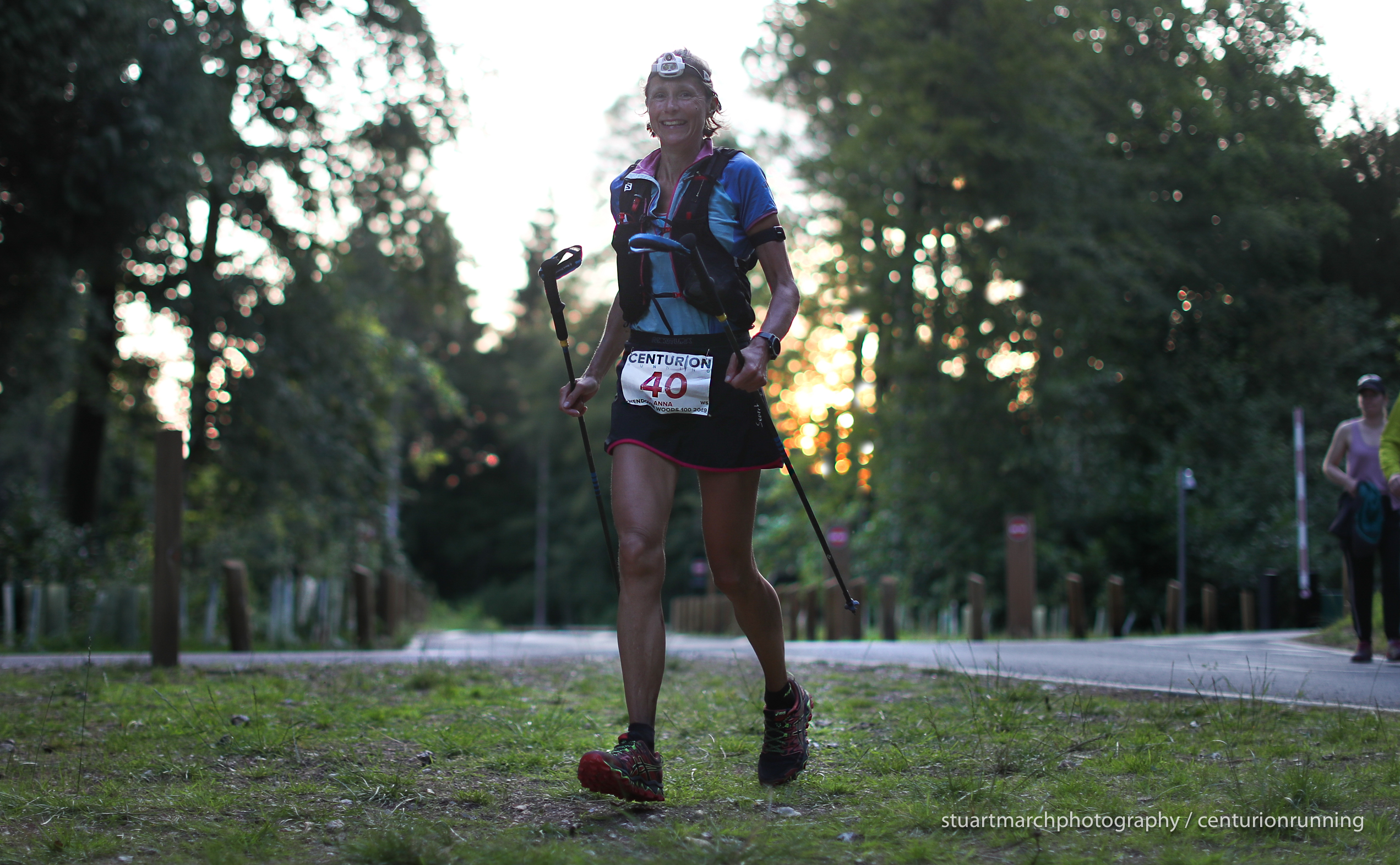 Anna emerging into the dawn before going on to take the win
From the end of lap three Mari fought a long battle with stomach issues and with incredible determination stuck out the race to the bitter end, crossing the line for second lady in 26:15 elapsed.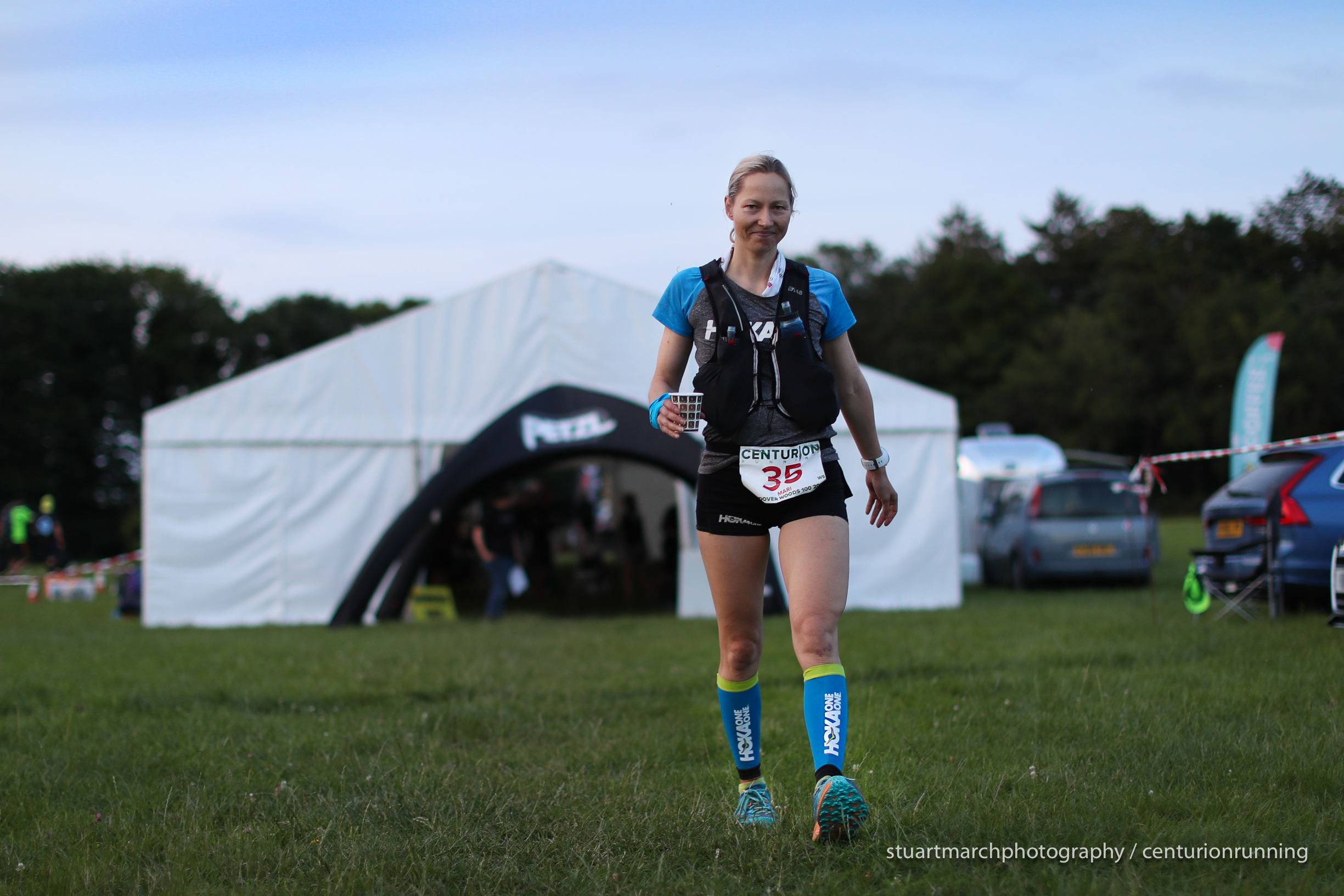 Multiple past 100 mile champion Mari battled on to an inspiring finish
Third place was taken by Mel Horley in 30:49. Perhaps more than anyone all day, Mel looked like she had what it took to finish. She is another 100 mile slammer looking to add this fifth race to her achievements for this year. Her run was inspiring in its own way as she looked totally focused on the job at hand from beginning to end.
Second in the mens race went to James Mclaughlin in 23:38, another super run and another who looked strong throughout. Mike Lang took third place in in 24:17, at fourth overall the first runner to miss out on the Sub 24hr prize.
20 runners finished the race. Not our lowest ever finish percentage at a 100. That honour is still held by the 2012 Winter 100. But by far the lowest number of sub 24 buckles we have ever presented.
What was great about the race is that with such a small group we got to spend a lot of time with each runner as an individual and became more and more invested in their own journeys. With the 50km taking place in the middle of the 100, it was surreal on Saturday morning to see the car park clear out and watch these warriors who had been going since the previous morning, continuing their battle long after most had worked a day, raced an ultra and gone home again. One observation of the final 10 or so finishers was that none were at the end of their tether. If they had needed to continue on, I truly believe any one of them could have. They had managed themselves well across the board and simply had that fight and determination to finish. It made it such a special race to watch.
It won't be back next year, we are sticking with this as a 'one off'. But given the final sentiment it may be that we can be pushed into staging this one again somewhere further down the line.
Our thanks as always to a hardy band of volunteers who pulled some mega shifts to allow a very small group of people the chance to achieve something very special indeed.