The 2018 NDW50 was our eighth edition of the first event (alongside the 100 and a marathon!) back in 2011. Blue skies and superb underfoot conditions greeted the runners. We welcomed a large number of familiar faces to what has become a favourite race for many to return to, year after year. We also had plenty of first timers and there was some very nervous looking folk indeed in the run up to the start at 0800 this past Saturday. Notable mention in the starting field goes to Chris Fox, back to finish what he started - having missed the cut off by 9 seconds in 2015. More on him later.
Crucially we also welcomed our highest ever proportion of female starters, 25% of the field something which has been gradually moving up over recent events. Hopefully it won't be too long before we are talking about equal numbers in our sport. Long may this upward trend continue.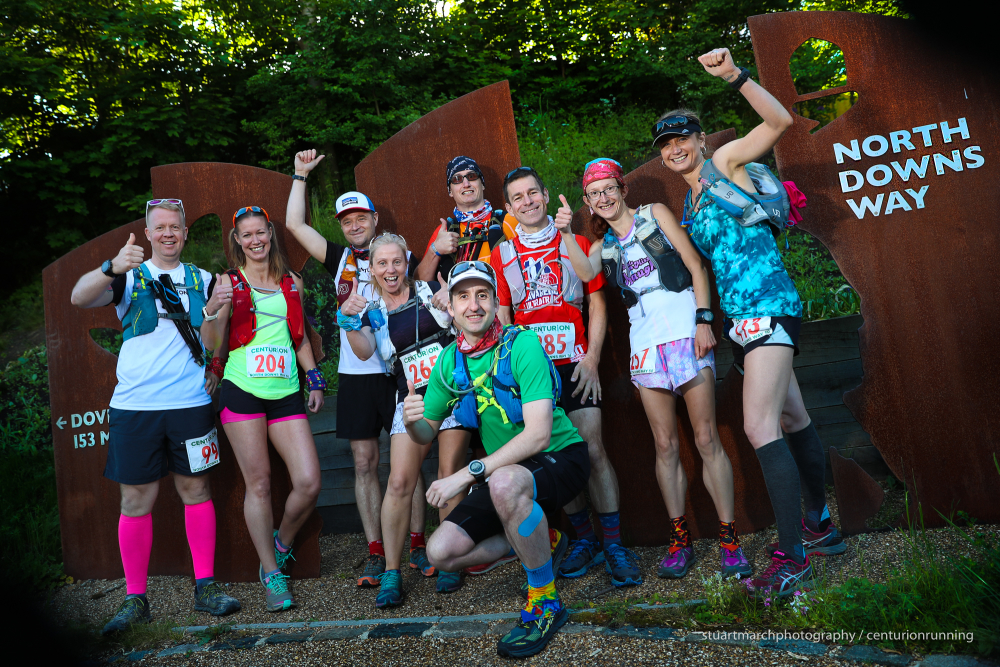 We expected a fast mens field to be led out by returning champ Neil Kirby and WW50 2017 Champ Stuart Leaney. They seemed to have the greatest pedigree coming in and with conditions as they were, the course record set last year by Jon Ellis looked under threat.
However, we were suprised to see from the gun that Ed Knudsen and James Osborn went out with Stuart and pushed as a threesome for many of the early miles, Neil sitting just behind in fourth. The three out front looked comfortable and rattled through Guildford together at mile 10. By Newlands Corner the second check point, things had begun to split up and it was Ed who took the lead, coming through there in 1:40, with Stuart and James both sitting back within 3 minutes.
The section over to Box Hill is screaming fast, largely flat before a long very kind road descent through Denbies Vineyard and Ed stayed ahead through those miles making the Stepping Stones at mile 24 in 2:50 elapsed, now 6 minutes ahead of Stuart and a full 12 ahead of James. It seemed likely to those looking on that the race was moving too fast and the heat and hills that were to follow would indeed take their toll on all of the runners - however for the front two it proved to be less of an issue than for most and they blazed ahead in a really closely fought battle. By Reigate, Ed Knudsens lead was down to 3 minutes and on route to Caterham Stuart took charge and put a couple of minutes lead in to Ed. Instead of capitulating however, Ed fought every step of the way and made Stuart work hard for his eventual win in 6:46, our third fastest ever time at this event. Ed came home just 4 minutes later.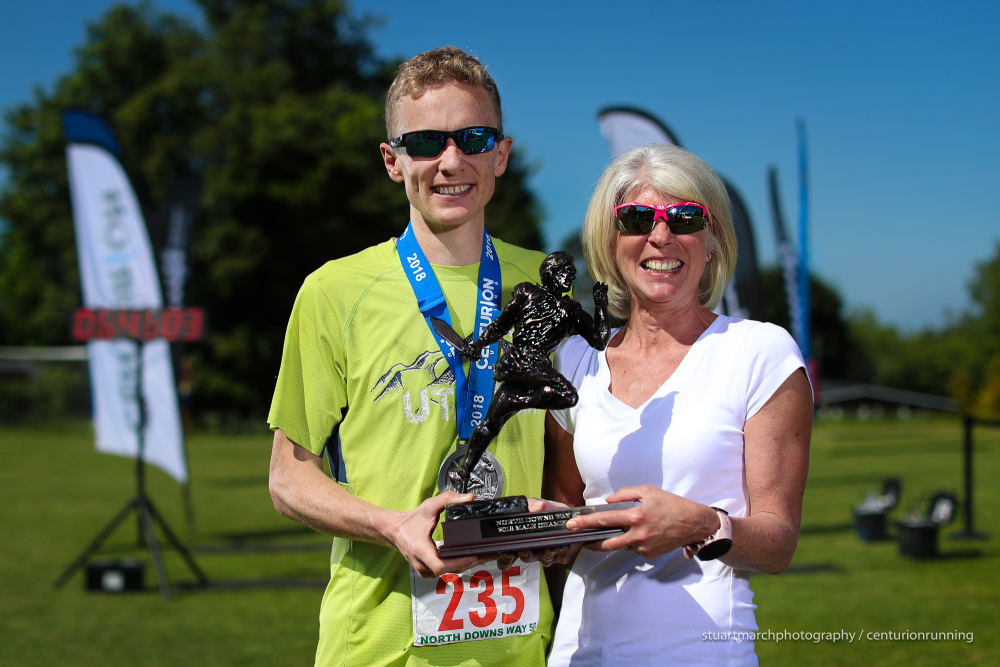 Stuart Leaney receives his winners trophy from Mimi Anderson
James Osborn unfortunately dropped shortly after Box Hill after crashing in to a tree - he was not the only one as two other runners impaled themselves on a obscured broken branch before our favourite Russian runner Vladimir Zalesskiy stopped to clear the lethal weapon, going on to then run home with the MV50 category win. It was Ollie Stoten who ran a tremendous closing section with the fastest split of the day to finish third and break the magic 7 hour mark with a 6:58, his first Centurion podium after many attempts.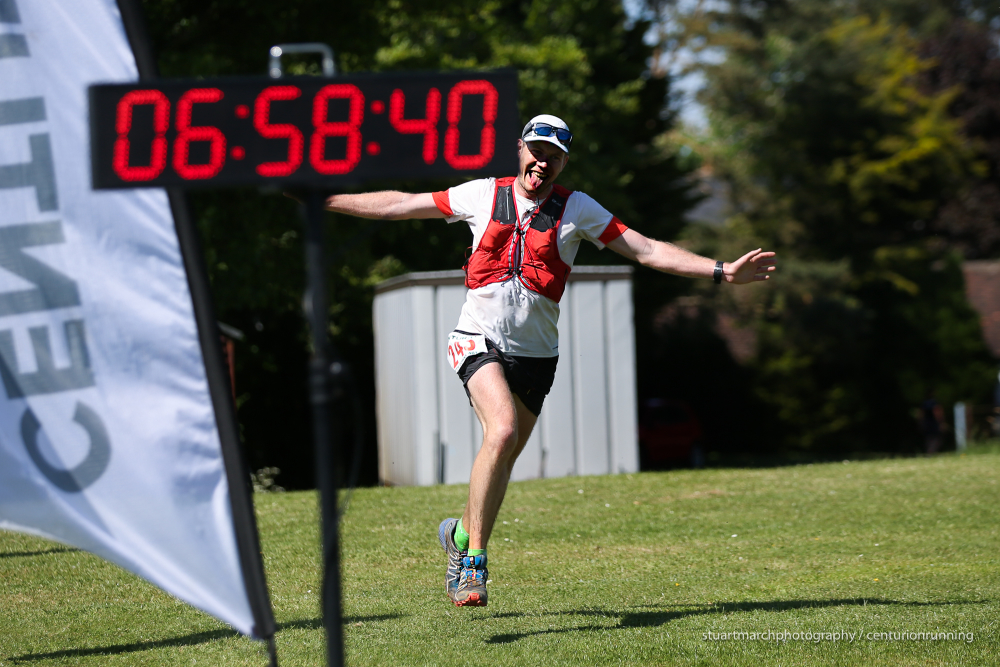 Ollie Stoten stormed through the final two stages to break the 7 hour barrier and make the mens podium
The ladies race was equally contested and exciting to watch. Sarah Sawyer, Lisa Martin and Fiona Park ran within sight of each other for most of the early miles and came through Guildford all within 30 seconds of one another. At Newlands Corner Check Point 2, all three were with 60 seconds with Sarah and Fiona arriving almost together. On and down to Box Hill, Sarah took the lead with Lisa moving in to second behind as Fiona began to drop back. The gap between Sarah and Lisa stayed at 2 minutes or less through the next three check points and it seemed it could go either way over the final 7 miles in from Botley. Sarah held the lead, whilst unfortunately Lisa took a detour shortly before the finish so we were denied a possible closer result, but Sarah who had held the front since around mile 20 came home first lady in 8:44 elapsed for her first Centurion win.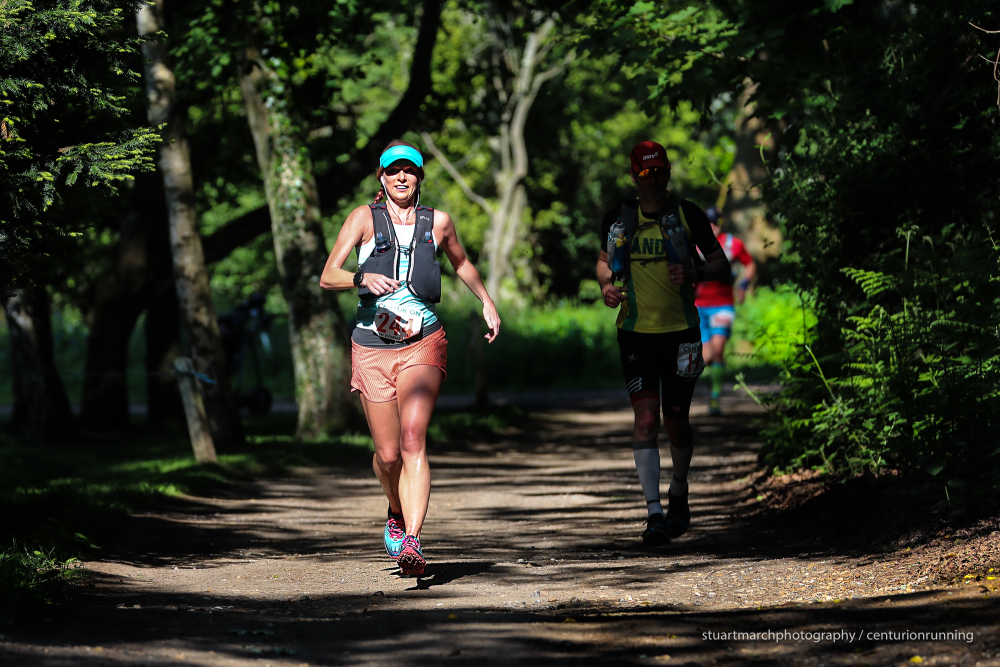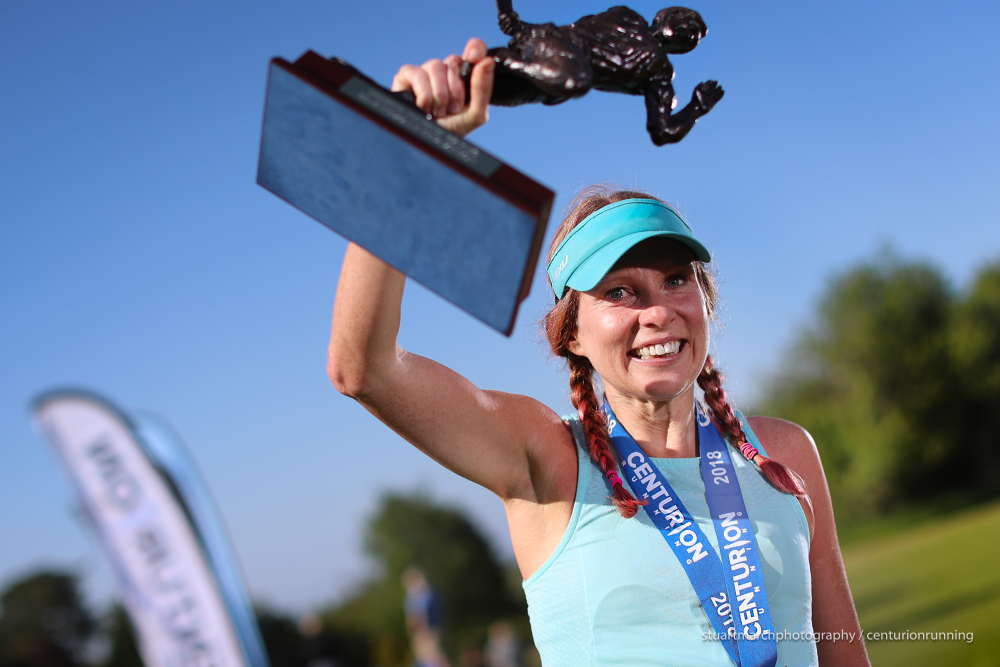 Sarah Sawyer picked up her first Centurion Trophy in winning the womens race
Lisa Martin picked up second in 9:01 having lost around 15 minutes in her detour. Third went to Tamatha Ryan who ran a very solid race to eventually come past Fiona Park, crossing the line in 9:04.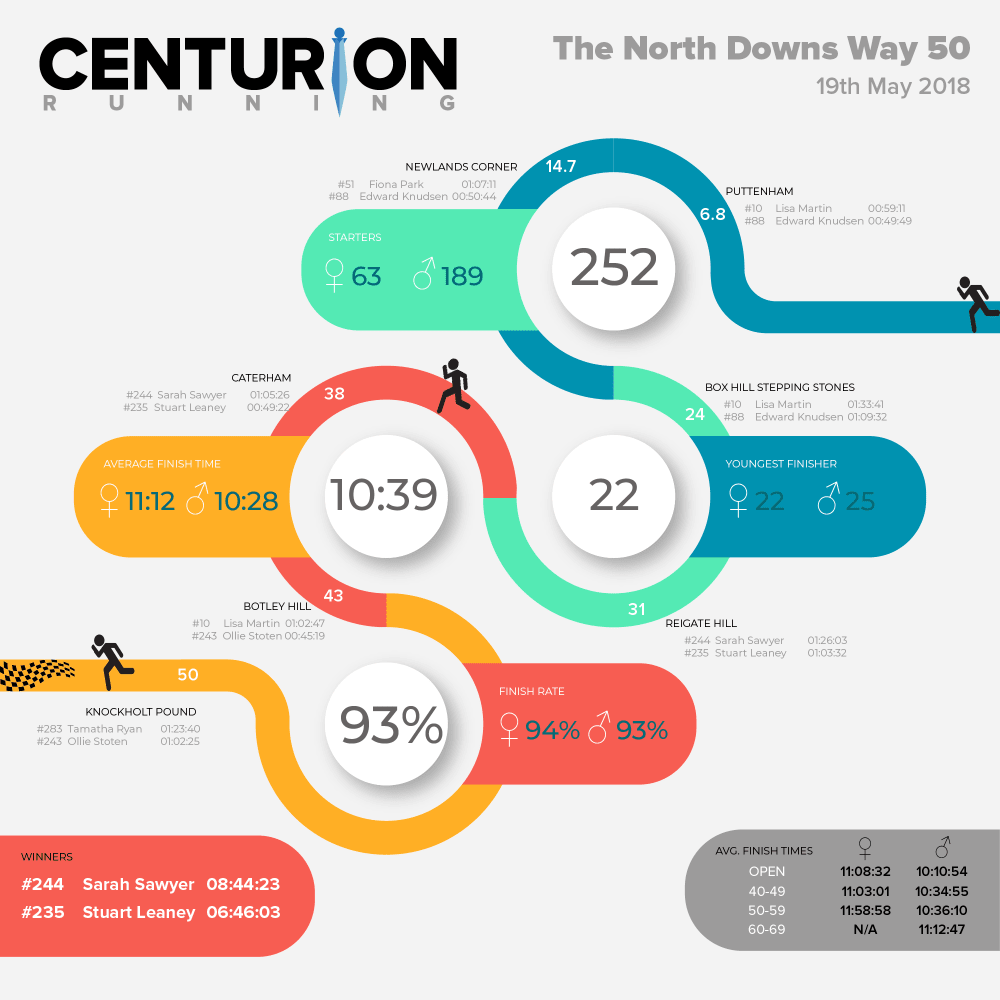 Of the 252 starters, just 17 runners dropped from the event for our equal highest ever finish rate of 93%. This time, Chris Fox made it home with just over 30 minutes to spare and was welcomed home to great relief from volunteers and staff alike. His 9 second miss in 2015, finally put to bed.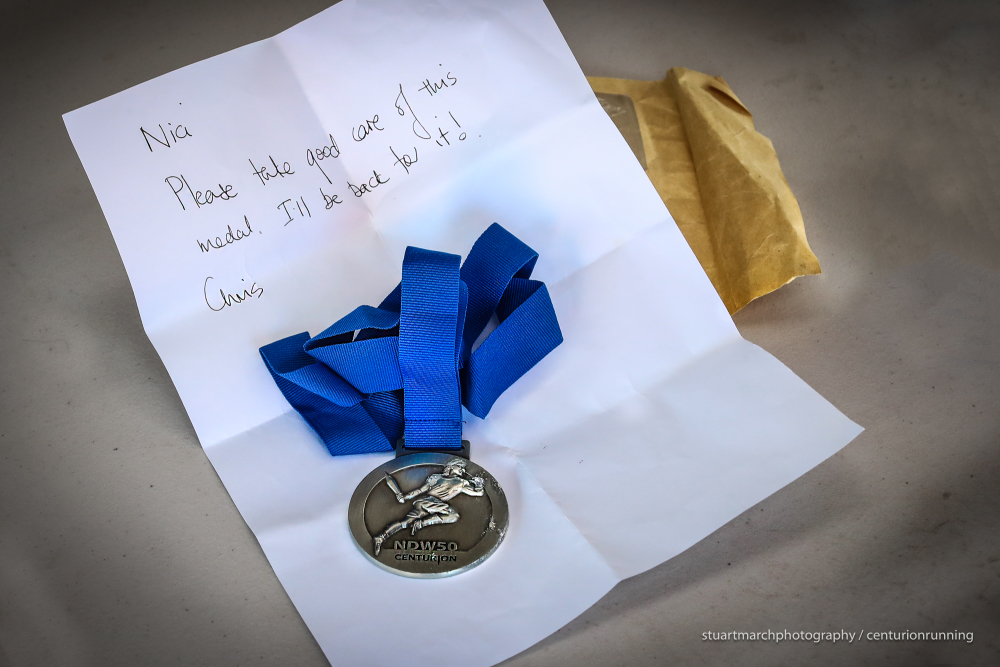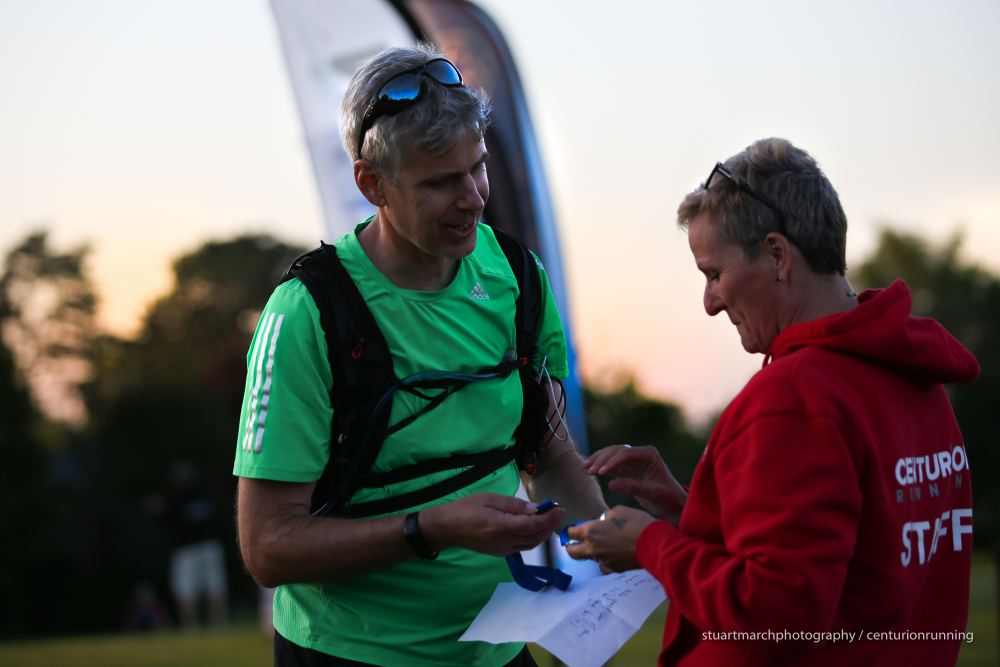 Chris Fox receives his medal 'back' as well as his new one for this finish
Final runner out on course Brian Duggan left it close but ran the last mile and powered up the hill to cross the finish line with exactly 100 seconds to spare. Our 234th finish of the day and a new record at this event.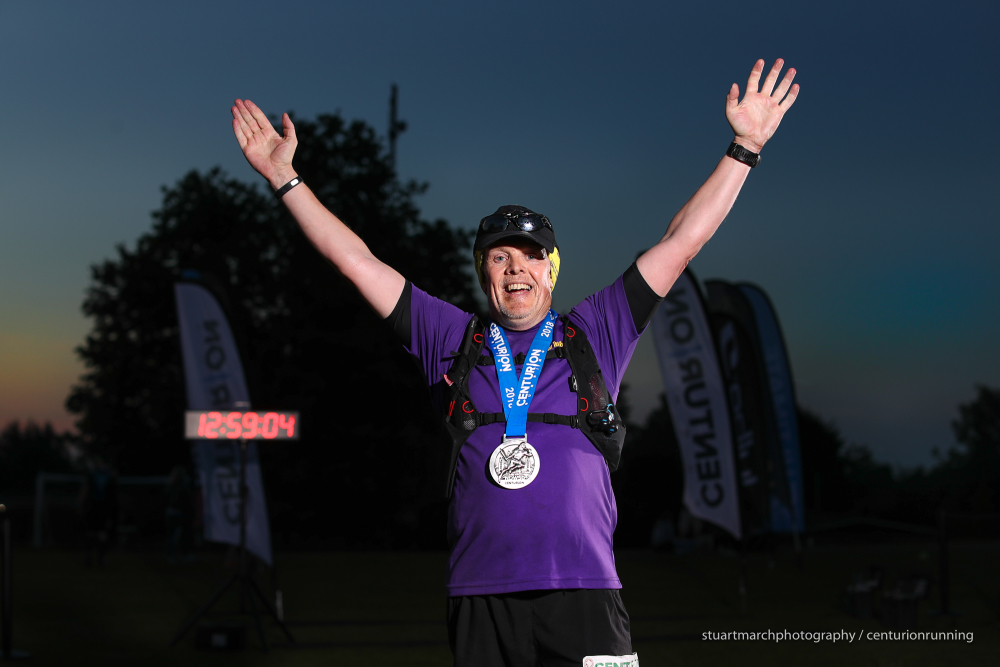 Brian enjoying his finish with plenty of time to spare!
Age Category Awards went to James Warren (MV40) who continues to go from strength to strength, Vladimir Zalesskiy as mentioned above (MV50) and in his 33rd Centurion event finish Ken Fancett (MV60). In the ladies race Fiona Park took 4th and the FV40 category with Sarah Sawyer and Tamatha Ryan also running as FV40s taking overall prizes. First FV50 went to Joanna Edwards in 9:26.
A link to the initial Grand Slam table is here, with standings after two of the four events.
A special thank you to Allan Rumbles, Spencer Rolls and Mark Thornberry for manning the seventh and final ever Bacon Boat on the canal in Guildford.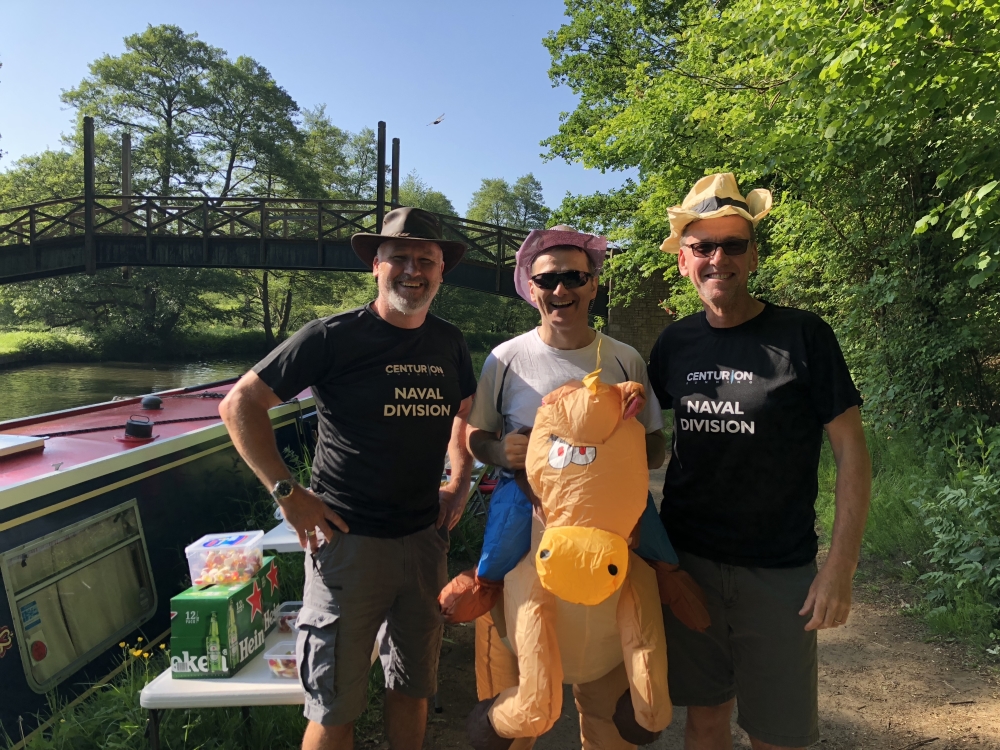 Centurion Naval Division: Allan Rumbles, Spencer Rolls and Mark Thornberry (Photo c/o James Elson)
Massive thanks too to the 67 volunteers who supported all of the runners so admirably on the day. Of those 67, only 6 had not either run or volunteered with us before showing what a fantastic community we have.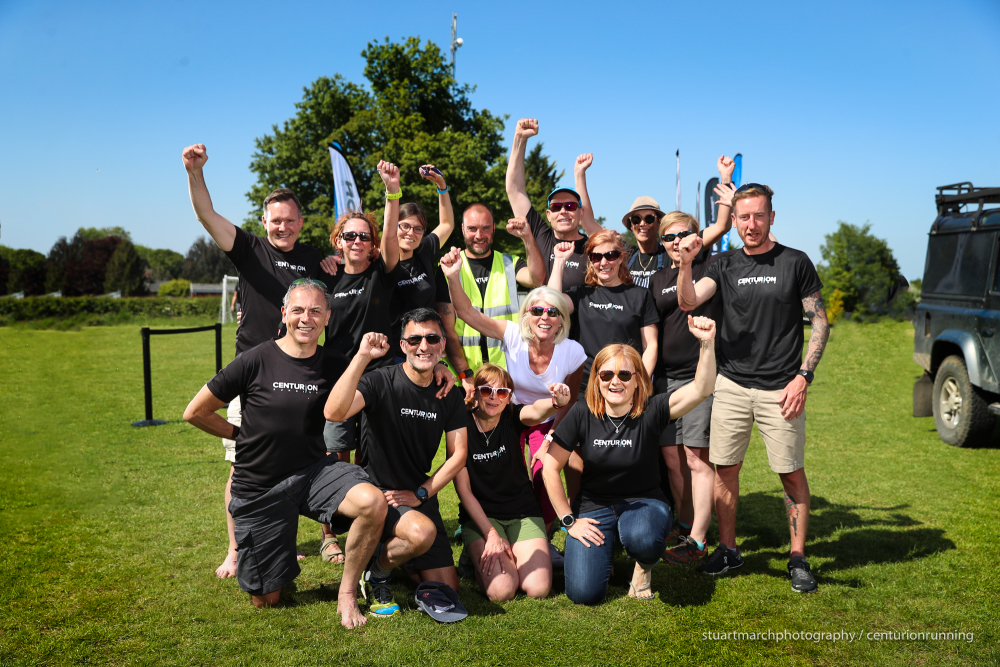 In three weeks we welcome 300 starters to the South Downs Way 100 and hope you will join us again then.