The 2015 Autumn 100 was our 6th and final event of the year. The format of the race, with its four out and back spurs returning to Goring every 25 miles, engenders a feeling of amazing camaraderie out on the course. Volunteers, runners, crew and race staff all get to see much more of the race and of each other, than on our other point to point or single loop courses.
Scanning the list of entries, I was overwhelmed by the number I recognised either as previous volunteers, runners or crew. We also had a deeper field on both the men's and women's side precipitated not by the influx of new elite runners, but by the steady improvement of so many of returning Centurion finishers.
Since the beginning of 2014, the team of staff and core group of volunteers at our events had been asking me if and when I would ever try seeing our events from the other side, as a runner. After directing 29 events since 2011, around a week or so prior to the A100 I finally felt confident enough to make the transition over from RD to entrant. The format of the race - never being more than 12 miles from HQ if I were needed, the strength of our team ethic such that no single person is required to make things work (including me), gave me the confidence to hand over my usual roles and responsibilities on the Friday night before the race. Drew Sheffield and Nici Griffin our two senior staff were handed the emergency line and were in charge of the key decision making whilst I removed myself from the process. The next morning I lined up for kit check and collected my bib number. I did however still do the briefing and made sure the runners knew who was responsible for them over the weekend!
The race became as usual, about the sum of the incredible individual stories out on course. This is a longer report than normal, for which I apologise, however at this point in the year many much longer journeys than a single race, deserve to be highlighted. These don't need any enhancement, the facts speak for themselves. There are too, many other equally incredible stories that go unspoken.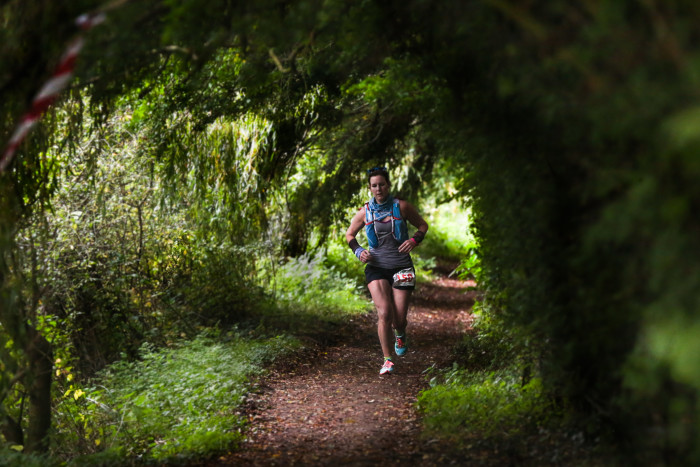 Ken Fancett became the first person to complete a 3rd Grand Slam. He did so in a time of 84 hours and 23 minutes. His fastest of the 3. His 14th Centurion 100, all of them under 24hrs. He's also finished many other 100s during the same time frame including Stage Coach 100 just 2 weeks prior to the A100. Ken is 66 this year.
Sally Ford set out to become overall Grand Slam champion for 2015, and to try to record a 4th 100 Centurion 100 mile victory in 2015 after wins at the TP, SDW and NDW 100's, a feat that will alone, surely never be repeated. In the end she was beaten only by Sarah Morwood, who took 40 minutes off the fastest ever female 100 mile finish time at any Centurion 100. Sarah retained the title from her Course Record win in 2014.
Mark Haynes overcame a cancer diagnosis and 3 tumours in late 2014, to be back on his feet and running in March of this year. He said he owed it to himself to attempt at least the Thames Path and finish he did. He completed each of the next two 100s under his own steam, quietly and without pomp and ceremony. He dared to reach out to the community on facebook a week prior to the race and won everyone over with his humble words about just what the journey had meant to him. His finish at this year's race was at least as emotional as we've had yet at a Centurion event. It was clear that it suddenly hit Mark too, just what he'd achieved, to be there with his family and to have our staff and volunteers respond to him the way that they did - well you could put everything else aside and that single moment would make it worthwhile for every ounce of energy that goes into making an event happen.
Sandra Brown finished her 168th 100 mile (or longer) race. Sandra's time was 24:36:42. She walked every step.
22 Grand Slammers finished the 4th and final 100 of the year. Peter Kaminsky the SDW100 champion ran 16:29 for the overall title, just over an hour behind Dave Ross' 2014 GS Record.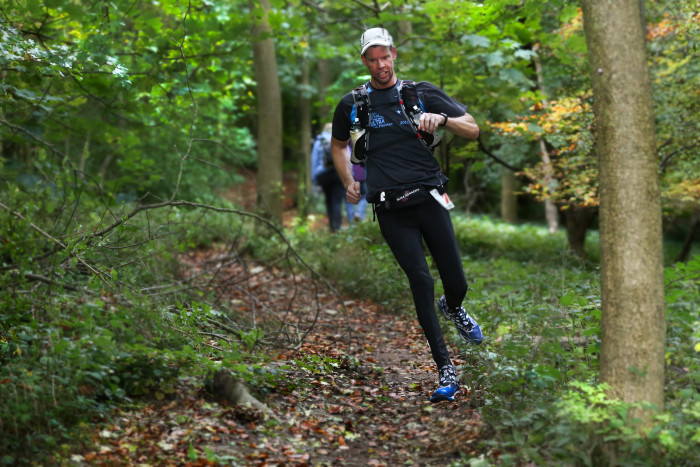 73 volunteers assisted the 205 runners out on course, two of those completing the Volunteer Grand Slam.
So as for the race itself….
205 of 'us' kicked off at 1000 on Saturday and began our out and back journey north on the Thames Path. Conditions were exceptional, particularly underfoot, certainly a lot better than the mud bath of 2014. This first of four sections is pan flat and so forgiving that runners often come back way ahead of target pacing. Early on, a group of four including Chris Brookman, Dave Ross, Ed Catmur and Mark Denby sped away from the field and made the turn in under 90 mins. Headed back to Goring, two of those four dropped off of the pace and Chris and Ed moved positively out on to Leg 2. The Ridgeway up to Swyncombe and back is flat to begin with some rollers up towards the far end of the spur, with fantastic trail through Grim's Ditch and over farm and woodland.
I was running in 3rd at that point, thinking almost solely about whether my current effort was going to allow me to run rather than walk leg 4. I could hear the closing of gates and the occasional coughing of the ever smiling Duncan Oakes, all the way out to mile 35. We emerged largely together into the first of two very open fields and there ahead were Chris and Ed looking to be moving a little less well than earlier in the day.
Within a mile or so, I made the turn around at Swyncombe in front and made use of the small descents back to Goring. Getting to see every other runner in the field on this leg, as we all did, was an incredible experience and confirmed for me that we made the right decision to go with a race of this format.
Out to Chain Hill on leg 3 with my pacer and old friend Paddy Robbins and feeling good, we made decent progress and 8 minutes from the 100km mark/ leg turn around we came across Chris moving extremely well with his pacer - so a gap of 16 minutes or so. Duncan looked solid and happy as always, a few minutes behind of Chris.
Into mile 75 in 10:11 and I felt thankful that there was plenty of running left in the legs. Marco's 15:03 winning time was in considerably worse conditions to those we were experiencing and I felt confident we could run most or all of this final section because it was dry and I'd saved enough. In the end I was able to make it back to HQ in a total time of 14:35. The reception I received was totally overwhelming and to share the whole experience with a group of people with whom I've shared so much over the years made it the most fulfilling running experience I've ever had. It was all capped off by a short speech from the man I try to emulate in terms of what he has achieved in the sport as a runner and an organiser, Dick Kearn. Sincere thanks to the whole team from me for allowing me to see things from the other side. I learned a huge amount. We can try to put into practice those things and continue with every event to keep improving the safety and enjoyment of all of our future runners.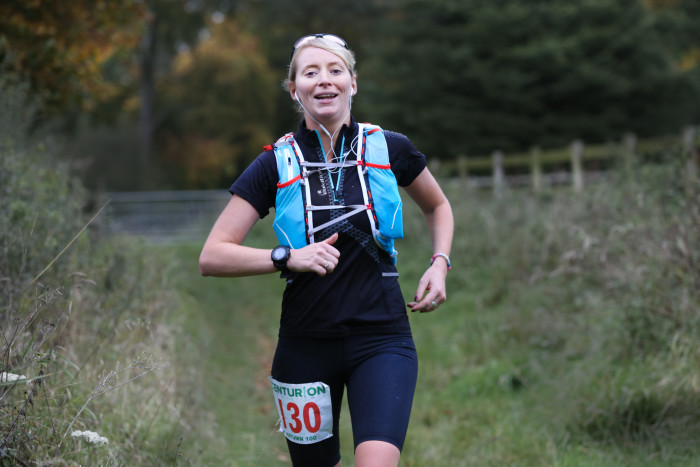 Chris Brookman ran in for 2nd, in our 4th fastest ever 100 mile time, 15:05. 3rd place and continuing the most incredible streak of consistent 100 mile results, Duncan Oakes, still smiling from ear to ear. The only other person to beat the 16 hour mark, and Sarah Morwood home as first lady, was David Barker who deserves mention most of all for such a strong leg 4 and superb pacing from start to finish.
Sarah's energy out on course is amazing. Gracious, supportive, always having fun but with that fiercely competitive side, she brings an incredible mix to the table and reaps the benefits of the success it yields. 16:12 sets a huge new benchmark for the increasing number of women running our 100s.
Sally Ford picked up 2nd in 18:11. From 2015 she took 3 winner trophies, the female Grand Slam title and a new record thanks to four such consistently brilliant runs. To run four 100 mile races in one year of that standard is such a rare thing. She took things to a completely different level this year.
Third lady home was Melissa Arkinstall in 18:51, 6th fastest ever female time on this course.
In the end we welcomed home 156 of our 205 starters within the 28 hour cut off, for a finishing percentage of 76%, an equal highest ever 100 mile finisher ratio. 102 runners broke 24 hours, and 34 broke 20 hours, both percentage records at Centurion 100s.
With that we close 2015 and look forward to the start of our first 8 race season in 2016, with the introduction of our 2 new 50 mile events and the 50 mile Grand Slam.
To all of our runners, volunteers, crews, staff and supporters, thank you for making this an incredible year.