Although probably not that widely know even within this niche sport of ours, there are such things as international competitions in ultrarunning. British Athletics support teams working towards four ultra disciplines: 50km, 100km, Trail and 24 Hour. The 24 Hour is unique insomuch that it's a timed event rather than a fixed distance. The goal is simply to run as far as you can within a 24 hour period. Each country is allowed to send up to six male and six female athletes to compete as a team. The top three scoring runners from that country have their scores combined to create a total, which enables nations to be ranked at the finish. There are individual medals for the top 3 athletes overall alongside the team competition. 24 Hour running is probably never going to become an Olympic event although the total carnage in the final hours would make for some comic and compelling viewing, but it's still a chance for those looking at endurance end of the spectrum to pull on a national vest and give it their all, in our case for Queen and Country!
Back in 2014 and after 8 years of running ultras I started to improve over the longer (100 mile plus) distances, to the extent where the standard required to make the 24hr team began to come within reach. That didn't stop me making a few failed attempts, but finally in March of this year, I cleared the 240km required distance and booked the sixth and final berth on the 2016 GB Mens Team.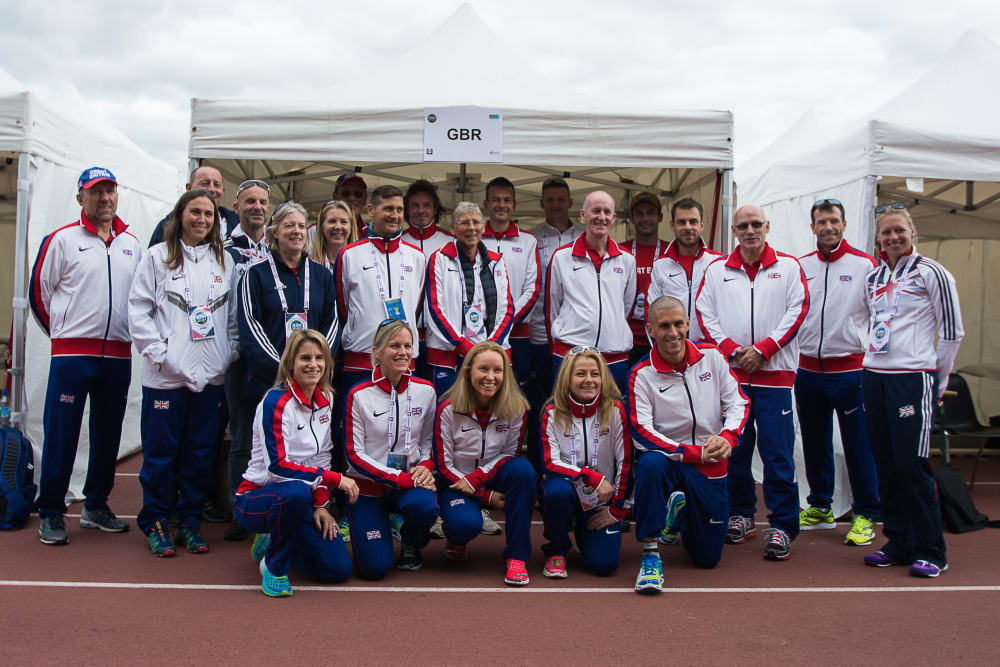 This years team in full. Photo c/o John Pares
After last years World Champs in Turin, where GB brought home Team Gold and Third Place Individual led by Robbie Britton, it was the turn this year of the European Champs to be held in Albi, France.
The course itself wound up to be a 1.1km loop around and outside of the Stadium in the City. To those unfamiliar with the discipline this might sound either crazy short or crazy long, but it's probably about average for a 24hr. The benefits of a short course are multiple. We are each permitted one crew person who can hand us food, water, clothing etc throughout the entire race - so on a 1.1km loop you are getting to see that person a lot and therefore have to carry absolutely nothing with you. On the other hand, the main factor is the monotony of moving around a small circuit for a long time, combined slightly with the effect of having 200 athletes on a small circuit which makes for clusters of people forcing you off of the racing line. 24 hour racing is a battle of pscyhology and physiology in equal measure.
And just to answer the other most common question, no there's no sleeping during the race. The clock doesn't stop!
Prep
My own preparation for this event was a veritable roller coaster. In early July we welcomed Georgia in to the world which co-incided nicely with the peak training block of 12 weeks which I'd usually put in for a goal event. The day job was also busy with three key races to organise within that 12 weeks, including our final 100 mile race of the year just the weekend before. I had a plan and being flexible with it was more important than ever. Some days I would have to scrap the session due to lack of sleep or poor recovery. Other days I had a low end session planned I turned in to a key one because I felt good and had a little more time. It wasn't just about me, it was about Lisa making sacrifices too to forge time in the day for me to be able to get out and/ or get the required amount of sleep. Without her and two sets of grandparents it would have been impossible. But overall I got it done. I averaged between 90 and 110 miles per week through the core 10 weeks and capped it off with a solid 38 mile flat trail event in 4:15, 19 days pre race. I then tapered down to race weekend....
Race
Our team consisted of 6 Men, 4 Ladies, 5 Management and 10 Crew Persons. For my crew I had Drew Sheffield, probably as experienced as anybody else at both crewing ultras in general and certainly in terms of keeping me on plan.
Team meetings, dinners, a pre-race walk of the track all helped to focus us in to race mode and we kicked off 1000 on the Saturday with 24 hours stretching ahead of us.
There's an inevitability in 24 houring that at some point something will go wrong and it's really just about how you prepare from minute one to stave off that problem and then handle it when it does emerge. For perspective, 240km/ 150 miles is the GB qualifying Mens Standard. On paper, 10km an hour probably seems quite slow for international competition, and it is, initially. And therein is the challenge. You have to start significantly slow enough that you are running the same pace at the end as you are at the start. Running 10km an hour at the end takes on a whole different level of difficult. The rankings mean absolutely nothing at hour 6, hour 12, or hour 18. It's about setting yourself up for a good final 6 hours and making that count. If you are walking from half way you will be nowhere come the end.
Typically, a few guys went off of the front of this race at suicide pace. Back in March I had raced Aleksander Sorokin, a Lithuanian runner, who had at 13 hours elapsed put 20km in to me. We then teamed up for 8 hours or so both working to different goals where he would finish on 260km and I on 242km for 1st and 2nd at that event - his was a 2016 World Leading Distance coming in to Albi. He went off just as fast here and had lapped the entire field in the first hour.
For my part I started slower than Athens, averaging about 11.3kmph and hoping to still be averaging 11.3kmph in the final few hours. That meant I was down in 29th Place after 1 Hour. My feed plan, which alongside pacing is the most crucial factor, was for 300kcals per hour - and in the end I was able to hold on to this for 22 hours:
20 mins: Gu Gel + Water
40 mins: Biscuit/ Waffle + Water
60 mins: 2 x Choc Squares + 1 x Cheese + Water
Sporadically: Tomato (stomach settler), S! Caps Salt Replacement, Pringles, Coke.
For 24 hours, Drew didn't miss a single lap or hand off of food/ water. Often times crewing like that is harder than running the race. I know which I'd rather be doing.
Of our team, it was clear early on that Robbie was looking to repeat his podium placing from last year, forging out ahead. Dan Lawson and Marco Consani are two of the most talented runners we've had in the past decade in the UK and sat somewhere between Robbie and I, playing the patient game. Pat Robbins and Steve Holyoak our other two super experienced rock solid runners were on the same lap as I for much of the early hours.
The ladies all looked strong and relaxed. Debs Martin-Consani, Sharon Law and Izzy Wykes all experienced previous medal winners together with Ali Young new on the team. Steady away and all of our ten athletes looked great.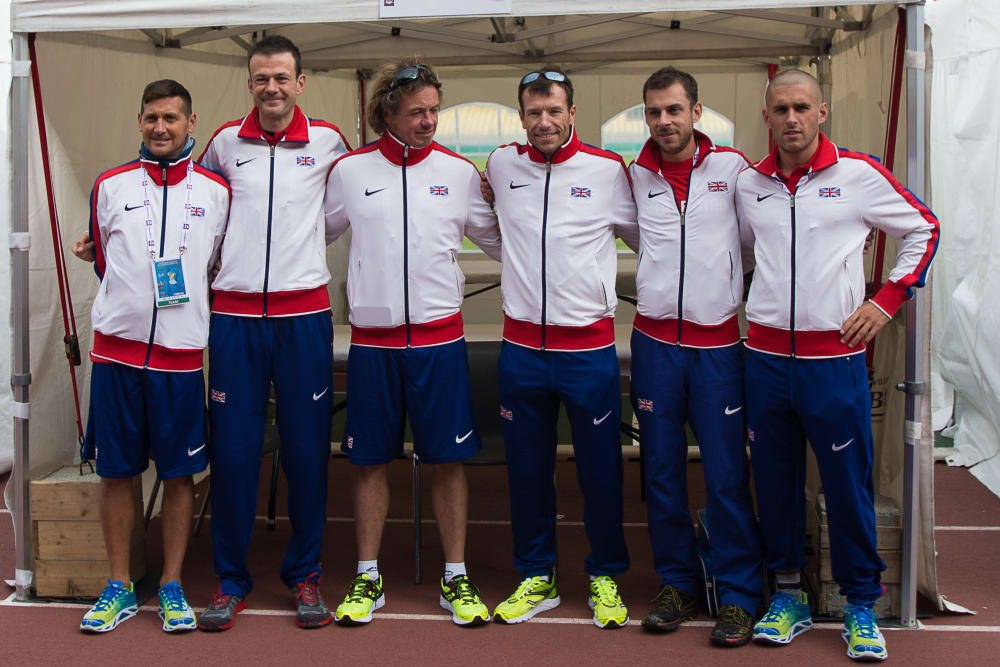 Mens Team L to R: Dan Lawson, Marco Consani, Pat Robbins, Steve Holyoak, James Elson, Robbie Britton. Photo c/o John Pares
Much of the first 14 hours or so is a blur. I was just focused on even pacing and doing the job. My own splits were right on plan with 7 hour 50 mile and 8:50 100km. However around that point Robbie was the first to suffer a major issue and was eventually forced to stop. It was a massive blow. I felt my head physically drop as I considered the impact on the team, that one of our best and a good friend had pulled up injured. The reality set in then, that I was in third place for the team and needed to focus more than ever to stay consistent as mine could be a score that ended up counting to our total. Steve was suffering with nausea behind and Pat had warned me he wasn't having his best day so the pressure mounted.
Passing the 100 mile mark in 14:42 was another milestone. I felt good and the key now was just to focus on banking 10km an hour or just a little more to pull myself up to the 250km mark, my goal coming in. I'd moved up every hour in to a peak of 6th place at hour 14.
However, fairly soon after hour 15 my quads started to really pack up. Usually a strong feature they were the one achilles heel I seemed to have as each lap became more and more of a grind. There were some very low moments indeed during the early hours of the morning, between 17 and 22 hours where I had to keep pushing to count for the team - Pat and Steve by this point having dropped back too far to be able to surpass my distance and count instead. Physical and Mental pain featured heavily. My old man had made it down to the track at 0400 for the last six hours or so and it was a shame not to be able to run better and pretend that 24 hour running is at least partially enjoyable.
The total joy of hour 20 in a 24. Video c/o Edwina Sutton.
Lap times began to tumble. We were at one point just ahead of the French team but with four of their runners eventually going on to 250km+ they turned out to be the strongest on the day. Fending off Denmark and Germany from behind was not a foregone conclusion. But thankfully one of our boys was able to go on to a performance we won't forget in a hurry. Dan Lawson, patiently pacing evenly from the start stormed through the entire field to take the lead from Aleksander who had by this point blown completely to pieces. With 3 hours to go Dan moved in to first and held on for 261.8km to win the race. Absolutely sensational to watch. Marco had a bad patch but came back out to finish in trademark fashion with 8th with 250km. In the end I ground on to 231km and 22nd place but it was enough at least to secure us the team silver, with Pat and Steve both securing brave finishes in fourth and fifth for the team.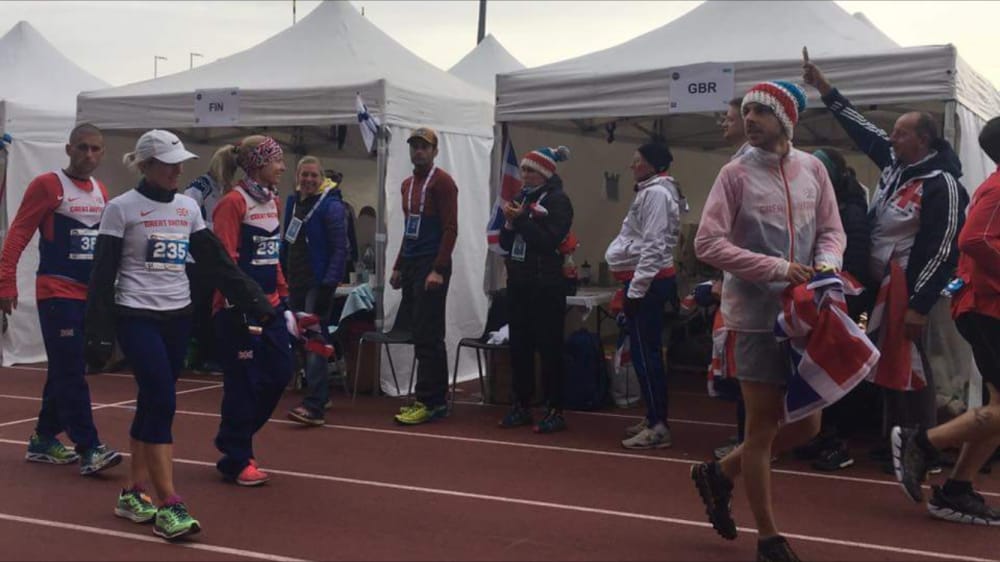 The final few yards. Photo c/o John Pares
Of our ladies, unfortunately our own Debbie Martin-Consani suffered major stomach issues and spent some time off track, alongside Izzy Wykes and Sharon Law. Debs and Izzy were able to make it back on track despite all issues and continue to bank distance all the way to the line. Ali Young went on to finish with 215km to lead the ladies home and to 10th overall in the teams event. It goes to show how hard 24 houring is when with a team of our calibre we had only two runners eventually make the Qualifying Standard we'd all achieved coming in to it.
Post Race
Easily the most fulfilling experience of my running career to date. Being part of a team is something I've never experienced in what is a traditionally solitary sport. What's most important is the morale in Team GB where we have a really quite exceptional bunch of people. Between Runners, Crew and Management, everyone pulled together and supported one another to the best we could achieve on the day. In what is an incredibly hard format in an already incredibly difficult sport, that support is the difference between winning and losing, but also enjoying it and it being a really hard days work.
Thanks to all for the support. Until the next time!
Links
British Athletics Press Release